It's not just the fiscal cliff that poses a threat to the recovering housing market.
Toss in winter weather that could bring another nasty climatic event like Hurricane-Tropical Storm Sandy - except with the white stuff - and you've got a two-headed perfect storm that could really stall the housing recovery.
"November housing trends hinted at a winter slowdown ahead," said Dr. Alex Villacorta, Director of Research and Analytics at Clear Capital.
National quarterly price gains were more than halved in November over the month, coming in at just 1 percent, according to Clear Capital's Home Data Index (HDI) Market Report of data through November 2012.
The seasonal slowdown comes with fewer sellers listing their homes, but the percentage of REO sales held steady at 18.4 percent. If distressed sales hold steady during the winter, negative price impacts should be minimal, Clear Capital reported.
The seasonal effects of winter were evident across the four regions. Quarterly price gains in the West, Midwest, South, and Northeast came in, respectively, at 2 percent, 0.9 percent, 0.8 percent, and 0.3 percent.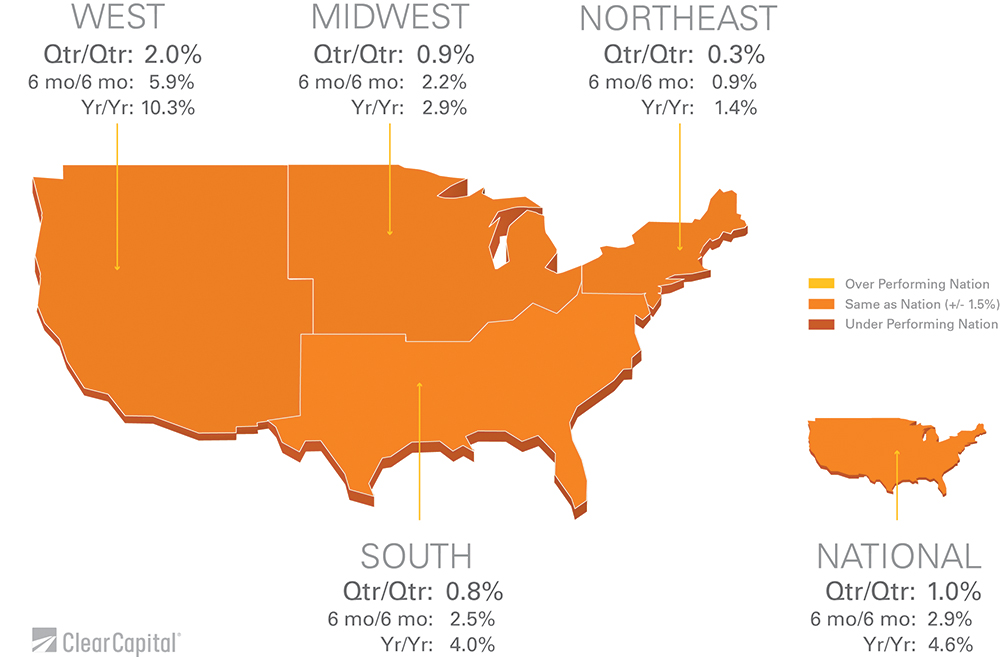 'Tis the season
"While short term growth across the country generally slowed, the housing market has built good momentum over the last year. As previously reported, these gains coupled with reduced rates of REO saturation signal housing should be strong enough to ride out winter, barring any shocks," Villacorta added.
The Northeast's paltry 0.3 percent home price growth already reflects Sandy's impact.
History reveals, storms and disasters are a real wet blanket on housing and the economy at large, as they tend to push down home prices and repel buyers who fear being duped into buying a waterlogged home with structural damage.
It's currently impossible to buy a home in large swaths of the Eastern Seaboard, due to destruction by Hurricane Sandy and, for some, due to lost jobs .
The Department of Labor said the 78,000 Americans who filed unemployment insurance claims the week ending Nov. 10 was more than expected and due to Superstorm Sandyâs impact on the job market. The current 439,000 applications for jobless benefits were the most since April 2011.
CoreLogic estimated Sandy put $88 billion worth of homes at risk in the Northeast - $35.1 billion in New York and $22.6 billion in New Jersey alone.
Yearly gains vs. fiscal cliff
Yearly price gains more accurately reflect the recovery with the national home price average up 4.6 percent growth. This time last year national home prices had declined 2.8 percent, Clear Capital reported.
The West led the year-to-year level recovery with an average home price gain of 10.3 and at 17.8 percent, REO saturation fell by more than half what it was in 2009, the peak year for the REO share.
Even without a disastrous winter storm, the fiscal cliff looms with uncertainty for the housing market.
"If the cliff becomes a reality, we expect to see a pull back in housing. Faced with higher taxes, many potential homebuyers on the fence could very well be forced to rent...at the end of the day, going over the cliff translates to reduced net income for potential buyers. Even if prices remain attractive, taking a hit on income will surely deter some demand at a time when markets need it the most," Villacorta added.