Each month, I run a Summerville Real Estate Market Report showing the average price per square foot in Summerville, SC as well as the average sales price, days on the market and more. These Market Condition Reports help show how significantly the average price per square foot has risen over the years in Summerville. Notice the rise on the chart below over the last three years.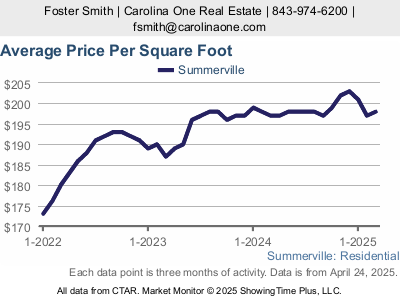 What Does "Price Per Square Foot" even mean?
I've had some clients ask what do you mean by "average price per square foot?" This is a term in the real estate community that is arrived at by taking the price of the home for sale in Summerville and dividing it by the amount of usable square footage. (Usable square footage includes the parts of the home that meet the requirements I wrote about over here How to Calculate the Square Footage of your Summerville Home. You are not counting things like your garage, unfinished areas, screen porches etc.) For example, if you have a home that is 2000 square feet and sells for $200,000, the price per square foot is $100.
The Average Price Per Square Foot around Summerville
While the average price per square foot in Summerville of $126 takes ALL of the homes for sale in Summerville into account, each community and area has its own feel, amenities and offerings.
After twenty five years of selling homes in Summerville, I've seen these prices rise and fall but the average price per square foot in Summerville continues to rise steadily because of the wonderful area, homes and people that live in Summerville.
Please contact me at 843-974-6029 or This email address is being protected from spambots. You need JavaScript enabled to view it. if you are interested in buying a home for sale in Summerville or selling your Summerville home.
**Originally Posted at www.SummervilleRealEstate.wordpress.com**