In order to get more light into the kitchen, you should take special measures. As a matter of fact, there should be sufficient ventilation and natural lighting so that the energy efficiency is very much enhanced. You should also depend upon a layer of lights so that there will be great aesthetics and various kitchen operations can be done very safely.
The arrangements should be done as per the space available in the kitchen. Various appliances should be arranged in sequential order. There are number of fixtures which should be arranged as per your convenience. Lights should be arranged at proper distance so that there will be great illumination.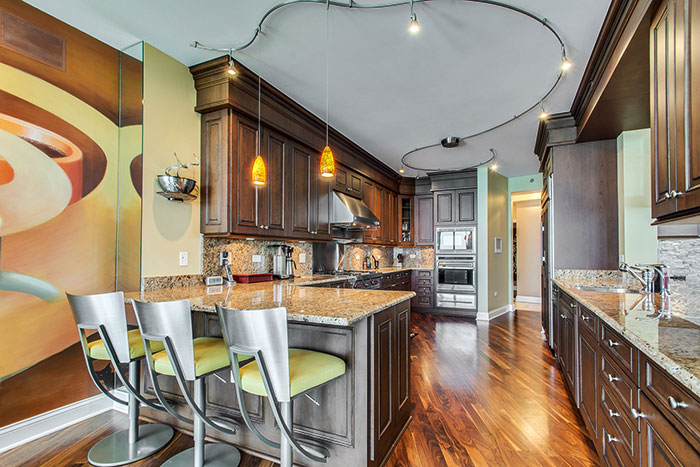 In order to create functional sculpture, you can depend upon monorail lighting system. You can manage graceful curves to suit the design of your kitchen. There are lights which can be mounted on the ceiling. As monorail systems consume very low voltage, you will be able to make the most of your investment. You can arrange various kinds of shapes, colors and materials as per the style of the kitchen.
If you would like to amplify the beauty of the kitchen, you should depend upon LED lighting. The space will feel brighter when you choose white color. The light will be reflected and existing space will be amplified. Even   though you cut back the number of fixtures, you will manage well illuminated room without fail.
New light regulations
You should know more about the new light regulations so that right kind of style ascents can be maintained. There are pendant lights which come in variety of styles, sizes, shapes and colors. Islands and peninsulas can be filled prominently with lights.
If the colors in the kitchen are darker, you should want to choose more sources of light. Depending on your roof type you also can think of installing some type of skylights or roof windows. Ensure that you will be able to see everything through proper illumination. The absorption of light by dark colored objects will be more. When you go for mix and match lighting, there will be great warmth. Ambient light is provided by pendant light. There are lights which will be switched on and off when you open the door. If you close the door, the light will be turned off. You can explore fluorescent under cabinet lighting so that you will be able to see very clearly.
As you choose a low profile design that is less than 1" deep, the fixture will not be noticeable from standing height. If you arrange poor lights, the food will not look appealing. Hence, there should be considerable thought before choosing and deploying lights in the kitchen. You should also take steps to use the natural sun light in the morning. At the same time, food items will not be damaged due to exposure to direct sun light.
The cooking will be breeze when you take best steps to illuminate the kitchen. Various kinds of tasks can be done quickly and easily. You should go for high quality and appropriate lights so that there will be energy conservation as well.