Having a hard time NOT loading up your shopping cart with every single pumpkin and decorative gourd on display at the grocery store at this time of year? Us. Too.
Fall hits us hard, and, before we know it, the front porch looks like a Farmer's Market. We have similar enthusiasm when it comes to Halloween décor, and, for the sake of all of our neighbors and our family and our sanity, we follow a few expert tips to make sure we don't go overboard. By all means, make your house a Halloween spectacle if you so wish (secretly, we kinda love when there are a few of those crazy houses in the neighborhood). But if you'd like to practice a little more restraint, read on.
Take a trip to your local craft store
if you're someone who only goes to Michael's, Joanne's, or Hobby Lobby when your kid needs some supplies for the Science Fair, you might not realize how much cool stuff there is to snap up year round. But these places really come alive at the holidays. All are loaded with crafts you can use to make your own décor (more on that below). But there are also tons of ready-made products you can buy to infuse a little stylish festivity into your place. We're digging these glitter foam pumpkins from Hobby Lobby that introduce a glam factor to your celebration.

Hobby Lobby
Hit the dollar store
If you don't care much about your Halloween décor lasting from one season to another and you want to buy in volume, you'll definitely want to hit the dollar store. From outdoor décor like foam tombstones and plastic pumpkin garlands to window decals and and carvable foam pumpkins (for those who have a fruit aversion?), you can go crazy on a budget.
Get online
Knowing where to look online is key to getting the good stuff and not having to pay a ton for it. One of our favorite places for holiday décor all year round is Oriental Trading. It's a great place to look if you don't want the same Target stuff three of your neighbors have.
This life-size, posable skeleton will make for a spooky welcome, and is priced at $44.99.

Oriental Trading
Add a couple of these LED skeleton ground breakers to create a house that's got all the Halloween spirit without looking like you went haunted crazy.

Oriental Trading
Involve the whole family
When you're serious about Halloween, you want to get everyone involved. Spreading the décor throughout the house in key areas can keep everyone feeling celebratory. Young kids may not appreciate gory or scary, but how about a few friendly scarecrows scattered around the room? They're just $4.99 each at Party City.

Party City
Don't forget about the family dog. This bowl from Zazzle is so fun you might just keep it out all year long.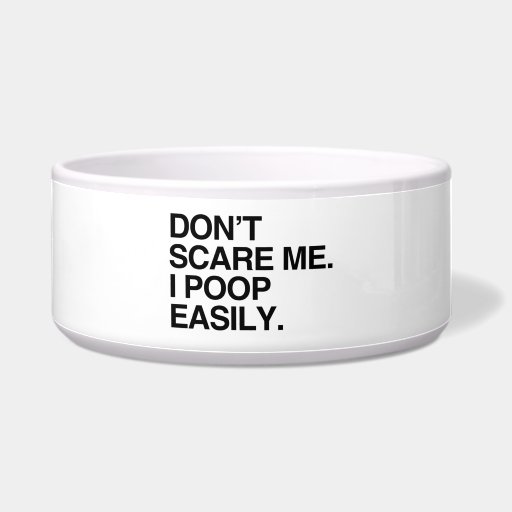 Zazzle
Be creative
Sometimes, the best Halloween décor ideas are borne out of your creativity. But if you're not so great at coming up with your own original ideas, you can follow someone else's to come up with some great décor additions.
This itsy bitsy spider is a fun and easy craft that even small children can help with and even display in their room. "This friendly spider's fuzzy body is formed by wrapping yarn around a plastic-foam ball. Black pipe cleaners make this eight-legged creature stand upright," said Better Homes and Gardens.

Better Homes and Gardens
But if creating cutesy items to satisfy the little ones isn't your concern, you can create something a litle more, shall we say, sophisticated, like these blood-splattered vases and cups. "This Halloween decoration could be mistaken for modern art, so it may just scare you how easy it is to make," said Elle Decor. "Simply use a toothbrush to splatter red paint on white cylinder vases, flicking the bristles of the brush with your fingertips (while wearing plastic gloves)."

Elle Decor
Equally impactful - and easy to make - are these haunted houseplants. Having a Halloween soiree? These make a great centerpiece, said Elle Décor, and all you need is some fake plants and black spray paint.

Elle Decor