I grew up in the Midwest, first just outside Detroit in Bloomfield Hills on Pine Lake, and later in Wilmette, a suburb of Chicago.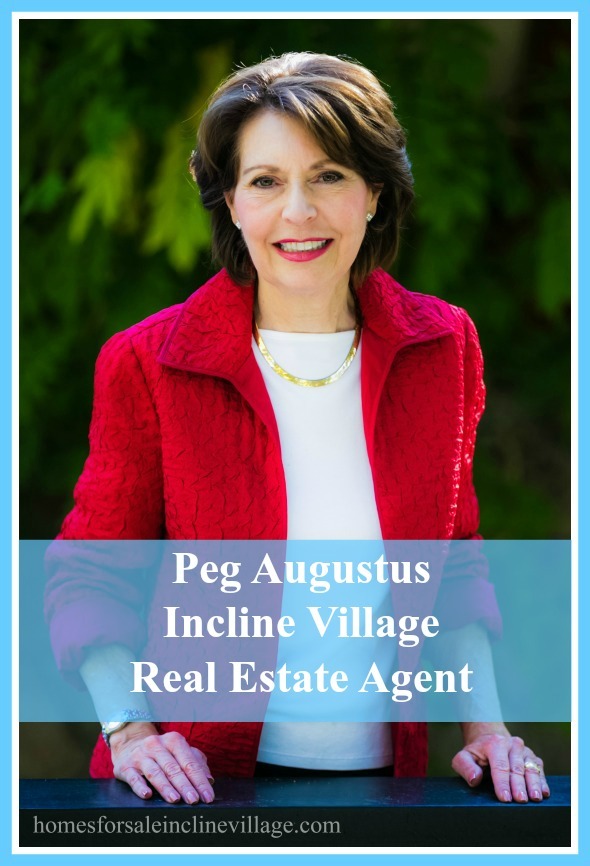 I met my husband, John, while we were both working at Leo Burnett Advertising Agency in Chicago. Shortly after we were married, John was transferred to Salt Lake City which was our first time living out West.
That's when we discovered Lake Tahoe! After vacationing on the Northshore a few times, we were mesmerized by the beauty and tranquillity of Lake Tahoe and were determined to live there as soon as we could. It seemed like a paradise with gorgeous beaches, boating, tennis and hiking in the summer and skiing in the winter. What could be better!
After we both got our broker's licenses and were selling and managing properties in Incline for a few years, we opened our own brokerage, Augustus Associates. After managing this successful brokerage for many years, we decided to take a "sabbatical" and move to Sausalito, California for a year.
After returning to Incline Village, shortly thereafter Lakeshore Realty was established and we joined this new and innovative brokerage. Lakeshore Realty has continued to be one of the top two brokerages in Incline for over 25 years.
We returned to the Midwest and starting making plans to move out West. In 1979, along with our dog, Happy, we drove to Lake Tahoe and just by chance ended up in Incline Village. What a lucky move that was! Incline was a fairly new community in those days and everyone we met was very friendly and helpful.
John and I decided that the real estate business was the ideal career path for us. John's father had been an architect and luxury home builder in Indianapolis, and my father had been a real estate investor for years, and with John's background in marketing and advertising, it seems like a perfect fit.
I worked side-by-side with John until his passing in 2012 and have continued to build my business to new highs. I am an active member of the Incline Village Board of Realtors and am currently serving as a director on the board. I offer a very high level of service to my clients and they come back year-after-year when they are ready to sell their home or purchase another one for themselves or their family members.
I love the small town, low-key atmosphere of Incline Village and I still marvel at the beauty and serenity of the lake and mountains. I am an avid tennis player and love to snowshoe and cross-country ski in the winter. There is always something fun to do here and so many wonderful and friendly people!
I am an active member of the community and support many charitable organizations such as The Pet Network Shelter and Adoption Service, Project MANA to provide nutritional food to low income families, and St. Francis of Assisi Catholic Church.
Peg Augustus has been representing buyers and sellers in Incline Village for over 30 years, specializing in premium properties. Peg's years of experience gives rise to unequalled expertise and personal attention to create an unparalleled experience whether you are buying or selling.
With Peg's understanding of the unique Incline Village market, we are confident that we can offer you the knowledge and tools you need to accomplish your real estate goals.
Peg and her team focus exclusively on Incline Village and Crystal Bay properties and are here to provide you with all the resources and information you need to buy or sell real estate.
Peg has obtained the coveted distinction of Advanced Home Marketing Specialist which is awarded to just 1% of all real estate agents in the country.
In addition, Peg is a Certified Negotiation Expert and a member of the National Association of Expert Advisors.
If you are considering selling your Incline Village home, click here to learn more about Peg's exclusive home selling system. Peg is the only Realtor in Incline Village licensed to use this proven and repeatable system.
If you are buying a home, Peg's team will handle all aspects of the purchase, from identifying the right properties for you to see, negotiating the best possible purchase price, helping you find the best mortgage, to handling the transaction through the escrow process so it is hassle-free for you, which is especially important if you are out of the area. Peg's team of professionals will help guide you through the whole process from start to finish.
Click here to learn more about Peg's Smart Home Buying System.
Contact us so we can keep you updated on the latest market conditions in our community and answer any questions you may have.
Call me today!
775-831-2846