We all know that curb appeal is extremely important in selling a home. A home with poor curb appeal may lose the sale before prospective buyers have even stepped aside. Even a home that looks only moderately good when your clients drive up can easily lose the sale to one with lovely lawns and a shining exterior.
But what about winter? After all, melting snow, dripping ice and a distinct lack of greenery can make any home look worse, right?
Not necessarily! There are definitely ways to improve the outdoor look of homes in the winter. You just need a plan. Here are eight ways to improve winter curb appeal.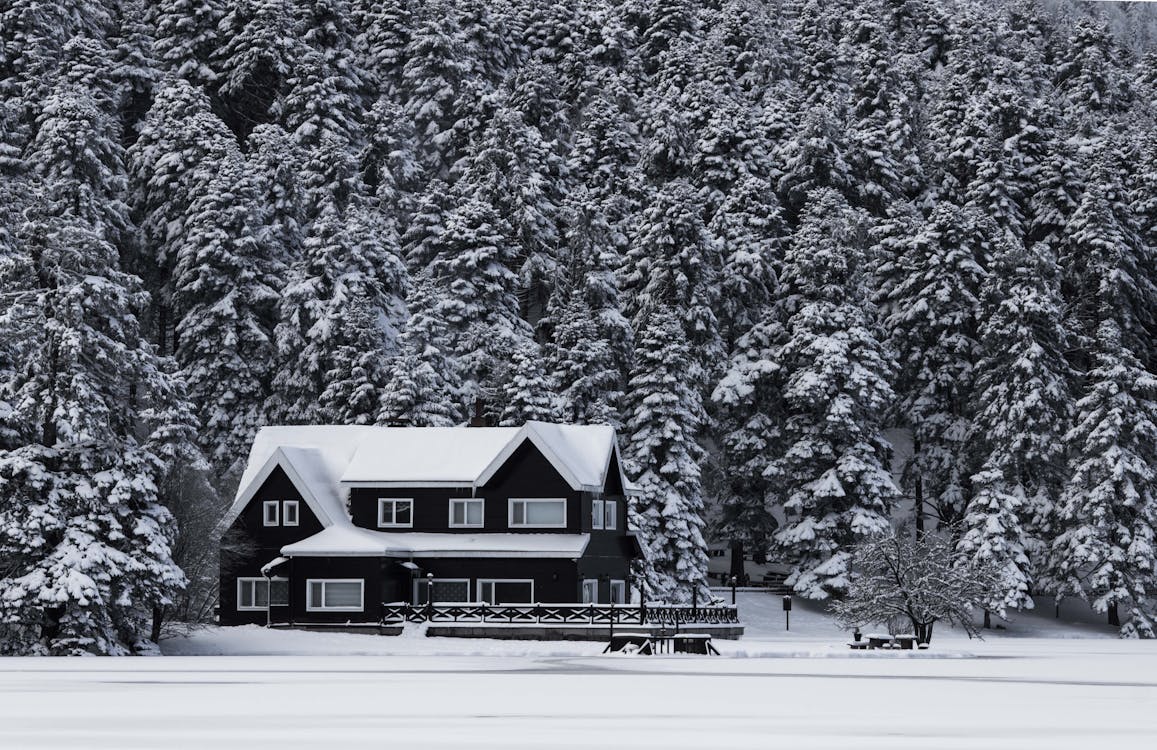 1. Make the Front Door Inviting
The front door is a key part of a home's curb appeal. Paint it anew and accessorize accordingly. If it's the holiday season, buy a fresh holiday wreath to place on the door. Wreaths with dried flowers can work well in the winter, as well — not all wreaths are pine, fir and holly! Shop around to find one that emphasizes color.
You can also harmonize with the door. A dark door could benefit from bright blue or green. A white door would look great with burgundy or red. Another suggestion? Large house numbers for the address on the door, which will also do double-duty and make the house easy to find.
2. Plan Outdoor Lighting
Nothing will perk up the outside during the winter months like lighting. If the sellers have outdoor lighting in the yard, great! If not, suggest some strategically placed lights. If there are paths or a walkway, lights on either side can look a treat. New lights on either side of the door can also be great, as can a new lighting scheme across the whole porch.
3. Place Design Features in the Garden
Let's face it: winter lawns and gardens can look bleak. Grounds can be sodden or icy. The flowers aren't blooming, and if the trees are leaf-bearing, they'll be bare. The solution? Perk the garden or yard up!
A small sculpture can create interest for the eye. If the trees are all leaf-bearing, pick up some dwarf junipers in a pot and place them strategically around for visual interest. A bird feeder in one of the trees can even attract snow-friendly birds in winter.
4. Conceal Unsightly Exterior Features
Sometimes, features that really need to be on the exterior aren't the most aesthetically attractive. Air conditioning units are an example. They're necessary in the summer, but outdoor units can look unattractive in the bare winter landscape.
There are several solutions that can guide a visitor's eye elsewhere. Potted plants can partially conceal the unit, and will also lend eye appeal of their own. A bamboo enclosure can conceal the unit entirely.
5. Decorate the Porch
If the home has a large porch, don't let it go to waste! Decorative elements or pots can make a porch very lovely and enhance the curb appeal enormously. Dwarf evergreens are also a possibility here, as are hanging baskets full of greens.
A stand with an antique lantern on top or trailing ivy can pick up the lighting from the door and add welcome design interest. A rocking chair with bright accent pillows will help them visualize uses for the porch in the summer.
6. Emphasize the Winter Appeal of Outside Features
When you prepare to show the house, look with an eye toward features that appeal to clients in the winter. Is there an incline in the backyard that could be used as a sledding hill for young children? A heated tool shed or garage? Could an outdoor patio be enclosed and a fire pit added? If windows give a great view of the snow, be sure to point that out as prospective buyers tour the home.
7. Clear Away Winter Clutter
Making sure a home is neat is always a part of showing it to prospective buyers, of course. But winter can pose special challenges. Homeowners may need shovels and rock salt outside and want them close at hand. Boots can track mud. Foyers may be filled to bursting with parkas, mittens and scarves. Sleds and skis may be propped against walls.
Yes, these things are all needed. But make sure they're cleared away and the muddy boot tracks are scrubbed before prospective buyers come knocking. If necessary, get a bin or chest to store winter necessities.
8. Make Walkways and Porches Safe
Winter weather can also pose special challenges to safety. Don't allow outdoor walkways and sidewalks to be covered in snow or ice. The same goes for porches. First, it's unsafe and can simply scare people off or make them feel uncomfortable. Second, walkways and porches that are icy or snow-covered can remind prospective buyers of how much work shoveling can be. It can scare them off a purchase, even if it doesn't scare them physically!
Curb appeal is important to buyers, sellers and agents all year 'round. Creating excellent curb appeal will enhance the saleability of a home, and could be the difference between showing the home again and finally closing the sale.