Are you looking for the best breakfast places in the Sarasota area? Maybe a place by the water to enjoy the morning sun as it hits the ocean or a shaded outdoor patio with a city vibe.
The selections below are meant to be something different. Yes, there are plenty more places for breakfast in the Sarasota area but these restaurants are just a cut above the rest and go the extra mile in customer service while offering a twist on the traditional breakfast menu.
Whatever you are looking for casual or for a special occasion, this list of the best breakfasts in the Sarasota and Bradenton area will not disappoint you with a variety of selections.
Breakfast in Downtown Sarasota
Sarasota's downtown neighborhoods with their electric vibes bring some of the best breakfast places in all of Sarasota for breakfast.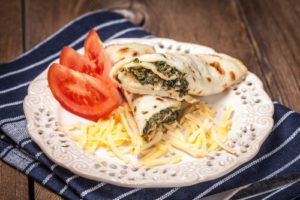 The Rosemary: 411 Orange Ave, 941-955-7600. Sat & Sun 8AM-2:30PM. The Rosemary is a charming French fusion café that serves breakfast and lunch daily. The breakfast menu has plenty of healthy options too. The Rosemary is known for their quiches and crepes.
You May Be Interested in the Article: Dog-Friendly Restaurants in Sarasota & Bradenton
Station 400: The Rosemary District: 400 N. Lemon Ave. 7:30AM-3. 941-906-1400. This is one of 3 restaurants for Station 400. The other 2 locations are in Lakewood Ranch and South Sarasota. If you haven't had breakfast at a Station 400, you may want to start with their flagship location in downtown Sarasota. Located in an old Indiana railroad depot built in 1852, Station 400 not only has an ambiance like no other but some of the best chef inspired breakfast dishes around. In the winter months, take advantage of the outdoor patio and its charm. If calories are not an option you have got to try the Cinnamon roll pancakes with vanilla bean maple syrup. Station 400 does have healthy selections and organic eggs. But seriously, come hungry and go to the gym the next day. This place is worth it!
Made Restaurant: 1990 Main Street. 10AM-3PM. This place is busy and they do take reservations. Made was voted Best Brunch by Sarasota Herald-Tribune and I know why! Made takes comfort food to a new level. Try the Elvis or Chicken & Biscuits. The Bloody Marys are spicy and almost a meal in itself. Great food, comfort food with a twist. This is one of my favorite places for breakfast/brunch.
C'est La Vie: 1553 Main Street, 7:30AM-9: 30 PM. Authentic French restaurant with a fabulous bakery. **Closed Sunday** Saturdays usually attract the crowd from the downtown Farmer's Market that is just a block away. Outdoor seating is available along the sidewalk. Casual dress with the neighborhood feel. The interior packs quite a few people but its worth it. Great bakery with chocolate filled croissants that are to die for. There are healthy options too. Try the buckwheat pancakes, light, fluffy and filling.
Word of Mouth: 711 S. Osprey Ave #3, 941-365-1800. This is a casual neighborhood, friendly atmosphere. Word of Mouth has a great outdoor patio area too. Sundays can be busy so come early. Word of Mouth has great baked goods. Take some home for the next morning.
Fresh Start Café: Burns Ct District: 630 Orange Ave, 941-373-1242. Fresh Start Café offers an international twist to breakfast. Great Israeli dishes, fresh muffins, and a gluten-free menu as well. Try the frittatas, made fresh, packed with protein and without the fat.
See the Article: 26 Things to Do in Sarasota
Breakfast in Sarasota
Yoders: 3434 Bahia Vista St, 6AM-11AM. **Closed Sunday**. Yoders is one of the best casual, homemade breakfasts around. Amish style food with healthy options too. If you haven't had a homemade sweet roll or the raspberry stuffed French toast, you have been missing out! Reasonably priced and popular.
Toasted Mango Café: 430 N. Tamiami Trail, 941-388-7728. * Dog-Friendly Outdoor Patio. Toasted Mango is a small café that prides themselves on great customer service. Even if this is your first time, you will feel like you're a regular. Tasty, simple home cooking. Try the mango butter.
Sunnyside Café: 4900 N. Tamiami Trail, 941-359-9500. 7AM-3PM, Open Eve Thurs & Fri 5PM-9PM with live music. This is one of my favorite places. This restaurant is owned by a Hungarian couple and they cook with the wonderful spices of that region. One of their specialty breakfast dishes is Fried Green Tomatoes Egg Benedict. They offer Vegan dishes for breakfast, lunch, and dinner. If you stop by for lunch or dinner, try the Chick Pea Burger. Take home a homemade Hungarian pastry. Sunnyside Café has a wonderful selection of specialty pastries and desserts.
Jim's Small Batch Bakery: 2336 Gulf Gate Drive, 941-922-2253 8AM-4PM. If you are on the go and want to pop by and grab a quick bite, this is your place to go. A slice of heaven is created in this bakery! I think you will find it in the scones or the perhaps the fresh chocolate croissants. Regardless, you will find something fabulous to eat here.
C'est La Ve: 8527 Copper Creek Blvd, (The Shoppes at UTC) 941-355-2323, 8:30AM-5: 00 PM. This is the second restaurant for this successful French bakery and café (the original is downtown). Great French pastries, and crepes. Healthy options as well.
You Might Like the Article: Dinner and a Movie in Sarasota
Best Sunday Brunch in the Sarasota/Bradenton Area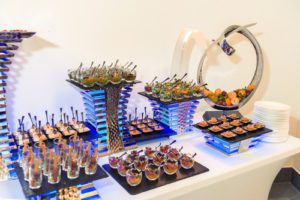 When I think of a Sunday brunch, I picture a spread of food served buffet style and endless mimosas or bloody marys. Just going to a place for breakfast between breakfast and lunch to me does not constitute a brunch. It has to be special and a wide selection of food to choose from. Otherwise, all the restaurants serve brunch. Here is a collection of restaurants that serve brunch buffet style in Sarasota, Bradenton or Lakewood Ranch areas.
Pier 22: Sunday Brunch 11AM-3PM. What could be better than sitting waterside on a cool, breezing Sunday morning sipping a mimosa and enjoying a smoked salmon crepe? Pier 22 does brunch up right! They offer additional "starters" like oysters, shrimp cocktail, and Mimosas & Bloody Marys. Great food!! Perfect location.
Polo Grill, Sundays only 11AM-1PM, 941-782-0899. Come here if you are missing the real deal New York Bagels. Chewy inside and made to perfection. Pair that perfect bagel with one of the selections from the giant spread offered. There is also an omelet bar as well as a Bloody Mary or Mimosa Bar. Casual Dining inside and a shaded patio too.
Blue Rooster: 1525 Fourth Street, Sarasota. 941-388-7539. Reservations accepted. If you don't have reservations, come early. Doors open at 11:30 AM. Sunday Gospel Buffet Brunch: 11:30AM-2: 30 PM If you have never been to a gospel brunch, seriously, you are truly missing out on a great experience. Wonderful soulful music paired with some of the best southern cooking around. Don't worry about calories on this buffet, God says today is a calorie-free day! This buffet has a good spread of down-home southern cooking. If you like biscuits & gravy, collard greens, and fried chicken, then come here. Plus, they have some of the best fried green tomatoes that I have ever had. Don't skip the bloody mary at this place! Great service too.
Riverhouse Reef & Grill: 995 Riverside Drive, Palmetto 941-729-0616. 11AM-2PM. Dine waterside at this Sunday brunch. Served buffet style with traditional breakfast items, sweets & pastries. Mimosas and Bloody Marys for $4
Ophelia's on the Bay, Siesta Key, 9105 Midnight Pass. 11AM-2PM. Enjoy a scrumptious buffet in one of the prettiest places in the US. What's better than a champagne brunch with a tremendous spread of traditional breakfast items, a roast beef carving station, seafood dishes including crab legs and desserts to die for.
Peridia Golf & Country Club: 4950 Peridia Blvd E, Bradenton, 941-758-2582. Sunday Buffet Brunch 10AM-2PM. Dine on the terrace on the green and partake in the delicious spread Peridia has to offer. This buffet includes specialty egg dishes, a roast beef and ham carving station, prepared salads, fresh fruit and homemade desserts. Don't forget about the champagne punch!
Breakfast in Lakewood Ranch
If you haven't considered having breakfast out at Lakewood Ranch, you should! Lakewood Ranch has several top-notch eateries that give breakfast a wake-up call.
Station 400: 8215 Main Street, Lakewood Ranch (next to Starbucks) 7:30AM-2: 30 PM, 941-907-0648. Locally owned, this is one of 3 locations, the other 2 are in Sarasota. Station 400 has an awesome menu for breakfast you won't know what to choose. But, if you are looking for something different, try the Crabby Patty. There is a small area for outdoor dining, which is great during the cooler months. Specialty mimosas and some of the best pancakes in town!
The Granary, 2547 Lakewood Ranch Blvd (Ace Hardware Plaza) M-Sat 7:30AM-2: 45 PM, Sunday 8AM-2: 45 PM. The Granary does breakfast like your Mom (if your Mom was a good cook, that is). Breakfast tacos, or healthy options like a breakfast wrap with egg whites. Whatever you want, the Granary has it. Great bar area too, perfect for whipping up a specialty drink. Nice pastry menu. There is an outside dining area just off of the sidewalk. If you don't mind eating at the bar, you may be able to get to eat quicker.
Another Broken Egg: 6115 Exchange Way. Great twists on the traditional breakfast dishes. One of my favorites is the Bananas Foster Belgium Waffle or maybe it's the Lobster and Brie Omelette. What's your dish? Not sure, come check it out here. Outdoor dining too. Good neighborhood vibe, even though its tucked back off of I75. It gets busy here so you might want to come here early.
Popi's Place on the Ranch: 5820 Ranch Lake Blvd (off of 70 in the WalMart Plaza). This is my go-to place when I just want a good, home cooked breakfast. This has that diner feel and the portions are generous too. My favorite dish here is the breakfast burrito. But my husband always eats healthy and does the Greek Omelette with egg whites. Popi's has great potatoes as a side too. Casual and affordable. You may have to wait on a Sunday if you come in with the church crowd. Otherwise, the diner seats quite a few people and the wait time usually is very short.
If you want to see more of this article-Click Here