Welcome home to luxury!
When you long for ample space, stunning views and lush foliage that of a country home offers, with all the conveniences and proximity of living in an urban residence, then this Valley Center home will meet your every wish.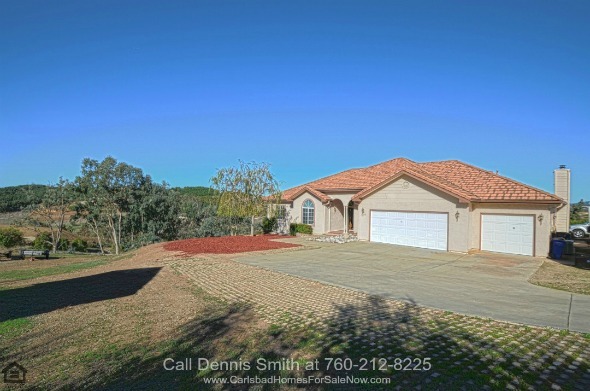 Nestled on gently sloping land, this home features 3 bedrooms and 2.5 baths with 2,383 square feet of living space. It overlooks the rolling countryside from the front and sides so you get amazing views wherever you are.
This pristine home has a completely remodeled bath and chef's kitchen, soaring ceilings, heated floors, granite countertops and a large walk-in closet.
This home, built on 2 acres of land, has a lot of potential. A dozen different types of fruit trees grow on the property, including Cherimoya, Plum, Apricot, Apples, Blood Orange, Lemon, Lime, Grapefruit and the smoothest, creamiest Fuerte Avocado you'll ever taste.
This property once grew commercial flowers in the past. The water main is still in place.
On top of it all, it is conveniently located 5 minutes from Hwy 15 off Gopher Canyon Rd, just north of Lawrence Welk.
There is a nearby golf club at Castle Creek. Welk Resorts San Diego is another option if you are a golf enthusiast, and it's only a seven minute drive away. For your groceries, All Seasons Market and Deli is easily accessible at within a four-minute drive.
Truly, this residence is a perfect haven and leaves nothing to be desired.
Prepare to be awed by this home's living space
Open this home's elegant front door with sidelights and be greeted by an ample-sized foyer which flows into a generous open floor concept interior.
With an eleven-foot ceiling, recessed lighting, neutral toned walls, newer flooring and large windows, this home's living space is bright, spacious and modern.
Three tall pillars seemingly supporting the ceiling add charm and character.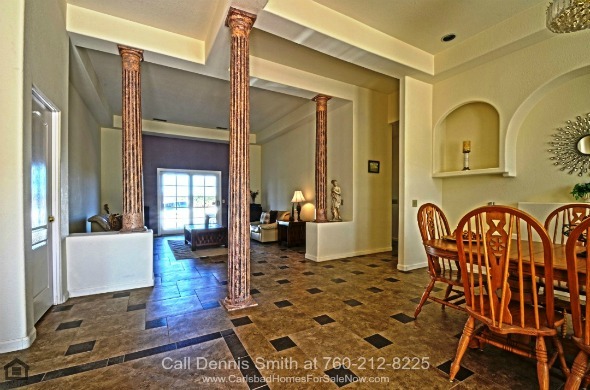 To the right of the foyer is the formal dining room.
Featuring large windows that let in plenty of natural light, a tray ceiling, and a cool wall carving, this formal dining room is the definition of casual elegance.
It is spacious and can easily accommodate a table for six to eight.
With your favorite dining set, this dining room is a great place to entertain guests, especially on holidays and during get-togethers.
Create amazing memories of fun-filled dinners in this home's exceptional dining space.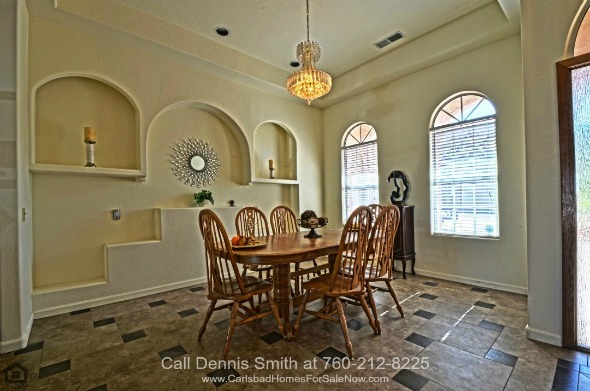 Capture the view in the formal living room.
This home's formal living room has everything you can ask.
It is large, bright and airy.
If you love to entertain, this living room can easily fit a good-sized crowd with no problems.
The large gallery-like walls are perfect for your favorite paintings or collection of art or any decor.
A glass sliding door displays an amazing view of the gently rolling countryside and the distant mountains.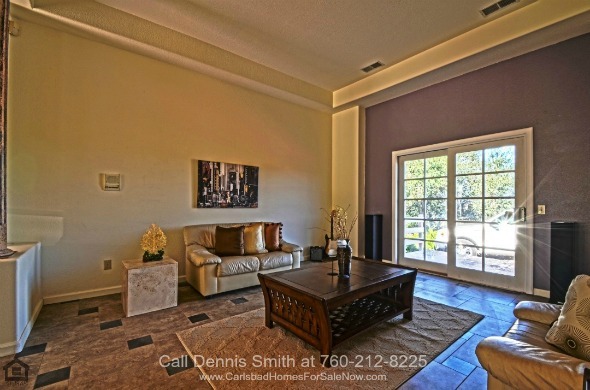 This living room is the perfect place for entertainment and relaxation. Furnish it with a tastefully chosen chairs and a coffee table and you'll never want to leave this lovely room again.
Experience the full benefit of a chef's kitchen
This home has a kitchen to be proud of.
Featuring beautiful granite countertops, high-end distressed hickory cabinets with full extension, soft close drawers, top-of-the-line stainless steel appliances, and a large island with cooktop and chairs, this kitchen is clearly designed with entertaining in mind.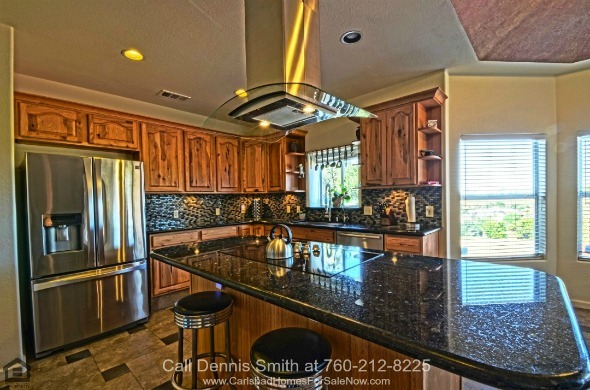 Recessed lighting adds drama to this exceptional kitchen.
A breakfast room is set by the alcove beside this kitchen, overlooking the spacious backyard through the large picture windows.
Picture perfect, this kitchen will inspire anyone to be a chef.
A generously-spaced family room with an impressive fireplace
Across the kitchen is the equally spacious family room.
It features a huge brick wall with a large fireplace, built-in shelvings, and glass paneled sliders.
With its neutral toned walls and the warm tile colors, this space is easy to set up.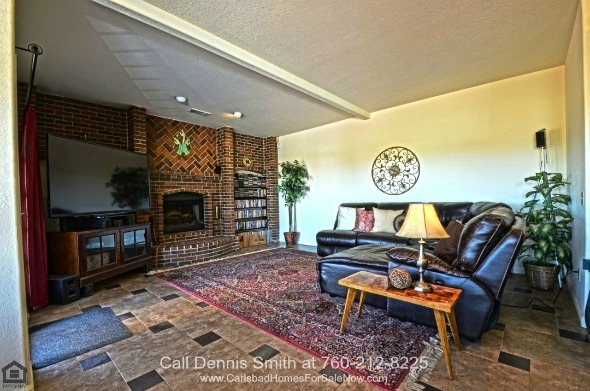 Make it your favorite room in the home, a great place for your loved ones to gather, chat, play games and relax while waiting for dinner to be served.
On cold days, you can light the fireplace and let its warmth comfort you.
Fit for private entertaining and comfortable living, this functional yet sophisticated space invites the best of relaxation.
Turn the elegant and expansive master suite into your own haven.
This Valley Center home for sale offers 3 bedrooms, all located on the main floor.
The master suite, with its tray ceiling, picture windows and carpeted floors, exudes comfort and elegance.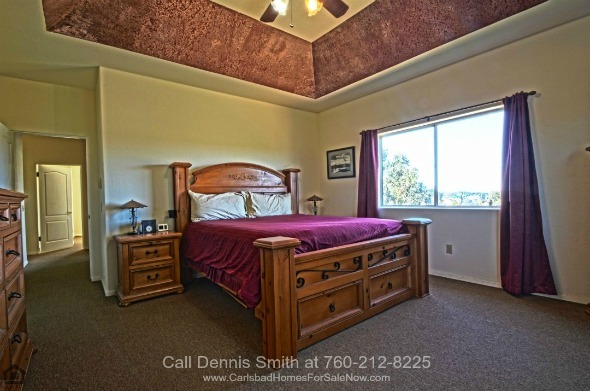 It is a huge room, and even with a king size bed and some other furniture inside, still offers plenty of space.
And when you need pampering, head to the completely remodeled master bathroom. It has a Jacuzzi tub with jets, bubbles and a whirlpool setting where you can dip to relieve your aching muscles.
With its high-end granite countertops, separate shower, and large walk-in closet, you'll have all the privacy you need in this en suite bathroom.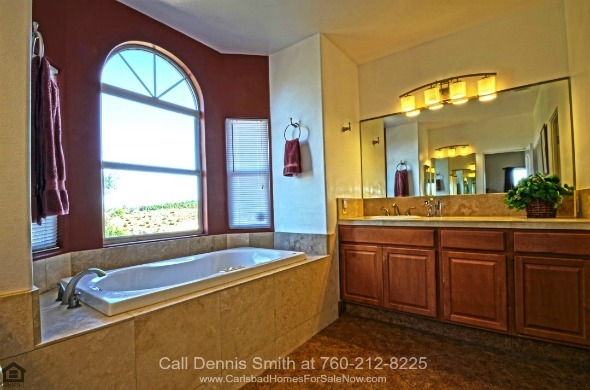 More living spaces!
This home is truly exceptional and offers plenty of living space.
It has a well-spaced home office where you can set up cabinets and a table, so you can work more efficiently because it allows for privacy and security.
There is also a large laundry room that offers cabinets for storage.
A 3-car attached garage rounds off the interior living spaces of this home.
Enjoy your very own outdoor oasis
Another treasure of this home is its covered patio in the backyard.
Set this patio up with some well-chosen outdoor seats and furnishings, and you will have the best spot for retreat and relaxation.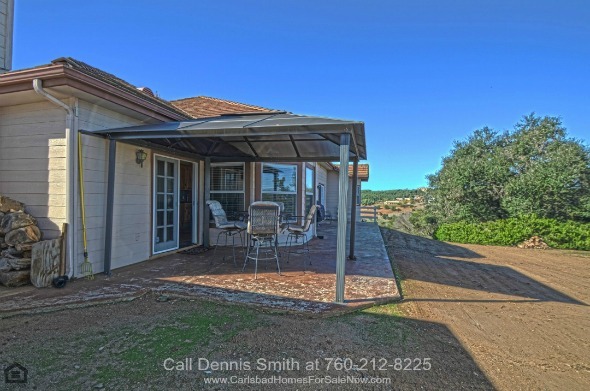 If you love having guests over, a patio with an outdoor barbecue grill would be a wonderful addition.
Enjoy al-fresco dinners on this patio with a spectacular view.
This Valley Center home is a property you would want to call your own, and it's ONLY $689,000
If you would like to see more properties in this town and other surrounding areas, check out http://CarlsbadHomesForSaleNow.com/.
In the market for a home here in Valley Center or in the Tri-City Area? Call me, Dennis Smith at (760) 212-8225. Let me help turn your real property dreams into a reality.