Don't miss out! Pristine townhome in a prime location!
Feel like you are in an endless holiday mode in this highly upgraded, generously proportioned contemporary residence with ocean and sunset views, located a few minutes drive to the sand and surf.
Located in the prestigious Coast Point complex with only 38 units, this Encinitas townhome for sale is a rare opportunity.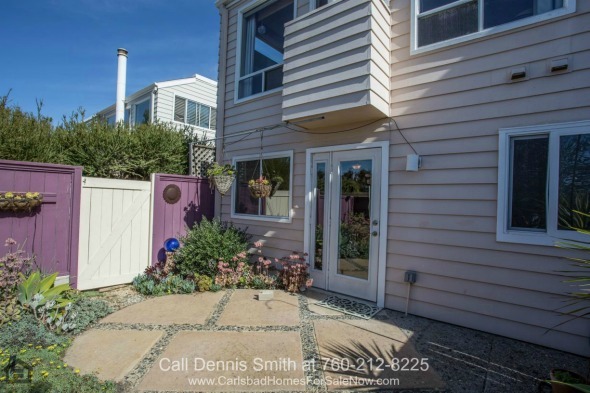 It features 1,874 square feet of living space with 3 large bedrooms, 2.5 luxurious bathrooms, the best kitchen appliances, high-end finishes, and a private deck where you can enjoy a magnificent view.
Well-maintained and move-in ready, it is perfect as a main home or as a holiday retreat. You will not want anything more from this home.
Coast Point complex is in an ideal location.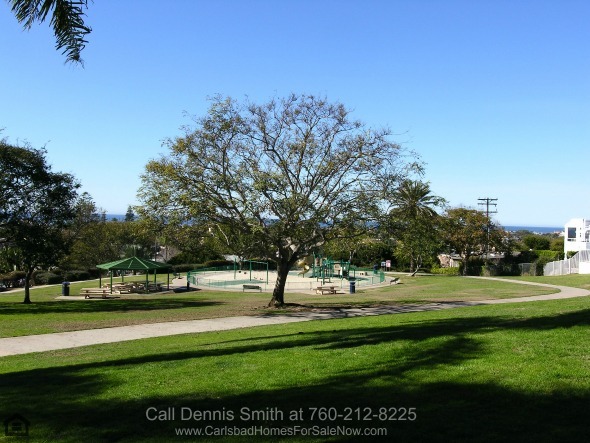 Orpheus Park is right next door, perfect for kids and pets. The highly rated Paul Ecke-Central Elementary School is only an eight-minute walk away. Plus, Farmer's Market sits conveniently right in front of the school! A couple more blocks away and you are right in downtown Encinitas and the beach.
You don't need to go far for a spa. This complex has a large gated Jacuzzi where the community meets for occasional parties.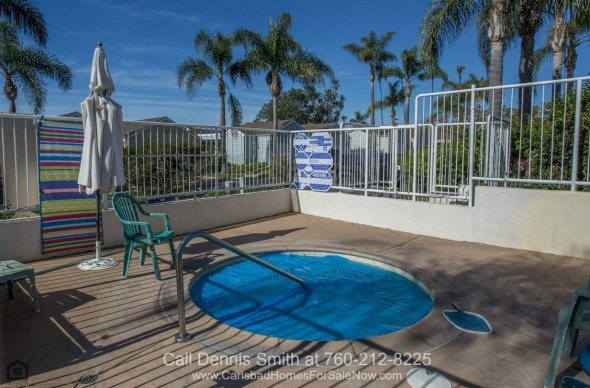 Your inner chef will surely be thrilled in this townhome's modern, stylish kitchen
Open the gorgeous front door of this townhome in Encinitas and step into a warm and inviting abode.
A modern kitchen is set to the right a few steps from the main door.
It features bamboo flooring, Silestone counter, a skylight, a pantry, stainless steel appliances like a gas range with five burners, mirrored backsplash, and ample storage.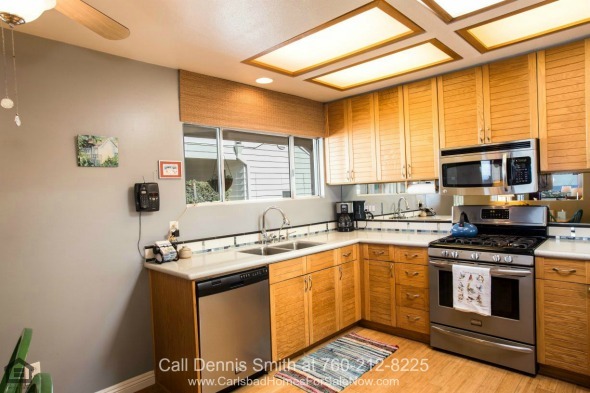 Whet your family's appetite with the smell of their favorite foods coming from this kitchen.
To the side is a space for a breakfast nook for additional counter space.
Stunning views right in your own living room
The combination of neutral-toned walls, vaulted ceiling, massive picture windows, carpet floors and tall baseboards create a bright and welcoming living space.
Get the ultimate rest and relaxation with a spectacular view of the beach right in the comfort of your living room.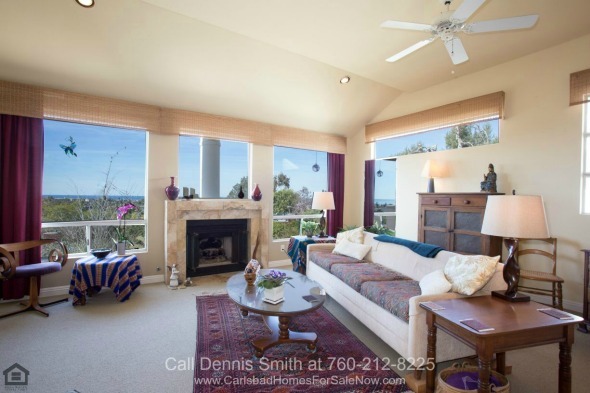 Imagine sitting in your favorite chair, having a breathtaking panoramic view of the ocean, watching the sunset diffuse its golden colors into the living room, then gradually seeing the sky turn dark. That is your view every day!
The travertine surround fireplace enhances the elegant feel of this room.
To the other side of this great room, a few steps from the kitchen is the large dining area. This space is big and can comfortably accommodate a four to six seater table with chairs.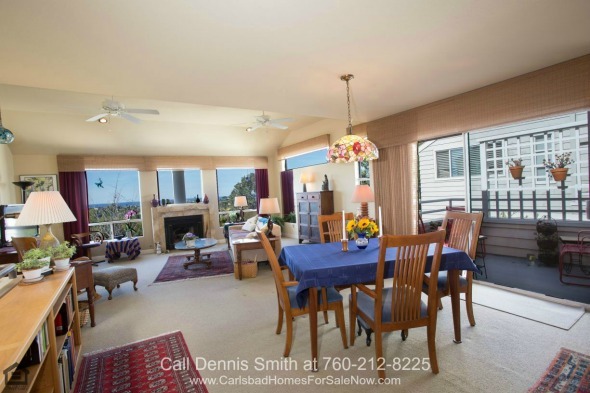 A Tiffany style hanging lamp gives this dining area a more sophisticated touch.
Invite your friends over for a sumptuous meal and fill this room with fun and laughter.
To the side of this dining area is a good-sized balcony which creates a lovely indoor to outdoor flow.
With several outdoor chairs and decor, this balcony will easily transform into an amazing outdoor space where you have a private view of the neighborhood and the vast ocean beyond.
You can even see Catalina Island in the distance.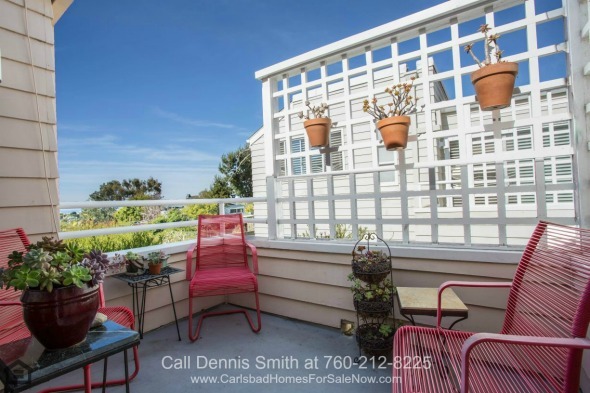 Well-appointed bedrooms on the lower level
All three bedrooms of this home are on the lower level.
The master bedroom is well-spaced and cozy, with neutral-toned walls, large windows, wood floors and an outside door with sidelight.
Indulge in a long, relaxing sleep in this beautiful bedroom and wake up feeling refreshed and energized.
The light from the picture windows streams into this bedroom, giving it a bright and airy feel.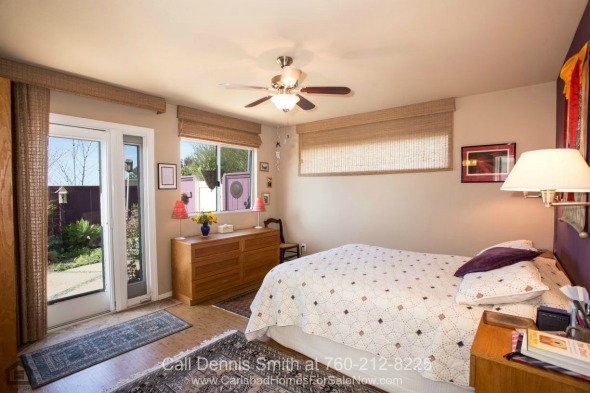 The master bathroom is modern and luxurious. It features a glass shower enclosure, a double granite sink, a low flow adult height toilet, and tile floors.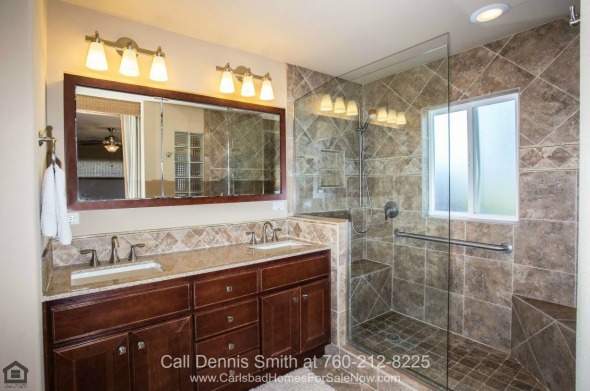 The other two bedrooms are also bright and large, with the third room having a closet organizer.
A landscaped retreat with a fountain
When you want peace and privacy, head to the backyard and enjoy the serenity that awaits you there.
A beautiful cacophony of native plants and bushes are vividly displayed on the private patio of the landscaped yard.
There's also a fountain which enhances this spot's tranquil feel.
Experience coastal living at its finest in this stunning Encinitas townhome for sale, priced at $1,299,000 to $1,350,000.
Are you looking for a similar home? Visit http://CarlsbadHomesForSaleNow.com/ for more information
Call me, Dennis Smith at (760) 212-8225. Let me help you find the ocean view home you've been looking for.