FHA and Conventional Mortgages and Their Impact on Your Deal
They are many ways to purchase and sell real estate - most of which ential some sort of financing. Some ways are traditional, and others are modern creative financing methods. This article explores two traditional types of mortgages and their impact on buying and selling a home. If you're contemplating acquiring real estate, this article is a must-read because it gives insight that will help you close the deal easier.
FHA and Conventional Mortgages
The two common mortgages are FHA (Federal Housing Administration Loans) and conventional. On the one hand, FHA mortgages allow you to place a down payment on a home between 3% to 5% of the selling price. FHA does have limits on how much they will finance, you can review the 2020 FHA limits here.
It is a good mortgage for someone that does not have a lot of money to buy a house. It is a game-changer for many people because it does not require a high credit score to get approved for the loan. For instance, a credit score between 580 to 620 can get you an FHA mortgage, however, if the score is 580 your down payment may have to be a little more than 5% of the purchasing price.
The FHA mortgage requires you to pay MIP (Mortgage Insurance Protection) for most of the life of the loan. This insurance protects the lender if a buyer defaults on the loan. On the other hand, conventional mortgages require a buyer to have a credit score of 620 or better. In most cases, to qualify for this type of mortgage, your down payment needs to be at least 20% of the purchase price.
For instance, if you buy a house with a conventional mortgage and it cost $100,000 chances are you will have to put down $20,000 when submitting your offer. In addition, this type of loan may not require you pay PMI (Private Mortgage Insurance) for the life of the mortgage because of the large down payment you initially place on the house. Most major banks offer these types of mortgages.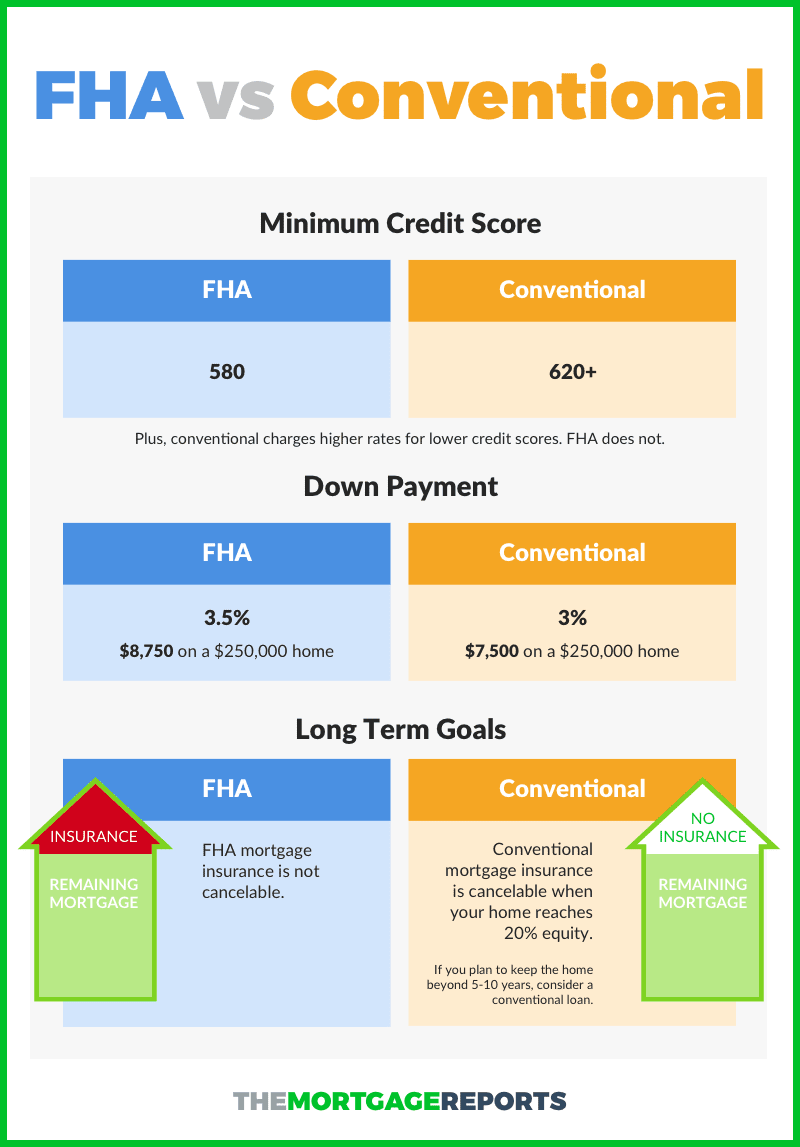 FHA and Conventional Mortgage Impact on Buying and Selling a Home
If you are in the market to buy a home, the type of mortgage you decide to use to accomplish the American Dream can impact your deal. FHA mortgages are geared to protect the buyer, and, in that regard, there are certain properties do not qualify for these types of loans.
For example, if you're purchasing a home with an HOA (Homeowners Association) some FHA loans will not finance the deal. FHA believes that some properties with HOAs are high-risk investments and so they avoid the risk by not approving the buyer for a loan. The homeowner is impacted because you cannot sell that property to a person with an FHA loan and only a conventional loan may work in that scenario.
In addition, FHA loan providers view the property inspector recommendations as the gospel. If the inspector recommends that the roof be fixed within the next five years FHA may want the roof issue to be addressed and cured before you close. This may impact your ability to purchase because if an owner is trying to sell a home "As Is" and does not want to put any more money into the house the roof may not get fixed and the deal may not close.
The bottom line is that in order to buy a home or sell a home, a person needs to understand what the requirements are for the type of mortgage he/she is desiring to use, or is willing to accept when selling, because the rules governing the loan may impact deal tremendously. The key is to have a knowledgeable mortgage representative and Realtor to help you through the process.