Is a home bathroom remodel for you? Here are some pictures and commentary from a recent home bathroom remodel that may inspire you and save you money. This house had 3 bathrooms with the same style of 4 inch, glazed ceramic tiles and decorative trim. The tiles were grouted and had long since become soiled and unattractive.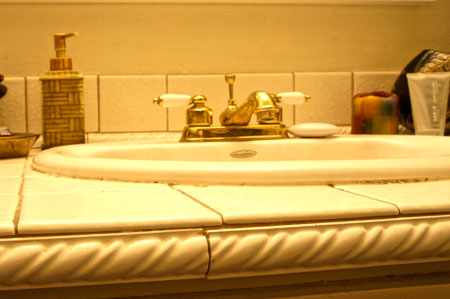 The method used in the hallway bathroom involved acid washing the tiles and grout and then using a special paint and sealer on them. This is a 2 day process, not without some rather strong odors, that is very affordable as a home bathroom remodel. Total cost was under $200 for a 6 foot counter top with dual sinks and did not require changing any cabinets, counter tops, sinks, or faucets. The surface comes in a variety of colors, is very durable (if done right), and carries a multi-year warranty. Contact us if you are interested for a referral in the Phoenix area.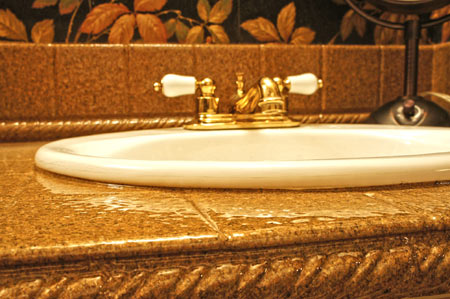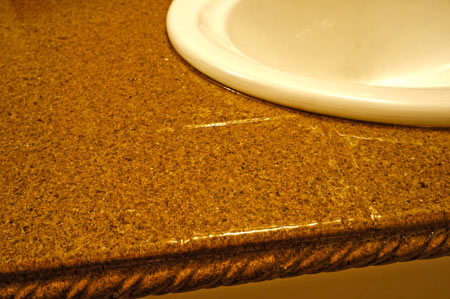 This next method was completed in the 3rd bathroom that had a smaller vanity. In this case the counter top, sink, and faucet were removed. A $25 piece of granite was obtained from the "bone yard" of a local granite shop. A $15 piece of plywood was cut and used as the template. A local granite shop provided the custom cuts for the granite and back splashes to match the template for $50.
The total price for this home bathroom remodel to this point was $90. That could've been the total cost for this home bathroom remodel if the same sink and fixtures had been reused. However, it was decided to replace them at an additional cost of $250. Total cost of this project was now $340, plus miscellaneous hardware. What an amazing difference from the original 4 inch glazed, ceramic tiles!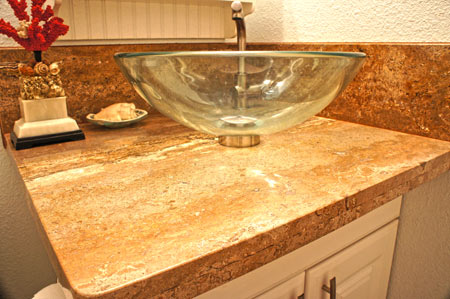 But you still don't feel like remodeling? Perhaps you'd rather have a look at all homes for sale in the greater Phoenix area with the best search available to consumers.