One of the most important parts of your house as far as comfort and privacy are concerned is the bathroom. You can view it as the only arena where you can have your private time after a long day at work or to kill boredom.
In short, a bathroom gives you time to interact with yourself in the most comfortable environment. For maximum comfort of the bathroom therefore, every single aspect and fitting counts. From the mirrors, to the bathtub, the showers, the interior walls and the ceiling finish.
It is also one part of the home that can be redesigned in numerous designs using locally available fittings; whether for a small home or a large one.
Design possibilities are endless when refurbishing either a big or a small bathroom. The following are some of the major design ideas that you should prioritize on and can work with any home refurbishment budget.
This kind of bathrooms make use of geometrically developed patterns and angular flowing fixtures and bathroom furniture. The room is given a natural finish or synthetic one. Angular flow is considered in designing every aspect such as the bath tub, the sink, the scorches even the shower themselves if it's a walk in shower.
Use of tile work on the floor, countertops and the wall is also very effective in creating a cool bathroom appearance. Depending on personal desires, you can use brightly colored tiles for the countertops and the walls and dull colors for the floor.
Common tiles are the mosaic and ceramic tiles. Then use other brightly colors vanities to supplement the look.
Fixed or compact furniture is also a good idea for a small bathroom. For fixed furniture, all that has to be changed during redesigning is the countertop finish. This make redesigning them cheaper. The compact furniture also has a wide range of color schemes that can be considered to give them a new look.
A white finish bathroom design idea is very captivating especially if you are a big fan of properly lit and bright environment. You can achieve this through use of a white water resistant paint finish on the walls or the white tiles. It is then supplemented by white vanities.
Use of colored bathtubs and other vanities. Not everyone is comfortable with a white bathtub and when refurbishing your bathroom, then you can opt to replace the tub with a sky blue or green one to kill the monotony and give it a completely new look in every aspect. You can also color the walls, floors and other vanities and keep a white tub.
Most families have turned to use of modern walk in showers. For that reason therefore, there have been heavy improvement on shower pods, shower heads and they come in various finishes that fit a modern bathroom.
Lighting a bathroom is a main key to its elegance and bathroom vanity lighting and scorches does that best. The lighting fixtures can be on the walls or the ceiling or even all-round the room for a full brightness. They come in various shapes and material such as glass, crystals among others that one can select from.
For a walk in shower, splendid enclosure is a great finish especially the frameless enclosures. There are many unique shower enclosures though the classy frameless ones have proved to be more splendid in giving the bathroom a customized look.
Frameless doors and enclosure are very efficient for a modern and personalized bathroom. They not only create an amazing environment but also make it airy yet simple. They also create a cleaner, and beautiful external view that enable one to enjoy the outside environment from the shower.
Hanging lamps are also very elegant in creating a bright environment. They can be supplemented with elegant furniture for mobility and strategic positioning of the lamps. colored lampshades can be used too depending on the color scheme of the owner.
Carefully hidden valves, same as above, provide functionality without sacrificing carefully crafted design. Thing is that bathroom valves (terminology) are usually ugly by design and often very strange in size and shape so they can't be spread all over the place if you're designing the space with strict guidelines in mind.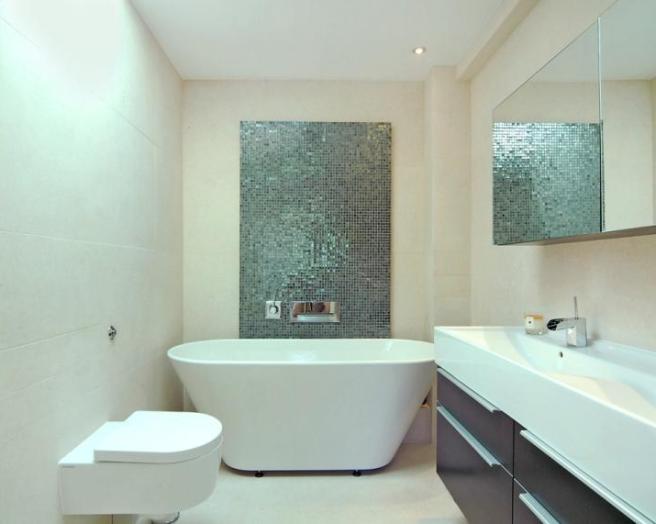 This is one of the most glamorous bathroom idea that can work for both small and large spaces. It include use of properly designed and space efficient furniture, toilet bowl, bathtub: either a free-standing or a built in and massive mirrors all round.
Its advantage is everything is within reach, is elegantly glamorous and is not limited by space. It's just an amazing shower spa.
Just like the shower spa, the toilet bowl have unique designs and can be installed alongside a same color sink, fixed frame shower, a frameless shower or any type of bathtubs. Installing wall light scorches, compatible colored floor tiles finish and a sink will really supplement the look.
The double wall scorches are just splendid especially due to their strategic position. Their fully lit the room and their positioning between the mirrors make it easy to use them for grooming without a shadow effect. They favor both dark and brightly colored bathrooms.
When put in the right patterns and color scheme, the gray, white and black mosaic tiles are very lively, and amazing for the countertops, floor and even the ceiling.
An elegant and lively bathroom does not only depend on space and size. You can give even the smallest bathroom a look that everybody will cherish. This can be through use of frameless doors and windows that allow you to interact with the external view of your bathroom.
According to RenovationKingdom and trends they're seeing with their customers, perception is that massive mirrors around the bathroom wall increase the virtual size. That, sort of hack, could mean a lot to owners of small, confined bathrooms.
In case you are refurbishing a bigger bathroom, then you have hundreds of designs and bathroom vanities to use such as freestanding bathtubs, claw-foot, drop-in, large corner bathtubs among others.
You also have a wide range of choices for the furniture and shower enclosure that you choose so that your space can be fully utilized and get rid of that empty look. You don't need much empty space as long as everything is in its place.
Basically, the elegance of a bathroom depends on furniture, bathroom vanities, the enclosure, the floor, ceiling and countertop finish such as wood, stainless steel natural stone among others, lighting and the color scheme.
Being directly involved in refurbishing your bathroom hence helps you get all you want in terms of the above items and fixture. Failure to which you comfort will be compromised.
There are a wide variety of material that you can use to design your bathroom. Various materials are compatible with the wall, the floor the ceiling and even can be used on the bathroom vanities such as the bathtub exterior and the countertops to give the room a uniform amazing finish.
Such material are ceramics and mosaic tiles shown in the designs, stainless steel, wood and natural rock and marbles.
The choice of material should depend on the color scheme choice of the owner, the lighting, availability and compatibility with the available furniture. Ease to clean and water resistance should be put into consideration too; especially if planning to use natural rock or wood.
Photo sources: