Whether you're looking for a remodeling project for the upcoming year or are in the process of searching for a new home, one of the areas you've probably started to pay attention to is the master bath. The master bath is where you unwind after a long day, a private sanctuary that cannot be found elsewhere; this makes it important.
Because this space should showcase your personality while providing a mode of relaxation and functionality, learning about popular trends is a great place to start. Consider the following bathroom trends for your next remodeling project or purchase.
1.    Two-Way Fireplaces
Who doesn't love a good fireplace? By creating a two-way fireplace between the master bedroom and bathroom, you can enjoy luxury in two rooms for the price of one. Fireplaces are known to boost relaxation, why not add one to your space today?
1.    Heated Flooring
From radiant heating mats to cables that run under bathroom tiles, adding warmth to your bathroom space doesn't have to be a major inconvenience. Heated floors eliminate the shock factor on colder mornings and make the getting ready process just a little easier. Adding heat to your floor is a relatively inexpensive option for increasing the attractiveness of your bathroom.
2.    Soft-Close Drawers
By installing simple soft-close drawer slides, you can eliminate the "slam" factor that's sometimes needed to ensure all drawers in your bathroom are closed. This is a small step toward turning your master bathroom into the sanctuary you need it to be. While updating drawers and cabinets, consider adding new, more modern hardware for a "new" feel that doesn't break the bank.
Photo by Cliffside Ind.
1.    Tiled Walls
Glass-tiled walls and accents are the new "in" for bathrooms looking to make an impression. Available in custom color schemes, these can be added around tubs and showers, above sinks or to any other wall space to add a touch of color with a splash of style.
1.    Pebbled Floors
Pebbled floors are what separate bathrooms from kitchens, especially in recent times. By adding a natural touch to your master bath, you can increase its wow factor exponentially. Pebbled floors are available in a variety of sizes and colors to suit any design scheme.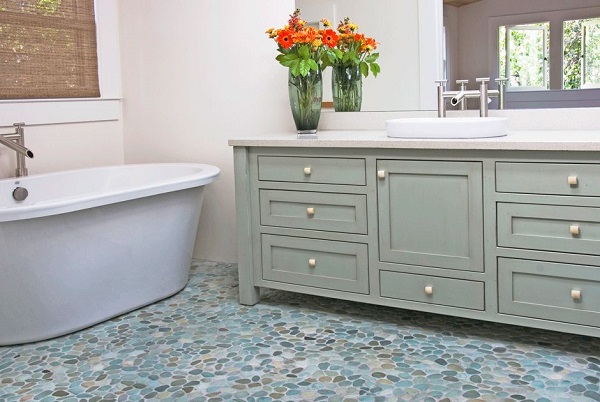 Photo by Goods Home Design.
1.    Multi-Head Showers
What separates an expensive spa "rain" shower from the one you receive at home? Probably just the hardware. By installing a multi-head shower, you give yourself, as the user, complete control over the shower experience while adding a touch of extravagance.
1.    Framed Mirrors
Framed mirrors increase the décor factor of any room, bathrooms included. Instead of the more sterile, traditional frameless bathroom mirrors, a frame brings a touch of comfort to a room that is very much in need of it.
2.    Chandeliers and Designer Lighting
Your bathroom is your retreat, your escape. Why not make it feel that way? Designer lighting, from track lights to chandeliers, are making an entrance into the realm of bathroom designs. Once again, a few tweaks can increase the luxury factor exponentially.
If you're ready to take your master bath from ordinary to extraordinary, consider the updates above. Likewise, when searching for a new home, look for bathrooms with these updates or ones that could easily be modified to include them. A bathroom remodel is something you will never regret.