Golf properties are one of the most exquisite properties you will ever buy. They are often set in amazing picturesque locations guaranteed to leave anyone awed. Realty Times spoke with Hacienda Golf Properties, experts in finding the right property deal and they recommended the following 5 places. 
Altavista Golf Resort
The Altavista Golf Resort is an amazing golf property located on the picturesque road between Mijas and Alhaurin el Grande in Spain.  The resort offers easy access to the beaches of LA Cala de Mijas and Fuengirola. It is just 30 minutes away from the airport in Malaga making it the ideal property to buy. There are several shopping centres around the property as well.  The property also features a wide range of recreational and sporting facilities including a tennis court, an indoor swimming pool and a brand new 18-hole golf course.
San Roque Golf Resort
This is a magnificent golf property made up of spacious terraced apartments and suites. The property is built to very high standards. It features impressive sea and mountain views and the enormous terraces are overlooking Africa and the Mediterranean. The property also has wonderful gardened penthouses with solariums.  It is a complete luxury property guaranteed to leave anyone impressed.
Santa Clara Country Club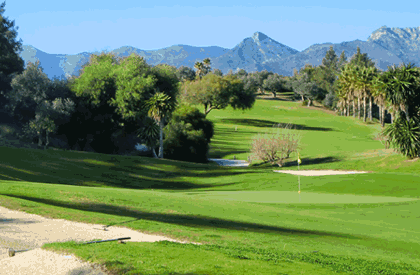 Also in Spain, this luxurious apartment and villas are built on a magnificent green landscape. The Santa Clara Country Club is located next to Marbella. The apartments and villas are built in a private estate and offer breathtaking panoramic view of the Mediterranean landscape on the horizon. The properties here also feature exquisite finishing and a variety of sporting facilities beyond the golf course.
Vila Baia Resort, Praia da Luz
Located in sunny Portugal, this resort has a beautiful selection of two bed room and three bedroom apartments for sale. The apartments are all tastefully furnished and share the magnificent view of the golf course and the picturesque surroundings. It is located in the heart of the town, making it a choice golf property to buy.
Stylish duplex in the centre of Palm Hills golf course
This is an exquisite duplex located in the centre of Palm Hills golf course in Thailand. It offers two generous living floors. The ground floor is properly lit through panoramic windows and there is a magnificent lounge with an American-styled kitchen. There is also a guest bedroom and a shared bathroom on the floor.
The upper floor features a cosy lounge, a master bedroom, ensuite bathroom, and a separate shower.  The second bedroom is spacious and also features an ensuite bathroom as well.  The owner of this house can enjoy the numerous sporting activities on offer in the golf course including swimming, squash and table tennis. There is a gym and a luxurious restaurant on the course as well.