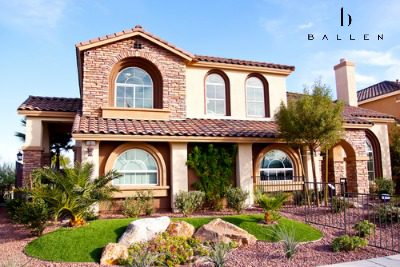 Las Vegas, Nevada is famous for its luxurious shops, endless entertainment, delicious delicacies, robust roller coasters, and 24-hour excitement. But it's also home to beautifully crafted master-planned communities such as Anthem, in Henderson, one of the major suburbs of Las Vegas. Anthem, with several distinct neighborhoods, offers a tranquil oasis away from the hustle and bustle of city life but keeps you close enough to the excitement that you're always only moments away from the fun.
Only fifteen minutes from the Las Vegas Strip, living at Anthem provides you ample opportunity to grab a bite, catch a show, or experience all of the entertainment options of Las Vegas, but also has entertainment options within the community, such as theater and restaurants. Anthem also offers sporting events, recreational options, golf, rock climbing, hiking, cycling, boating, basketball, football, and more with its world-class facility designed to meet your needs.
Some neighborhoods within Anthem offer gated security, golf course, clubhouse, and more. Anthem is also known for its proximity to excellent public and private schools in Clark County. Elementary schools include Elise L. Wolff Elementary School, Glen C. Taylor Elementary School, and Shirley & Bill Wallin Elementary School. Junior High Schools include Del E. Webb Middle School and Bob Miller Middle School. High Schools include Liberty High School andCoronado High School. Private schools are The Henderson International School / Findlay Prep, Calvary Chapel Green Valley Christian Academy, Green Valley Christian School, and Coral Science Academy – Charter School. Anthem is also in proximity to adult education.
When you want to be close to all the lavish amenities of Las Vegas, yet far enough away to have your own private hideaway, the master planned community of Anthem in Henderson may be perfect for your household with offerings for people of all ages.
Find Homes For Sale in Anthem By Price
Anthem Homes For Sale $100K – $200K
Anthem Homes For Sale $200K – $300K
Anthem Homes For Sale $300K – $400K
Anthem Homes For Sale $400K – $500K
Anthem Homes For Sale $500K – $600K
Anthem Homes For Sale $600K – $700K
Anthem Homes For Sale $700K – $800K
Anthem Homes for Sale $800K – $900K
Luxury Homes For Sale in Anthem
Anthem Nevada Amenities
Anthem neighborhoods are smartly laid-out to facilitate movement throughout the community and adequately address elevated traffic levels. Anthem marketplaces are hubs of activity providing errand destinations in one convenient locale, including grocery stores, financial institutions, post offices, salons, pharmacies and medical facilities.
Anthem offers an eclectic variety of activity and entertainment choices to suit anyone's tastes or desires. Here you'll find charming sidewalk cafes, weekend art and music festivals, jazz concerts in the park, five-star eateries and, of course, the dazzling sights and sounds of nearby Las Vegas.
Families living in Anthem neighborhoods love the special events that Anthem Henderson holds nearly every month of the year. There's the annual St. Patrick's Day Parade, the annual 4th of July fireworks, the annual Henderson Heritage Parade, the Water Street Auto Show and the Water Street Farmer Market held weekly in spring, summer and fall.
Every weekend, Anthem residents enjoy the option of taking mini-vacations to fun, relaxing and fascinating sites located within a few short hours of their home. Favorites spots include Lake Las Vegas and Lake Mead; Red Rock Canyon; the Spa at Green Valley Ranch and Mt. Charleston.
Anthem Public Schools
All Anthem community schools belong to the Clark County School District. Parents can send younger children to one of three elementary schools and teens to two junior high schools and two high schools. Several private schools operate in Anthem as well–the Henderson International School, the Coral Science Academy or the Green Valley Christian School. Potential home buyers can also find out information about home schooling at the Nevada Home School Network.
Anthem Nevada Health and Medical Services
Anthem residents visit the St. Rose Dominican Hospital–Siena Campus when needing advanced health and medical services. Just a few minutes from Anthem, St. Rose Dominican is nationally recognized as one of the best hospitals in the Las Vegas metropolitan area.
Sun City Anthem is an age-based community catering to older adults who want to enjoy a wonderful climate, tranquil lifestyle, picturesque scenery and all the benefits that Anthem Nevada and Las Vegas has to offer. It's the perfect oasis-style retreat surrounded by the beauty of the Mojave Desert, superior resorts, recreational facilities, shopping and restaurants.
Sun City Anthem Homes for Sale
Like Anthem, Sun City Anthem is one of the nation's most outstanding master planned communities offering vintage, energy-efficient, single-story homes that embellish cozy, clean neighborhoods or grace some of the golf courses scattered throughout Sun City Anthem. Residents have access to recreational centers, indoor/outdoor pools, fitness equipment/facilities, indoor track, arts and crafts center, billiards, tennis courts and paddle ball. In addition, Sun City Anthem operates its own television station that produces local weekly programming shows to keep residents informed of the latest events happening in their community.
Anthem Nevada and Sun City Anthem are waiting to welcome you to their friendly, warm and vibrant community! So what are you waiting for?