Wooden flooring as the name says is a product manufactured from timber and is perfect to be used as a flooring option. Wood as a flooring option is a favorite amongst home owners. Someone keen on wooden floors can certainly make a beeline for stores ready to sell and install the product range. There is the option to choose from hardwood flooring to solid wood flooring. The hardwood flooring is made from planks milled from a single piece of timber. In the case of solid wood flooring, it is again milled with a single piece of timber. However, here it is air dried before sawing. Plenty of people have highly benefitted from this form of flooring alternatives. Let us know concentrate hard upon the key benefits, which these floors offers to clients from all over.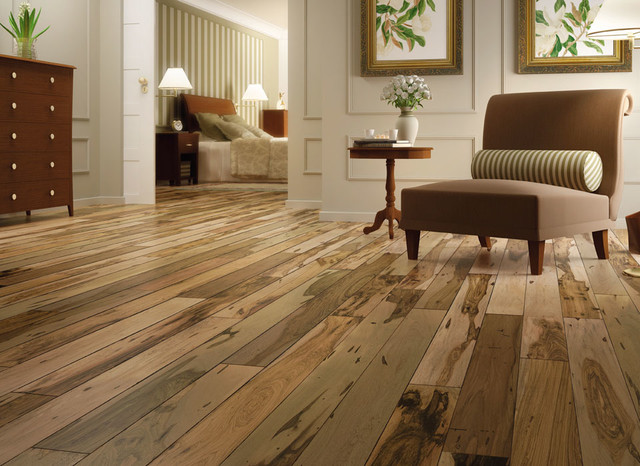 Durability:
This is certainly the prime benefit of this form of flooring. Actually, installation of flooring is not an everyday affair. Moreover, it is certainly not cheap. Hence, the focus should certainly be on the long term. This is here that wooden flooring scores highly. This type of flooring can last for about 100 years. Hence, it is a highly durable alternative for the buyer.
The cozy feel:
Wood as a flooring alternative certainly brings an added cozy feel to the interiors. Moreover, in places, where there is a chill in the air, one can certainly make a beeline for hardwood. Wood is an excellent insulator of heat. Therefore, along with a bit of coziness, there is certainly a warmth feel to wood.
Easy to maintain and clean:
For clean interiors, it is essential to clean the floor. Hence, one can certainly focus a bit on these issues. People keen to install wooden flooring will relish the fact that it is easy to clean and maintain. A little bit of sweeping and mopping and the wooden floor will look great for some time to come.
Increases home resale value:
A wooden floor brings style and elegance into a home. Moreover, the mere fact that it is able to maintain its polished feel for some time certainly creates value for someone keen on selling any home or property. On the contrary carpets are a big give away. Their worn out look tells the buyer that the property is quite old. Hence, the buyer will not want to pay any substantial amount. These are some of the major gains to be made for people keen to use wood as a flooring option. It certainly creates plenty of value for the home. People on the lookout for such floors of wood will be thrilled to know, that in spite of so many advantages, it is a cheap alternative. Now add to that its longevity and buyers will realize that it is dirt cheap. Now if it is hardwood, a buyer will certainly have to focus on a few cleaning issues. The idea will be to use specialized products while cleaning hardwood. Regular cleaning products may end up causing permanent damage to hardwood.
Directly using water is also a big avoid. The way out is to use a damp cloth to wipe up spills or even mop up the floor. In fact, experts will also caution against the use of ammonia or even wax directly on the floor. While moving furniture on hardwood, one must only lift it and not drag it. This has a permanent damage on hardwood. Therefore, someone keen on wooden flooring can always go for it. One must carefully go through the variety on offer and buy something according to personal requirements. However, if it is of the hardwood category, there is a need to pay attention to these above discussed issues. It increases the longevity of the hardwood floor.