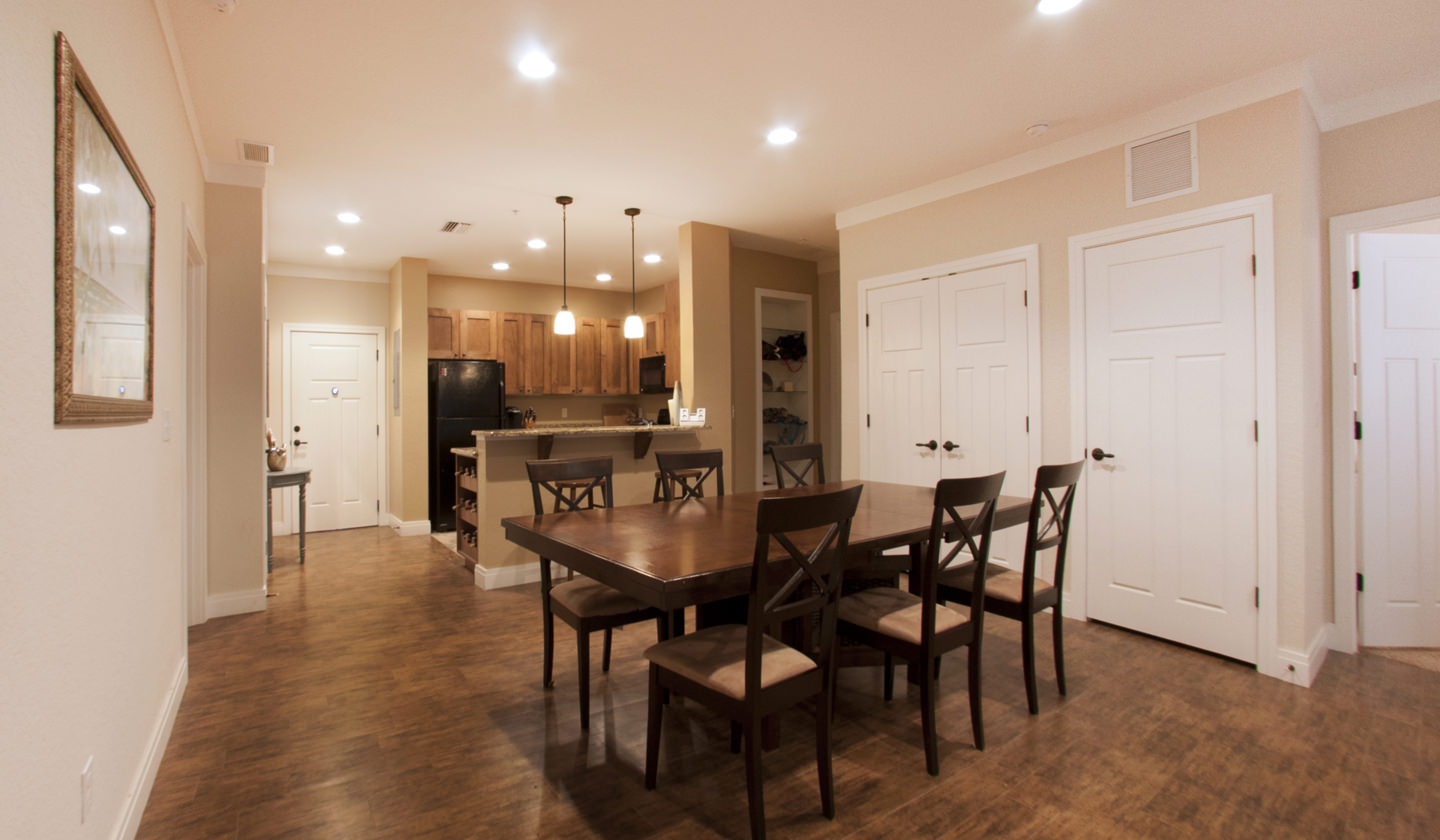 As property managers, we constantly struggle with choosing design elements for properties. The right combination of elements can pose a very attractive option for tenants while saving property managers time and money down the road. Many design elements have a longer life-span than others and are worth the extra investment for aesthetic reasons as well. Upkeep is important for many markets, like mine in Gainesville. Students at the University of Florida often move around and then graduate, causing a high turnover rate. Trimark Properties is a big provider of housing for college students but each year need to impress potential tenants with our properties. If each unit hasn't been maintained properly, tenants won't be impressed and might sign elsewhere. Therefore, choosing the best elements that will look good in years to come is vital for success.
We at Trimark offer many properties with petrified wood flooring in living rooms. Wood is a flooring choice that has mass appeal because of its beauty and easy upkeep that will continue to look good for years to come. When carpet reaches the end of its lifespan, it needs to be replaced, whereas wood flooring just needs to be refinished. Also, most of our properties do not allow tenants to own a pet which helps with upkeep since animals can cause damage to flooring and surrounding areas. However, if you do allow pets in your properties, wood flooring is the better choice for pet-owners since there are less allergens and easier clean-up than other options.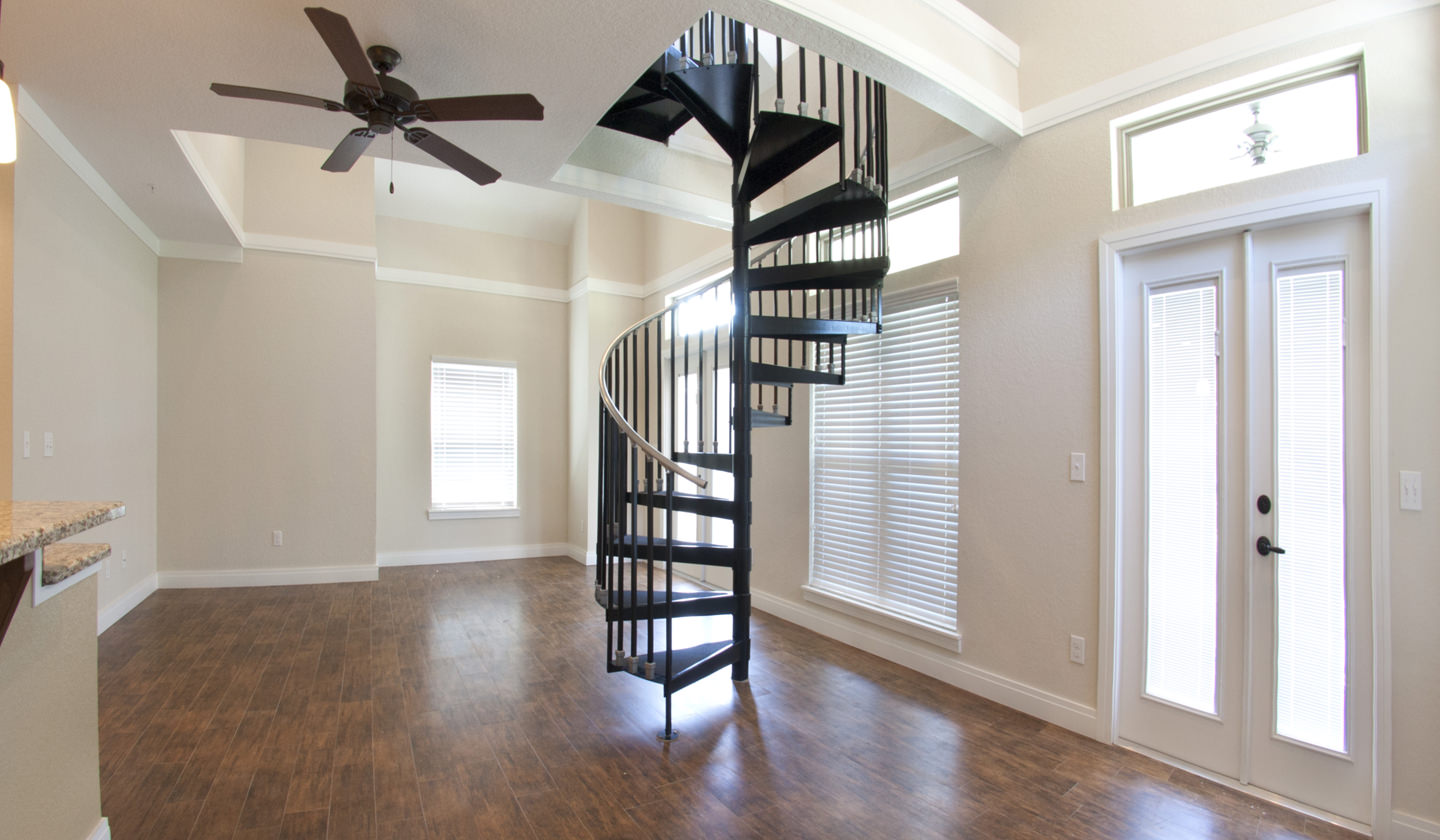 Archstone Luxury Apartments in Gainesville offers a little something different than the norm with an attractive spiral staircase located in the living room. Most properties have a traditional straight staircase with steps covered by a drab beige runner. Adding a spiral staircase in lieu of a boring one can glamorize your unit. There is also a sense of spaciousness added when your property has a spiral staircase, since they take up significantly less space than a traditional staircase. Best yet, spiral staircases are easier to install and cheaper than their regular counterparts, saving you money while making tenants happy.
Tiling in bathrooms and kitchens is a fantastic addition to any property. Spills are inevitable, but tiling makes cleanup very simple since most grouts are now stain resistant and tiles can withstand water and spills. Bathrooms and kitchens are places where tenants want tile for aesthetic reasons and will help property manages keep costs down because of tile's high humidity resistance, and easy maintenance that ensures a long-lasting look. Gainesville, Florida, is a very hot and humid area to live in, which makes tile a perfect addition to Trimark's properties. Archstone's tile elements continue to attract tenants looking for quality and beautiful apartments in Gainesville.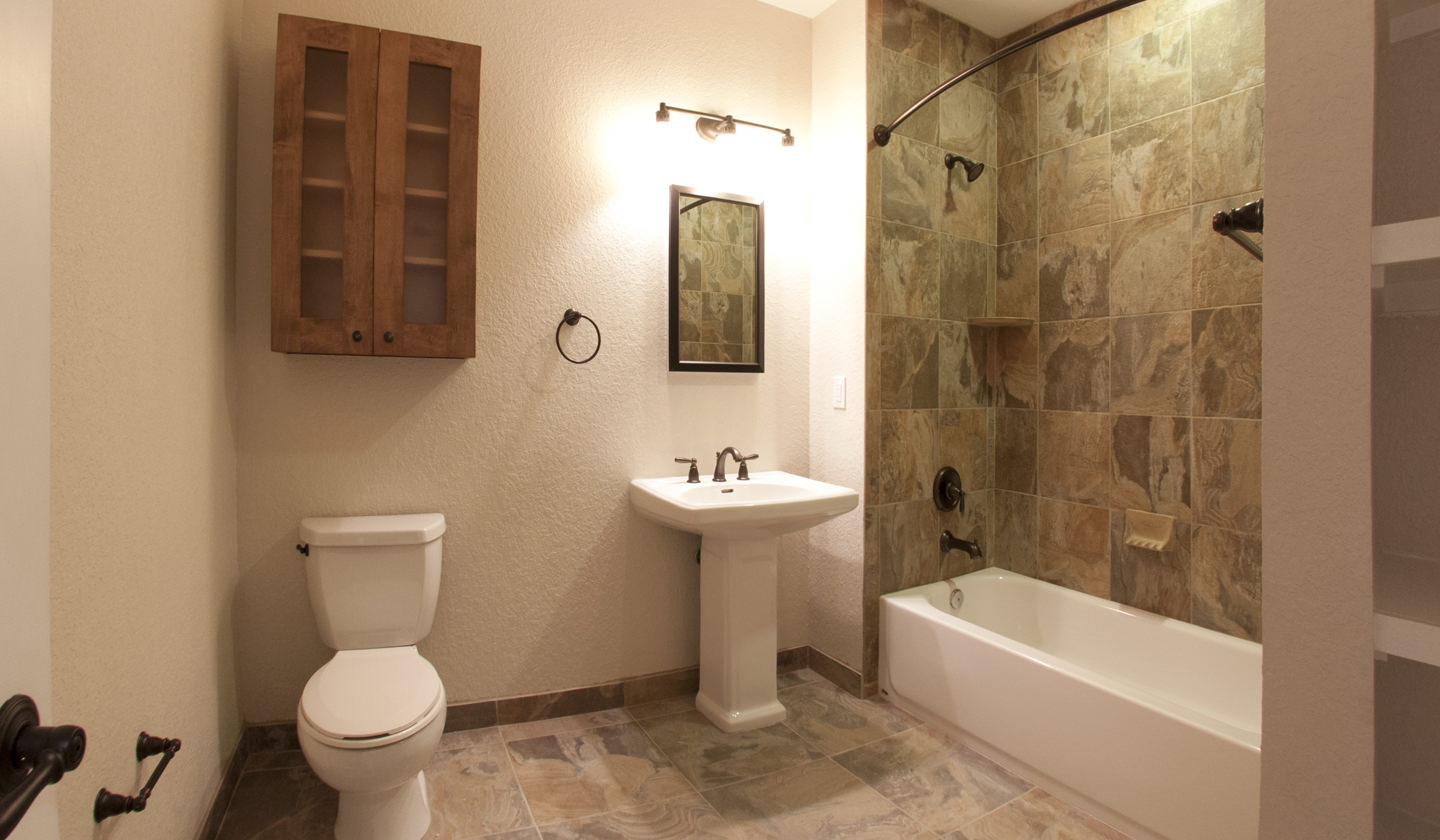 Including a washer and dryer in each unit is a simple but effective method of attracting tenants to your property. Laundromats and communal laundry rooms are time-consuming and sometimes have an issue of safety. Tenants are more willing to spend extra money on a unit that includes a washer and dryer since it will save them precious time and money to use the appliances in their unit instead of sitting around for three hours each Saturday waiting for laundry to finish at the laundromat. This is an especially important amenity for students like the ones here in Gainesville. At Archstone Luxury Apartments, students want to continue studying or cooking, valuing their time more highly which makes the ability to do laundry in apartments very important.
However beautiful wood flooring looks for the living room, many of our tenants prefer carpet in their bedroom. Carpet is warm and comfortable, perfect for a bedroom where tenants want to be cozy when they venture out of bed. The trick in continuing the upkeep of a carpet and keep it looking pristine is to steam clean carpets yearly. Here in Gainesville, turnover rates in apartments are high because of students graduating and moving elsewhere. Carpets see a lot of tenants but with proper care will continue to look nice. The type of carpet used by Trimark Properties is a twist frieze that incorporates colors ranging from light beige to brown. This type of carpet hides stains well and is highly durable – two factors which have a great visual appeal for tenants. Also, carpet is a safer bet for the bedroom since there is less likelihood of a food or drink spill than in other areas of an apartment.
For tips on how to decorate the space once tenants move in, you might like: Advice for Tenants Looking to Follow Interior Design Trends in Apartments