Move over, traditional ceiling fan lights: there are new lighting trends that are rocking the design world, and real estate developers are taking note. These new improvements are not only a chic design feature, but a way for multifamily properties to attract renters and save money through energy-efficient technology. The balance between artificial and natural light in a home or apartment is extremely important, as a well-lit atmosphere is statistically proven to prevent depression, improve mood and increase motivation by boosting serotonin levels. At multifamily property and real estate development firm Trimark Properties in Gainesville, Florida, we cater our selection of apartments and houses to University of Florida students and have seen first-hand the difference a well-lit apartment makes in attracting and keeping a happy resident. Below are a few lighting design features that we have found impress residents, save money, and incorporate chic, modern design trends in a property.

Designer Artisanal Lighting – More multifamily renters than ever are millennials, so it's important to appeal to the younger, contemporary market by incorporating trendy, modern features throughout your property. Adding ambient light through designer artisanal lighting is a tactic Trimark Properties uses in one of its Gainesville houses near UF, Solaria 1047, which boasts two ultra-chic, long black pendant lights above its kitchen's breakfast bar to illuminate the dining area and attached living room. These pendant lights act as a stylish focal point while providing a well-lit environment for residents to relax in. Other designer lighting trends for 2016 include oversized fixtures, industrial-chic light accessories, and incorporating warmer metals in lighting appliances.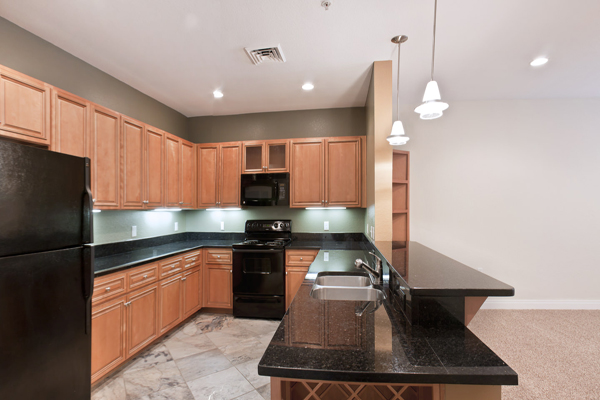 LED Bulbs – Just as Trimark Properties has replaced traditional fluorescent lighting with LED lights in many of its apartments and houses,many multifamily properties have made the switch to the more efficient, and cost-effective, illumination option. According to a recent U.S. Department of Energy study, high-performing LED lights were up to 44% more efficient than their fluorescent counterparts, and residential LEDs use at least 75% less energy. The cost savings of adding LED lights as opposed to incandescent or fluorescent lighting in residential properties is exponential, and will also provide superior, less harsh lighting to residents.
Colorful Exterior Lighting – Outdoor lighting is also significant to the entire property's appeal, and what a more fun and eye-catching way to stand out than by adding colorful, changing LED lights on an apartment exterior? A unique tribute to the flashy, retro designs of art-deco Miami, Trimark Properties' Deco '39 Apartments exhibits this distinctive lighting feature. A sure-fire way to attract the eye of potential residents, this peripheral light trend is certainly one of the most exceptional, and fun, ways to experiment with lighting.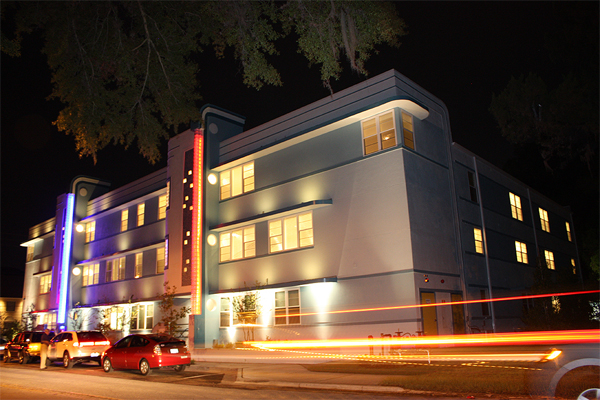 Natural Light is Important, Too! – Along with ample interior artificial lighting, it is important to foster a space that has abundant natural lighting through the addition of plenty of windows. Brightening up the inside of a home with natural light gives residents a boost of Vitamin D and is an energy efficient, cost-effective way to illuminate the space during the daytime.
Be sure to share with us any lighting trends you have found to be a great addition to your multifamily property!
You May Also Like: 4 Tips On How to Renovate Historic Houses While Still Keeping Their Vintage Charm