The Allie Beth Allman Allmanac is a weekly digest of real estate headlines from the Dallas-Ft. Worth Metroplex, Texas and across the Country.
September 27, 2013
Dallas: Area home prices were up 8.5% in July, now 17% higher than prices in early 2009. Preowned prices in Dallas are now 4% greater than 2007, before the crash. The rest of the nation is still down 20%.
Dallas: A 5 story 208 unit luxury apartment property, Routh Street Flats, at 3011 Routh Street, will start construction soon. Monaco on the Trail, a 6-story 192 unit apartment complex at 3003 Carlisle, will finish this fall. Moda, a 6-story 263 apartment property at the northwest corner of Cedar Springs and Field Street, will follow in spring. Average rent in Uptown for new construction is $1.87/ft, vs. $1.66/ft for exisiting units. 1,153 new apartments are due for 2013 with another 2,789 in 2014.
DC: Some 52% of all rental units in the US are single family homes, housing 27% of all renters. Most, 3.6 million, were originally built for owner occupancy and became rentals through foreclosure. Median foreclosure prices are up 6.8% over the last 18 months. Low tier properties average a 13.7% discount in 2nd quarter, while high end properties sold close to market value.
DC: To streamline the short sale process, Fannie Mae is now asking listing agents to register accepted offers to allow the agency to work pro-actively with the mortgage servicer. Resource is Homepathforshortsales.com.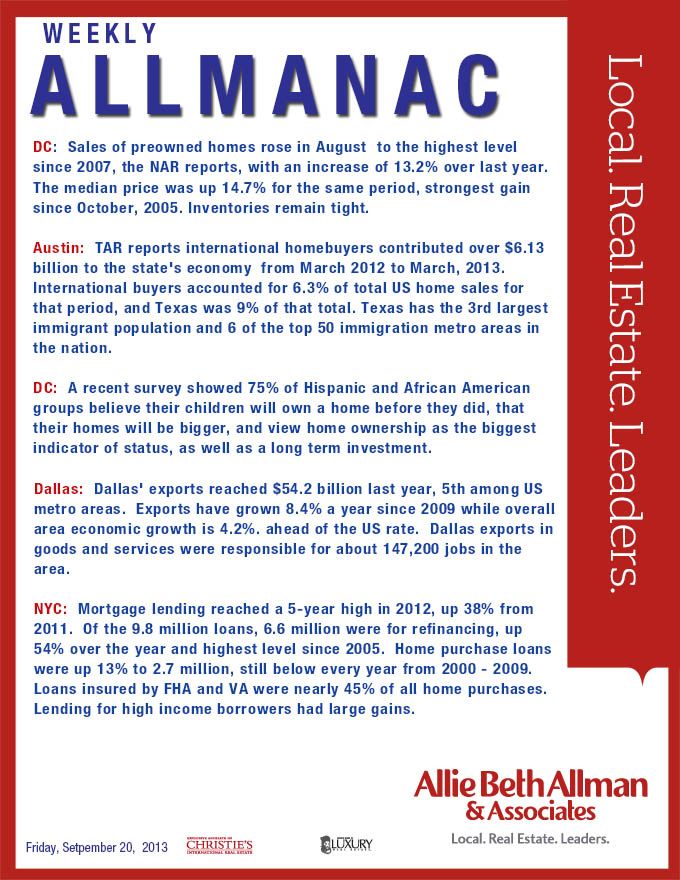 Dallas: DFW airport continues as the nation's 4th busiest international airport, handling 65% of all international air cargo in Texas. 22 passenger airlines serve 58 million patrons annually with 1900 daily flights to 200 destinations. Meanwhile,North Texas is building more road projects than any other US region, with $15 billion in construction underway. When I-35 LBJ Freeway opened in 1969, capacity was 180,000 cars daily. By 2009, traffic was 270,000 cars per day. Upon completion, capacity will be 350,000 cars daily.
September 20, 2013
Dallas: Sales of preowned homes rose in August to the highest level since 2007, the NAR reports, with an increase of 13.2% over last year. The median price was up 14.7% for the same period, strongest gain since October, 2005. Inventories remain tight.
Austin: TAR reports international homebuyers contributed over $6.13 billion to the state's economy from March 2012 to March 2013. International buyers accounted for 6.3% of total US home sales for that period, and Texas was 9% of that total. Texas has the third largest immigrant population and six of the top 50 immigration metro areas in the nation.
DC: A recent survey showed 75% of Hispanic and African American groups believe their children will own a home before they did, that their homes will be bigger, and view home ownership as the biggest indicator of status, as well as long term investment.
Dallas: Dallas' exports reached $54.2 billion last year, fifth among US metro areas. Exports have grown 8.4% a year since 2009 while overall area economic growth is 4.2% ahead of the US rate. Dallas exports in goods and services were responsible for about 147,200 jobs in the area.
NYC: Mortgage lending reached a 5-year high in 2012, up 38% from 2011. Of the 9.8 million loans, 6.6 million were for refinancing, up 54% over the year and highest level since 2005. Home purchase loans were up 13% to 2.7 million, still below every year from 2000 - 2009. Loans insured by FHA and VA were nearly 45% of all home purchases. Lending for high income borrowers had large gains.
September 13, 2013
Dallas: MLS data show 9,291 pre-owned homes sold in August in North Texas, one of the highest monthly totals since the recession and 16% ahead of a year ago. For the first eight months, total pre-owned sales in North Texas are up 20% with the number of houses coming on the market up 12%.
NYC: A recent study reported on Fox Business News shows 75% of luxury homeowners stating home ownership to be a better investment than the stock market and 57% of employed owners believe home ownership is a bigger indicator of success than their job or title. 96% of luxury home buyers rely on their real estate agent for insight about neighborhood lifestyle, new listing notices, advice on housing trends, and personal support through the buying process.
DC: NAR reports more Americans are living alone, 33 million, and single buyers made up a quarter of all home purchases last year. The survey shows age 18 - 34 is the fastest growing group living alone with 18 million women versus 14 million men. The majority of solo households are in cities and metro areas.
DC: The 2010 census found Texas leading the nation in population growth in the prior decade, the fifth fastest growing state. The DFW area is projected to expand from a 2010 population of 6.4 million to nearly 16.8 million by 2050, ahead of Houston. In 2010, almost half the state lived in either the DFW or Houston metro area. By 2050, nearly three quarters of the state will live in the four metro areas, with 56.5% either in DFW or Houston.
DC: The FHA is allowing borrowers who went through a bankruptcy, foreclosure, deed-in-lieu or short sale, to re-enter the mortgage market in as short a time as 12 months, according to a recent mortgage letter. The normal waiting period would be at least three years.
September 6, 2013
Dallas: DFW home prices in July were up 10% from a year earlier, continuing record highs above pre-recession peaks. Texas prices were up 9.1%. Barclays chief economist predicts a gradual slowing of increases, estimating a 9.5% rise this year and about 7.5% in 2014.
Dallas: Hillwood plans for the 6-acre tract at Bowen and Turtle Creek will involve only two-thirds of the land, leaving the rest for a nature area and open space. Perot Group and Hillwood headquarters will occupy the buildings.
Dallas: 37 custom homes from $625,000 to $850,000 will be built on a 10-acre tract near Skillman and Church streets, to be called the Bordeaux at Lake Highlands.
Dallas: The Canyon in Oak Cliff has begun construction for a 211-acre project near Westmoreland Road off Interstate 30. Plans include up to 7,500 residential units; 1,000 hotel rooms; 800,000 square feet of retail space and 1.2 million square feet of office space.
DC: Interest rates on jumbo loans have dropped below conventional loans for the first time, according to the Mortgage Bankers Association, noting last week's average 4.73% for a conforming 30-year fixed versus 4.71% for the jumbo similar product. Federal officials have raised fees that Fannie and Freddie charge lenders in a bid to reduce the outsize footprint of the government entities.