"You're going to Denver? Don't drink the water," he said with a half-chuckle to a passenger. There's THC in it. You don't want to come back and fail a drug test."
This helpful statement came courtesy of a TSA agent in the security line at Dallas/Fort Worth International Airport, and, not surprisingly, prompted lots of chatter among the other passengers, and then a bit of research on my end. (The upshot: Earlier this year, the Denver Post warned residents in Hugo, a "town on Colorado's Eastern Plains…not to drink, bathe in or cook with its tap water" because "multiple preliminary tests of the water came back positive for THC, the main psychoactive compound in marijuana." Final testing came back clean, with no THC "in the town's water supply, contrary to what field tests had shown earlier this week," said CNN. But there are still skeptics. Let's just say the bottled water was flowing on my recent trip to Denver.
The pot wasn't flowing, at least in my environs, despite the fact that recreational marijuana is legal in Colorado thanks to a voter referendum in 2012. But just because you don't witness an ounce of growing, dispensing, or partaking firsthand doesn't mean it's not happening. In fact, the economic impact of legalized marijuana statewide has been huge. Revenue in the first five months of this year totaled $486 million. That's up from $356.8 million in the first five months of 2015, per the Colorado Department of Revenue.
Motley Fool took a look at the legalized industry in an in-depth, three-part piece and found one "small but opportunistically located cannabis shop" in Denver that the owner said was "on track to do $130,000 in sales today." And that was in 2014.
"Needless to say, in an almost exclusively cash-based business, that's a lot of dough," they said.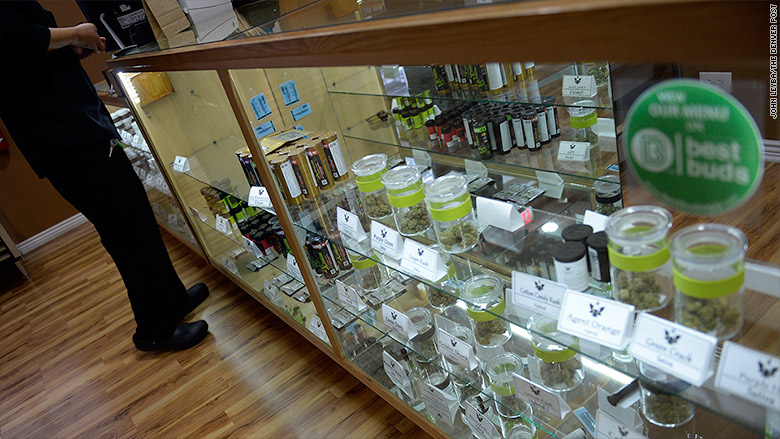 CNN
Money talks
It's not surprising that those who have capitalized on this growing economy are looking for places to put it by pouring their all-cash profits into all-cash property purchases.
"In the red-hot Denver real estate market, cash is king," said RE/MAX of Cherry Creek. "Increasingly, buyers are coming to the table with cash offers and edging out others who require loans to acquire the property."
Just how many? "The Denver Business Journal reports that in January, cash sales of homes in the metro area made up 19.21% of all sales. Statewide, that number increased to 25% of all sales."
Not surprisingly, market conditions are keeping some area real estate professionals on their toes, as everyone from first-time buyers to those who have - gasp! - the nerve to seek an actual mortgage, take a hit.
"The pot industry has changed multiple industries in Colorado," said Judy White, Broker/Owner of Judy! Judy! Judy!, Metro Brokers Front Range Professionals. "A lot of money has and is coming into the state. Most notably, industrial/residential real estate. Cash Cash Cash!"
One of the most significant impacts on the market has been the dwindling inventory. Yes, it seems the pot folks are bogarting the homes.
Christian Mulhern of Give Back Homes noted on the company's blog that, "The legalization of marijuana in Colorado has been an exciting adventure. It has brought success to many in the marijuana industry, but has also put a lot of stress on the housing market. Colorado's population increased by 101,000 in 12 months. Listings go under contract in less than 72 hours on the market and sell for well over asking price. With the amount of people moving here, we are seeing multiple offers, which continues to raise home prices."

Gold-Silver
The impact on property values
And that brings up an important question: Is the Denver market overvalued?
Denver has been smoking the competition when it comes to sales for a few years now. It's currently the No. 2 housing market in the country by city size (behind Austin), according to WalletHub's new "2016 Best Real Estate Markets" list. The list considers everything from "median home-price appreciation to housing affordability to job growth," which makes it easier to justify values. The Denver Post calls the Metro Denver market "frothy" but points out that "home prices are about 18.3 percent higher than what income gains can explain and justify, according to a first quarter update from Arch MI.
That's on the high side among metro areas and above the excess appreciation rates seen a decade ago during the housing boom. In fact, they haven't been so high in Denver since the oil boom days of the early 1980s."
But, they're not expecting a dip in the market, despite the fact that "The state is the third-most overvalued after North Dakota and Texas." In fact, "The odds that metro Denver will suffer a home price decline over the next two years remains at a low two percent due to a strong economy and the region's continued popularity among those relocating."
Perhaps the most interesting comment from Arch MI: "States dependent on natural resources are at the greatest risk of a housing downturn as they shed jobs and population gains slow."
Natural resources. Funny.

Lakewood
Side benefits
CNN noted last year that "Denver's housing market is on fire," with home prices up by double-digits, inventory way down and "multiple offers with bidding wars" having become common thanks to legalized marijuana in the state. They also took a look at job growth related to the legalization, but perhaps not in the way you would expect.
"The pot industry is creating jobs we didn't have before," Kelly Moye, a Re/Max real estate agent who has worked in the Denver area for 24 years, told them.
Beyond the growers and dispensaries, "Legal marijuana has also been a boon for existing businesses like security and HVAC companies who service the new 'green' businesses," said CNN.
For the first half of this year, "Colorado's employment growth is meeting expectations and the economy continues to outperform the nation: Employment is growing faster here, housing is hotter and incomes are higher, according to a report released Thursday by the University of Colorado Leeds School of Business," said the Denver Post.
"And Colorado's fledgling marijuana industry - which, in the grand scheme of things, is just a tiny sliver of the economic pie chart - is backfilling retail sales losses…and bolstering otherwise sluggish manufacturing segments, according to the Colorado Business Review report."
Some of that revenue is being poured back into the economy and used to benefit its residents in Denver and surrounding areas, making necessary improvements, adding amenities, and funding public programs.
"This may not be the city that cannabis built, but Colorado's most famous cash crop could soon be the driving force behind construction of a $7 million, 40,000-square-foot civic center in this tiny community wedged between Lakewood and Denver," said the Denver Post. "Edgewater is exploring using sales tax revenue from marijuana sales to cover more than half the cost - $4 million - of building a facility that will house a new city hall, police station, fitness center and library. "It's a project that likely wouldn't move forward—at least not for years—absent the tax remittances made by the city's half-dozen pot shops."
Previously, metro Denver's Adams County "devoted more than half a million dollars in sales tax money from recreational pot sales to fund scholarships for 50 low-income students, while Aurora is dedicating $1.5 million in pot revenues to helping the homeless and Pueblo West is putting $200,000 toward street repairs."
Edgewater also used $3 million from its medical and recreational pot sales to repave streets and fix sidewalks, "which, essentially cut in half the time needed to do the repairs, compared with the budget before pot was legalized."
Perhaps this solves the age-old argument: Pot really is a gateway drug…to staggering wealth, real estate ownership, and better infrastructure.