Living green is on the minds of many, but bring up the idea of grey water and composting toilets, and, well, never mind. The great news is there are tons of products and ideas you can use to be kind to the universe without a big compromise.
Chargers
"According to the United Nations Environment Program, the world generates twenty to fifty million metric tons of electronic waste each year and most of the wastage is caused due to heavy use of electronic appliances," said Geeknaut. "Wouldn't it be great if we could replace our gadgets with solar powered counterparts? You can, with this Freeloader Solar Charger.
A portable charge powered by the sun, the Freeloader "is an advanced portable charging system that can power any hand held device anywhere. Once charged, Freeloaders internal battery can power an iPod for 18 hours, a mobile phone for 44 hours, PSP for 2.5 hours and a PDA for 22 hours."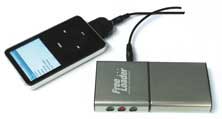 Geeknaut.com
Outdoor Furniture
A stylish, outdoor dining set that's eco-friendly? Yep. Bambeco's "recycled post-consumer HDPE outdoor chairs are constructed with the material from 300 salvaged plastic bottles."

bambeco.com
Cooktops
If you've been thinking about an induction cooktop anyway, it pays to take a look at the Nuwave Precision Induction Cooktop. "The NuWave Precision Induction Cooktop (PIC) uses induction technology to reduce the amount of electricity required to cook foods traditionally prepared on electric stove," said Conserve Energy Future. "The secret is an internal copper coil. This coil generates a magnetic field within your steel and iron-based pots and pans. The magnetic field causes molecules in the pots and pans to begin vibrating rapidly, creating heat, so the cookware itself heats the food. In this way, heat is generated in the cookware and not on the cooktop surface, a process which is much more energy-efficient than cooking with traditional gas or electric ranges."
Low-flow showerhead
The problem with low-flow showerheads is that they feel like low-flow showerheads. But if you still want to make a dent in your water usage, try the Whedon, ShowerChamp's choice and "a longtime customer favorite," they said. "It's compact, solidly built, and provides a strong, steady spray. Reviewers complimented the strength of the water output - even in homes with low pressure."
Lawn mower
Think of it as a Roomba for your lawn. The Husqvarna Automower® is a robotic lawn mower, so "the grass gets mowed automatically—around the clock without your supervision. It's electrical, so there are no emissions.

husqvarna.com
Thermostats
The Nest Learning Thermostat and the ecobee 3, which comes with inivudal room sensors, not only help you regulate the temperature in your home to keep you and your family more comfortable, but can also help you save energy and money - about 10–15 percent on your heating and cooling bills!
Countertops
Another reason to love quartz, the No. 1 choice in countertops today. While a recycled material would be the most eco-friendly option for your countertop, "Quartz products do not need sealing and maintenance like granite or other stone," said Green Home Guide. "There is less material waste during manufacturing (quarrying) and fabrication of quartz surfaces."
Textiles
Recovering a couch, having drapes made, or simply looking for a green option for textiles?
"Designtex is a textile-design company whose catalog includes more than 8,000 materials with an eye toward sustainable production," said Construction Dive. "Users can search the company's website to find textiles that meet their desired environmental criteria. Among its environmentally friendly offerings is Wannabe, which comprises 95% post-consumer recycled and 5% pre-consumer recycled solution-dyed polyester. Additionally, Designtex tracks the emissions related to the shipping of its products and invests in carbon-reduction projects in order to offset them."

designtex.com