No room for a pool? That's what you think. The tiny home may be all the rage, but it has nothing on tiny pools. Perfect for yards with less than ample space, a mini pool can give you everything you want, even if you don't have acres of land to build it on.
"You don't have to have a big backyard to fit in a pool - and if you do have a big backyard, the pool doesn't have to take up the entire thing," said Apartment Therapy.
Choose from these three main types of small pools for inspiration.
The spool
"If you are looking to have a luxurious backyard but have a limited space to work with, you might be in the market for a Spool," said Klein Custom Pools. "A Spool, or a Cocktail Pool, is a small swimming pool design created as a solution to having a relaxing swimming pool fit for a small backyard or limited space."
This spool may be short on size, but certainly not on style…or function. The large shelf area affords lounging without getting completely submerged, and, with the in-water barstools, you'll feel like you're on vacation every day.
Trying to figure out how to design a courtyard area that could feel less than hospitable thanks to the tall brick walls? Decking that runs up the walls, lush landscaping, and the cleverly located and shaped spool turn this small yard into a showstopper.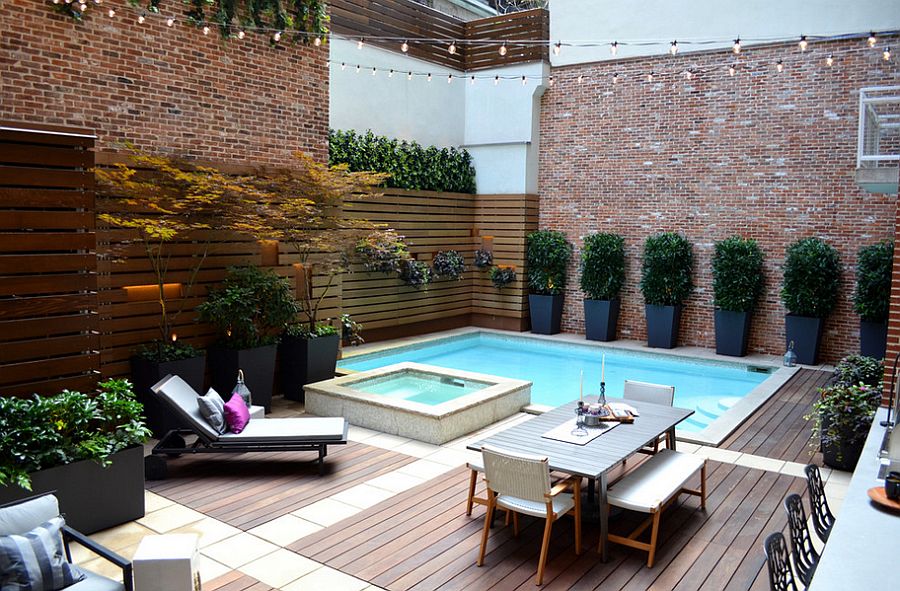 decoist.com
In this desert backyard, the curved shape of the spool breaks up the straight lines, the extended steps provide a place to relax, and the fountain helps circulate the water, which can help keep it cool even on the warmest days.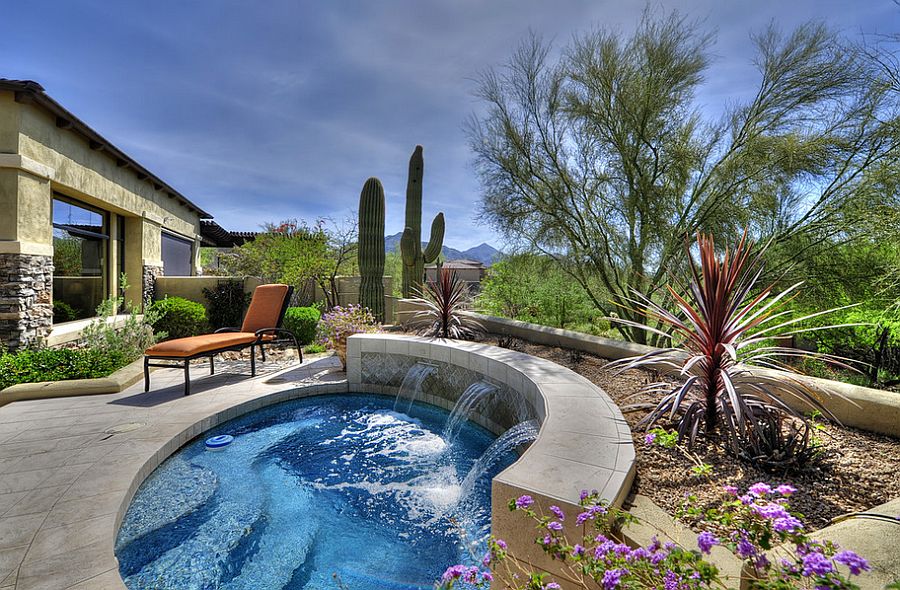 decoist.com
A narrow yard gets the tropical treatment. This small pool proves that getting creative with shapes and textures can help overcome a lack of depth in your outdoor area.

Pinterest
Lap Pool
This lap pool is beautiful to look at and also provides function for those who want to do more than cool off. It's compact size also leaves plenty of patio space to enjoy.

http://bestorarchitecture.com
This lap pool "runs the length of the house and also functions as a showcase water feature," said HGTV.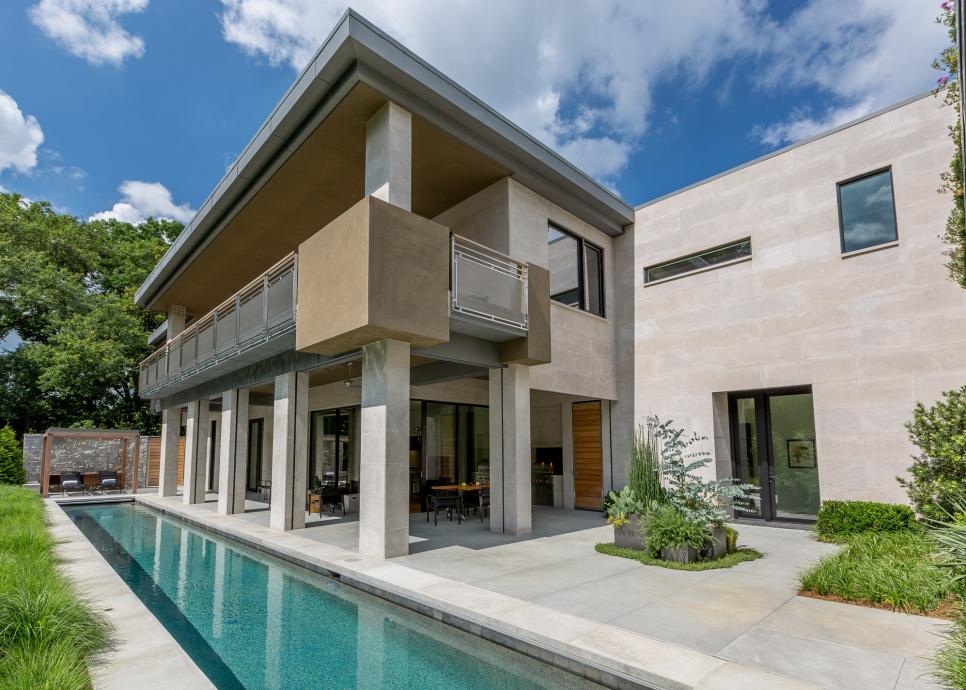 HGTV.com
Even a postage stamp of a yard can become an outdoor oasis. Here, the raised platform provides a resort-like spot for enjoying the view onto the lap pool. Tropical landscaping, bamboo fencing, and a dark stain complete the look.

Pinterest
Plunge Pool
If you're not looking to actually go for a swim, you may have other options open to you by building a plunge pool.
"A plunge pool is a small, shallow pool built for the purpose of lounging, wading, and cooling off instead of for swimming and exercising," said The Spruce. "Some homeowners prefer them because of their lower costs, smaller sizes, easier maintenance, and reduced water requirements. Since newer homes tend to be built on smaller lots, a plunge pool is a space-saving option."
While it may look like a hot tub, a plunge pool is typically kept at a lower temperature that makes it a refreshing option in warm climates. And, you an easily build one into a deck, like in this home.
Think creatively to make great use of space and materials. "What to do when space is tight? The clever folks at Clayton&Little Architects in Austin, Texas, took a highway concrete box culvert, cast a PVC insert, plastered the exterior, tiled the waterline and voila! – a compact but dazzling plunge pool," said Ocean Home.

claytonandlittle.com