If there's one thing that can make your home look dated, it's lighting. Old fixtures, out-of-style chandeliers, and lighting that detracts from instead of highlighting key features in your home can make it look drab or overdue for updates.
"One aspect many homeowners neglect is lighting and the impact it has on your home décor," said Improvenet. The good news is that changing out or adding new fixtures can be an easy fix that gives your home some new sparkle.
And, while many of these light fixtures can run into the thousands of dollars, there are more affordable options, like Target's Project 62 line, which has been a big hit with both consumers and interior designers for its modern looks and low prices. "In many cases, your light fixtures are often a budget-friendly way to upgrade the décor. In 2018, they'll be an important part of both interior and exterior decor."
Here are some trends to keep in mind.

hunker.com
1. Mix and match
For a stylish, eclectic look, give your pendant lighting some flair by mixing it up. "A row or cluster of pendants is a classic look, but we're fans of mixing things up," said Hunker. "Try hanging different colors or sizes of the same pendant light, or use a consistent color palette in an array of different shapes."
2. Large fixtures
Scale is always an important factor when designing a space, but modern lighting trends are veering toward larger fixtures that also make a larger impact. "For certain areas of the house, homeowners are falling in love with bigger fixtures," said Sebring Design Build. "The aim is to create a 'Wow' factor and attract instant attention. More than lighting, these fixtures act as centerpieces. Some come with ornate designs that focus all the attention in a space on the fixture. Large pendant lighting fixtures can be used over the kitchen island, over the dining table, at the foyer and along exterior footpaths among other areas."
3. High-impact chandeliers
Beyond scale, chandeliers for 2018 are also focused on exciting shapes. The starburst style chandelier, known as the Sputnik, has been trending for several years but has origins back to the 1950s, when the Sputnik space launch inspired an obsession with all things space-related. A Houzz story back in 2011 said that, "The classic setting for a Sputnik light is in a mid-century modern room. You will commonly see it with brass arms, paired with medium toned woods and retro colors such as aqua. It's a playful, punchy addition to a well-composed living room."

pinterest.com
Today, however, this style is being embraced in all kinds of spaces ad being created in all kinds of styles, materials, and price points. You can buy this one that is nearly $7,000, or spend just $108 on this version from Amazon. "As the retro look starts to make a comeback, it's no surprise that the starburst chandelier is the hot item to have in your home this year," said Improvenet. "It's a focal point of its own, as it has a unique shape, unlike other chandeliers. If you're looking for a chandelier to start a conversation, this is your must-have home décor item for the year."
4. Smart lights
There are several products you can buy today that go beyond your typical light bulb and that integrate smart technology into your lighting. Expect this trend to only continue to grow as more variety is offered, but, for now, experts laud the Philips Hue light bulbs for their ease of use and smart features. "The Philips Hue light bulbs are the best ones you can buy because they are reliable, consistent, easy to use, and work remotely," said Business Insider. "Perhaps the best thing about the Philips Hue bulbs is their versatility. You could go for the color-changing bulbs, which are a little more expensive, but there's also the option for the simple white bulbs, which are much cheaper and could offer a better option for those looking to set up their entire home. No matter which set you get, all Hue bulbs are dimmable and can be controlled remotely with the Hue app."
5. Glass bubbles
Whether they cluster or cascade, glass bubbles bring a whimsy and wonderment to any space. Expect to see both clear and iridescent colored versions this year. The Doneger Group featured glass bubble chandeliers in its recent trend forecast for HomeGoods.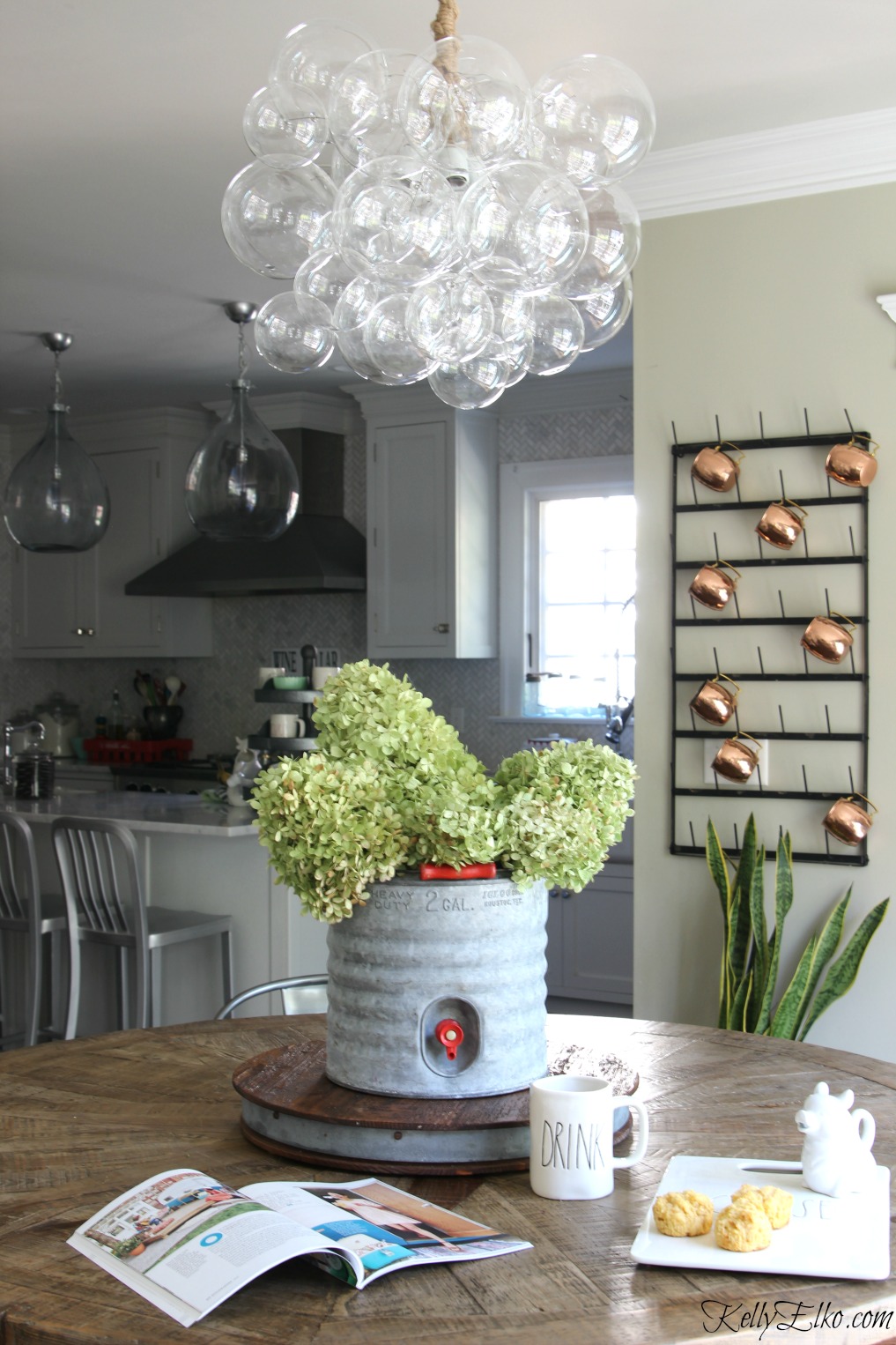 kellyelko.com
6. Metallics
We could have specified brass or gold or any number of other metallic finishes here because there are several that are trending individually. And, the truth is that it's hard to go wrong today with any of them. Sebring Design Build likes soft gold for 2018, a choice they call "right within this spectrum of soft colors that work so well for contemporary decors to choose for your remodel. Soft gold falls somewhere in the middle of brushed silver and brushed gold. It borrows the soft matte finish of these two hues while bringing out the warmth and mellowness of gold. This also means that it can blend in with almost any kind of décor from modern urban to farmhouse."
Can't choose just one? That's not a problem. "The rules of interior design are meant to be broken and when done right the results can be inspiring and stunning," said Bellacor. "Mixing metallic design elements, either within a single lighting fixture or within a larger design environment, is a great way to break the rules and create a harmonious visual plane at the same time. In 2018, gold, silver, brass, rose gold, copper and other metal lighting fixture elements can all work together to create an intentional and thoughtful look within a designer space."
7. Vintage lighting
Going vintage with your lighting is a great way to bring character to a space. "Homeowners are gravitating toward vintage-style fixtures, such as aged copper pendant lights, as an unforgettable focal point for the living room or the kitchen," said Inman.