With the sun shining down on your lawn this spring -- and the chance you could be facing days without rainfall -- you'll probably be watering or turning on the sprinklers more often. Rather than watching your water bill dramatically increase, take this opportunity to look at how you can make your landscape water-efficient. Water-efficient landscapes can:
Reduce how much water you use outside by 20% to 50%
Help you save almost 10,000 gallons of water per year
Decrease your bill by $30 to $70 per year
Here are some tips on saving water this spring and summer with your landscape. And don't worry, none involve a complete overhaul!
#1 Choose native plants.
Native plants are the better choice for your landscape because they:
Are established
Don't require a lot of watering
Are resistant to pests and diseases in the area
Don't need a lot of fertilizer
Rather than going wild and planting non-native species that could require a lot of watering and attention, focus on the plants that thrive in your climate. Check out local nurseries and speak to landscapers in the area who know what species to look at. If you really want to add exotic plants to your landscape, do not touch invasive species as they could hurt your natives and cause a headache by the end of the season.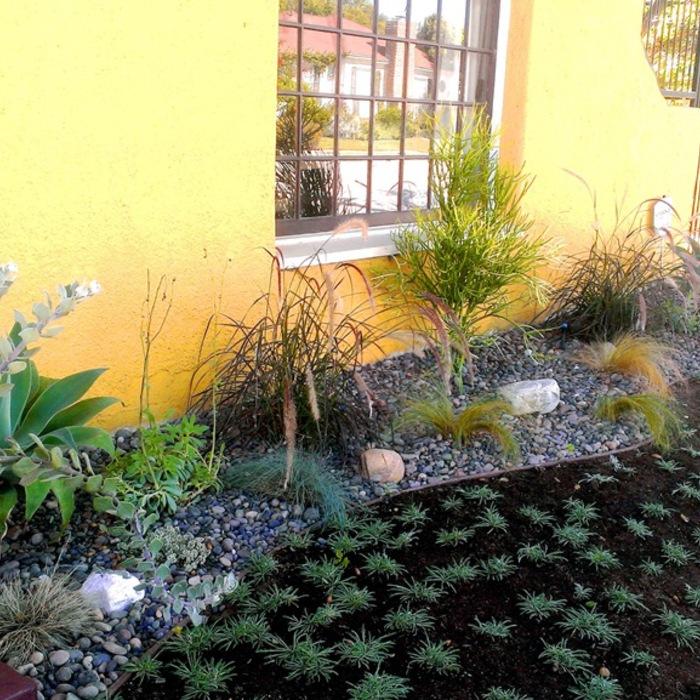 Photo courtesy of Green Touch Enterprise, Inc. in Bellflower, CA
#2 Put plants into groups.
Once you've selected your plants, it's time to group them together. If you put plants together by how much water they need, you'll cut time and water use down. By putting the plants that need less water together, you'll avoid under or over watering. Do the same with the plants that need a lot of water and plant them in the same area.
Your thirstiest should go together, potentially near the house to take advantage of rainfall coming off the roof.
Put plants that need drip irrigation or sprinkler water further out from thirsty plants.
The furthest away from the thirsty plants will be plants that need little to no watering.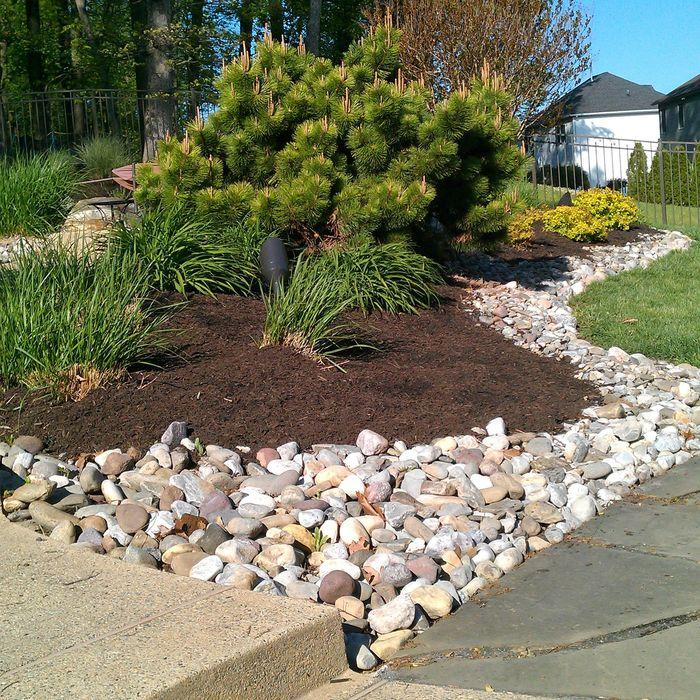 Photo courtesy of Senn Lawn Care, LLC in Chalfont, PA
#3 Mulch, mulch, mulch.
Mulch -- whether organic or inorganic -- helps save water by keeping soil cool, reducing evaporation and helping roots stay healthy. Mulch needs to be replaced on a regular basis, 2 to 3 inches at a time. There are two options to choose from:
Organic mulches like compost, bark chips and pine needles. These break down and add nutrients at the same time.
Inorganic mulches like landscaping paper, rocks and pebbles. These are permanent but can fluctuate more in temperature.
You're usually better off applying organic mulches because of their added nutrients. You can also save some money by using your grass clippings as mulch after mowing.
#4 Water efficiently.
Watering should be done efficiently and at appropriate times, so your plants get the most water absorption. You should water early in the morning when temperatures are at their coolest in the spring and summer. If you have new or transplanted flowers and shrubs, they will need less water. Never water in the middle of the day or at sunset--middle of the day is the highest evaporation time and dusk will encourage fungus and mildew growth overnight.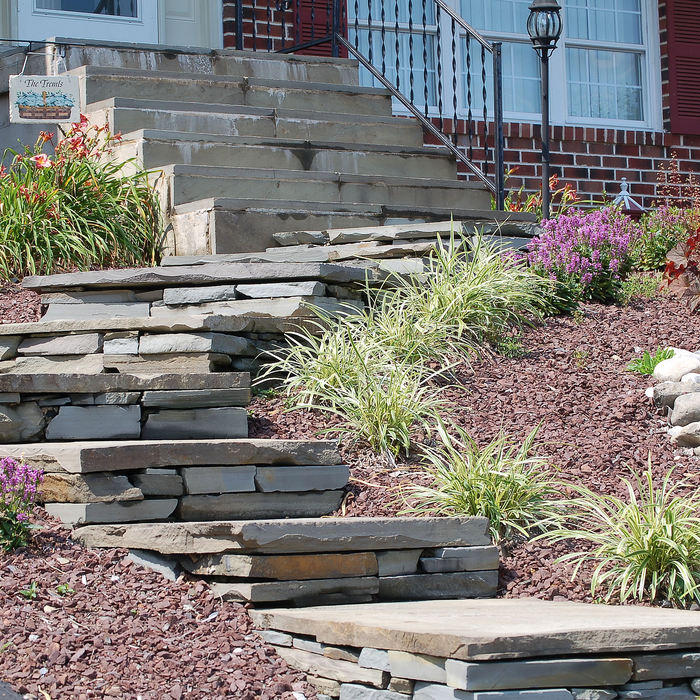 Photo courtesy of Dixon Teter in Paoli, PA
#5 Minimize steep slopes.
If you have a steep slope in your yard, there's a chance all the watering you do will be pointless. The water will run away from your garden and down into the sidewalk. To avoid this problem, you have a few options.
Install deeper root plants like native groundcovers and shrubs
Have your lawn resloped professionally for $900 to $2,400.
Install rocks, pebbles and other permanent fixtures around the plants to trap the water.
#6 Shrink the lawn.
Depending on the size of your lawn, there's a chance you're going to spend a lot of money on watering regardless. So why not look at making your lawn smaller? You might not need to have grass everywhere. Restrict it to areas where you actually need it -- the front yard or under a kid's playground, for example -- or think about xeriscaping instead. Xeriscaping is a great idea in climates with very little rainfall, like the West and Southwest. Instead of green grass, a xeriscaped yard includes rocks, pebbles and sand. It's not a traditional yard in any sense, but it's easy to maintain and you can still have flowers and shrubs sprinkled in.
For those who still want a lawn, you can plant types of grass that are more drought-resistant. These types include bermuda and buffalo grass, which use 20% less water than other types.
Andrea Davis is the editor for HomeAdvisor, which helps homeowners find home improvement professionals in their area at no charge to ensure the best service in the shortest amount of time.