Creating a coastal feel in your home is a great way to introduce soothing colors and relaxing décor. But it can easily go overboard (literally!) with too much theming. With a few tips, you can create a space that gives you that sense of being on vacation everyday.
"Contemporary Coastal is a perennial favorite among designers and home owners," said Decoist. "The relaxed and fresh style reminds us of those lazy summer days or that exotic holiday trip when sun, sand and surf were just a stone's throw away! Bringing the bright, beautiful and energizing aura of life on the beach, coastal style is all about creating a relaxing, airy and cheerful atmosphere indoors. While there are several different versions of the beach-inspired theme, it is best to pick one that serves you well all year round."
Colors
Start by bringing in the colors of the beach—sandy beige, shades of blue and green representing the sea. Browns can ground a space and represent rocks, driftwood, or even seaweed. Or, go with a white palette. "Use a lot of white paint on the floors, walls. When it doubt, paint it white," said Design Sponge.
For a modern beachy look, add bright pops of color to a background of white. "Crisp whites combined with punches of bright colors immediately transport you to the coast," said Southern Living.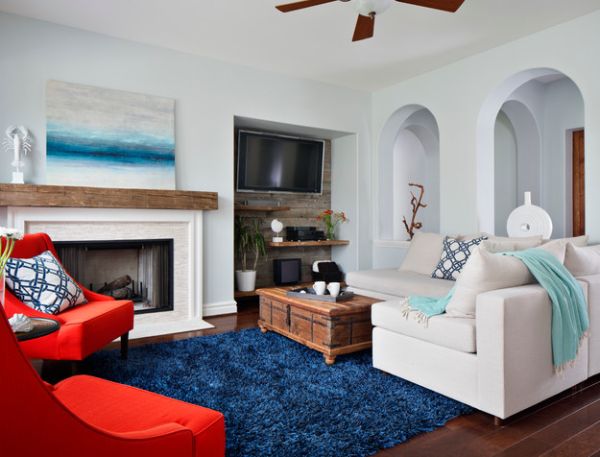 Decoist
Textures
Keep it light and airy. Think gauzy fabrics you can see through. If your climate requires more heavy-duty window coverings to keep the heat in when it's chilly outside, you can still get the look by framing the windows in light fabric and using wood blinds, shutters, or seagrass shades over the window.
Or, you can try linen, which dresses the living room windows in this seaside-inspired home featured on HGTV. "The linen curtains fit the aesthetic well. They're heavy enough to block the sun, but their loose weave still allows light to filter in," they said.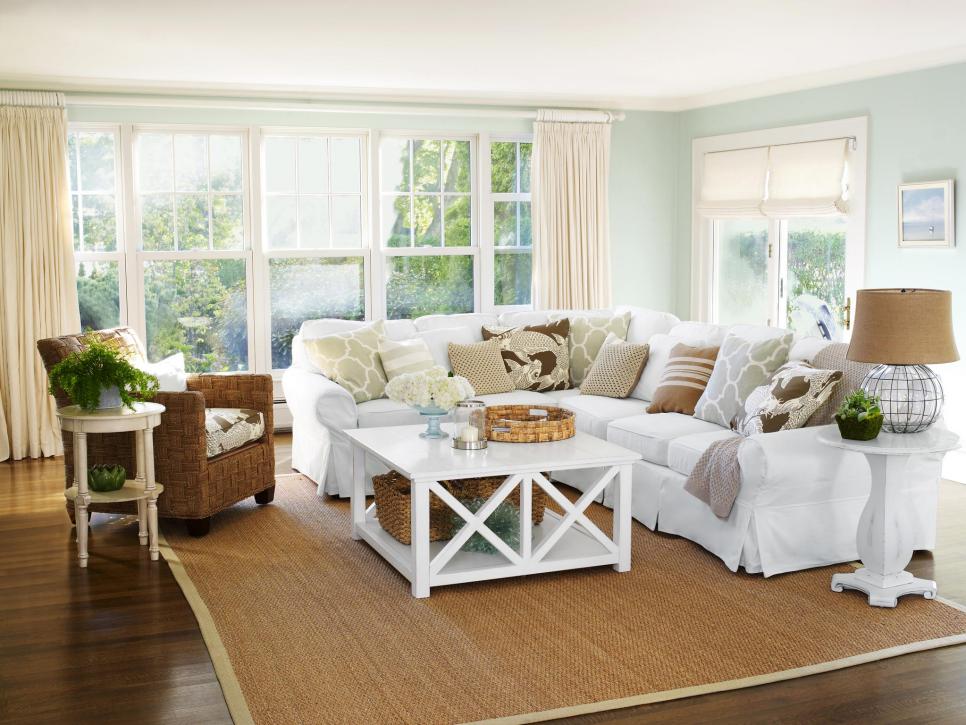 HGTV
On the ground, a seagrass rug mimics sand and pulls the space together.
Furniture
You don't have to go full-on rattan to get s beachy feel from your furniture. Driftwood chairs, upholstery in ocean hues, a woven piece or two woven in or white furniture to keep the décor light and breezy—all can impart the feeling of living near the sea.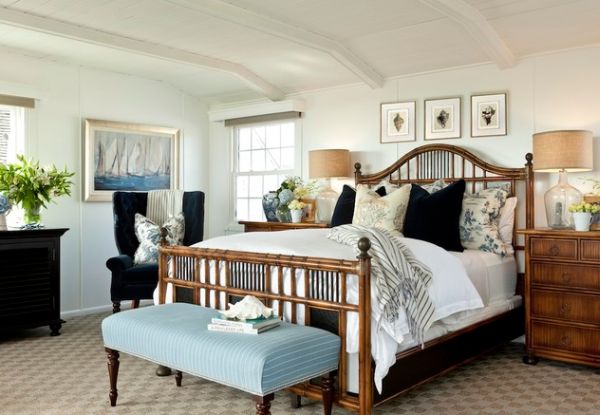 Decoist
Depending on what you choose, you can capture a west coast, Hamptons, Caribbean, or West Indies vibe.
This home happens to have a stunning view of the ocean. But if it didn't, you could still cop its beachy vibe with the driftwood table and light palette. Be sure to add a couple of faux fur throws or seat covers for a contrasting texture that feels rich.
Linens
Choose soothing hues and soft textures with subtle seaside references to create a relaxing haven.

Seaside Interiors
This room's pale blue walls set a cool tone, with a bold piece of coral artwork. It's a distinctive way to get a beachy feel without a shell or anchor in sight.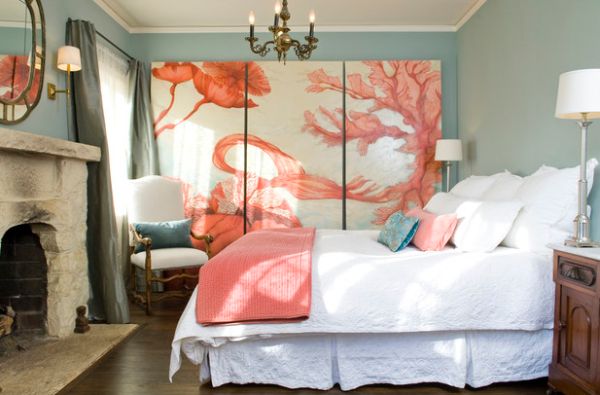 Decoist
Accessories
You don't have to fill your house with every-beach themed item you find, but a vignette here and there or a well-proportioned collection can help continue your theme without overwhelming.
"Adding just one seaside reference, such as a palm-patterned rug, is all you need to give a subtle nod toward the region," said Southern Living.

Design Sponge
Lighting is a great way to create inspiration. This capiz shell chandelier is whimsical and beautiful, imparting a sense of seaside elegance to a well-designed space.

HGTV
Incorporate architectural details
There's no reason you have to contain your love of the beach to the inside of your home. "Apply the character of the coast to your home's exterior with beach house-style architecture and accents of vibrant color," said Southern Living. "A Caribbean blue louvered doorway adds flair and beckons guests inside this Florida home."