Using natural materials at home is not a new idea. But new ways of using them can turn ordinary into extraordinary and give your home some unique flavor.
Whether you're drawn to wood, stone, gems, or plant materials, using them in your décor - in small doses or in a large application - can give you the distinctive look and feel you want. And with an increasing focus on green materials, the choices are more vast than ever.
"When it comes to creating a trendy interior, using green materials is definitely the way to go," said freshome.
"Designers are practically jumping at the chance to create products that bring nature into your home, which means you have the chance to incorporate them into nearly every aspect of your décor. Go big and make a statement with a copper bathtub. For a subtler feel, consider buying furniture made from eco-friendly fibers. Smaller still, add bamboo shades to your windows to keep out the afternoon sun."
Here a few more ideas.
Between simple wood trim and a mountain-style log cabin, there is a multitude of uses for wood in the home. The bath is already one of the most relaxing spaces in the home. Creating it out of natural wood ups the ante.

décor 10
Pull up a chair. Or, set it in a place where you can simply admire its beauty.

Upcycle Dzine
Or, create a desk that will always keep you inspired.

Little Branch Farm
Being green can be literal when you bring a moss wall into your home.
"One of the most striking materials to add some green to a room is moss—offering designers a huge variation in colour, tone and thickness, a moss wall can bring an original touch to any interior space," said Worldbuild 365. "Its versatility means designers can use moss however they want, from covering an entire wall to using the smallest sliver to inject a dash of nature."
Better Living Patios
Sometimes, the topography of a property makes it difficult to build on without stripping the lot of all of its natural beauty. So don't.
deMilked
Why use regular old stone when you can use precious gems. The Precioustone Series takes "a broad variety of gemstone slabs that contain amethyst, quartz, agate and jasper, which are processed, refined and custom crafted" for interior home applications," said Best of Interiors.

Best of Interiors
You don't have to create an entire installation of your precious stone. A favorite way to use onyx is on countertops, especially since they can be backlit.
Lushome
If you have the benefit of carving your home out of stone, by all means, do.

Steven Savannah
If not, you can make it look as authentic and rustic as you want.

Steven Savannah
Or, simply find a cave you can convert into a home.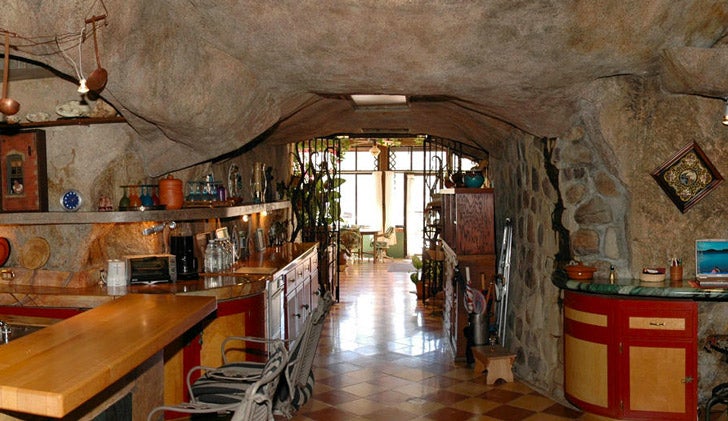 io9
What's more inviting than a copper front door? The warm glow the material gives off is unique, inviting, and sets a naturally spectacular tone for the rest of the home.

All Seasons Home Improvement
Natural materials make an impact when hung from the ceiling in this unique art piece from Korean artist Jaehyo Leeused.

Interior Design Photos
Or, make it functional by adding some lights.

Homesthetics