There's a ton of advice out there that means to guide you toward the best ways to handle your money if (when!) you win the record lotter. But, come on. We all know what you're going to do with your winnings: run right out and buy the most amazing house you can find. (Incidentally, it's the same thing we're going to do!)
Need some assistance picking out that perfect palace? We can help!
A family compound/party playground
Go ahead and drop $69 million on a sick compound where you can swim, boat, ski, and gamble (be careful with that one, though) with 12 dozen members of your family and all your new friends.
This historic 130-acre Lake Tahoe ranch, named Shakespeare Ranch, offers more than 200 feet of lake frontage on Lake Tahoe, and "nearly 35,000 square feet of improvements including a historic entertainment barn built in 1873 with chef's kitchen and plans for a new approximately 9,500 square foot estate home with garage," said the listing. Plus seven guest homes and cabins. The annual "Glenbrook Rodeo" is held here, "featuring bull riding, bronco riding, ribbon roping, and barrel racing. In addition to the rodeo, there are carnival games and a silent auction followed by an extraordinary dinner prepared by restaurateur Emeril Lagasse at the Barn," said Sotheby's. "The evening also features a top-notch private performance by a surprise A-list entertainer. Past headliners have included Robin Williams, Jay Leno, Lionel Richie, Kenny 'Babyface' Edmonds, Kenny Loggins and the band America.

Sotheby's
A Zen Den
With all that zooming around in your new Lamborghini, lunching at the most exclusive spots, and jetting all over the world, you're going to need a place to just Zen out. Where better to do that than in this incredible Sedona home?
This 5,676-square-foot luxury contemporary has "nearly 360-degree spellbinding panoramic red rock views and floor to ceiling glass walls and doors," said Sotheby's. The home is one of 30 private estates in the exclusive, guard-gated Seven Canyons Golf Resort. It's priced at $4,740,000.

Sotheby's
A Parisian Pied-a-Tierre (or Palace)
A two-story luxurious penthouse in the heart of Paris that boasts awe-inspiring views of the Seine and Eiffel tower? But of course! This ultra glam, ultra luxe place has a gilded dining room that seats 24, more marble than you'd find at a quarry, and it can be yours for just $65,416,500. Come on, you can afford it.

Pricey Pads
A swanky NYC pad with a view
If you could manifest the perfect NYC view, it would look a lot like this. You're forgiven if you NEVER GET OUT OF THAT BATH.
This stunning 5,256-square foot, 5-bedroom, 5.5-bath SoHo duplex with 808 square feet of private outdoor space overlooks Downtown and Uptown, and the interior is just as sparkly, with a private elevator vestibule, a formal central gallery, a double-height great room, and a gourmet kitchen.

Douglas Elliman
A Silicon Valley Stunner
Looking to become a tech insider with your lottery winnings? You'll need an outrageous Silicon Valley manse. In swanky Atherton—once named the most expensive zip code in the country and home (or former home) to Paul Allen, Eric Schmidt, Meg Whitman, and Sheryl Sandberg, you won't find a bargain, but you may just find a new tech billionaire bestie.
You've got plenty of options in the $9 million and up range, but we'll take this lavish 9,600-square-foot custom estate on two flat acres that also advertises its "prime location to Google, Facebook and Stanford."

Point2Homes
An Historic Architectural
Always dreamed of owning a Frank Gehry or Frank Lloyd Wright architectural home? How about one of each? The Schnabel House in L.A.'s Brentwood neighborhood is on the market for $9,995,000.
"Noted as one of the 20 greatest houses of the 20th century, this California architectural piece of history has been lovingly remastered as a livable piece of art for generations to come," said Elliman.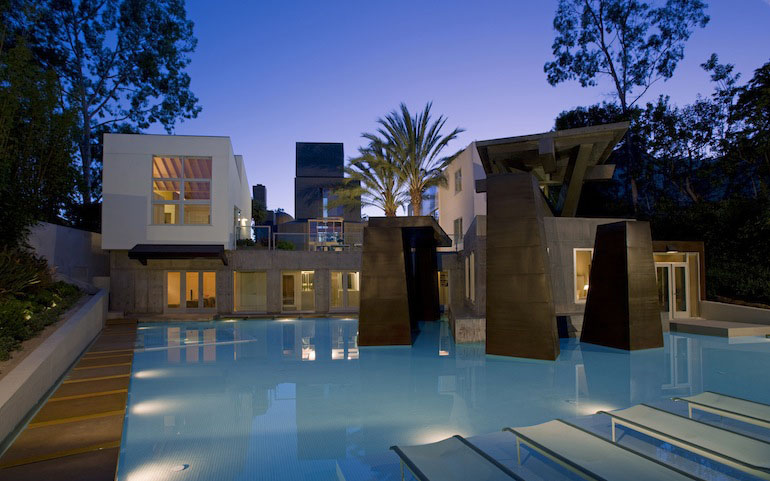 iDesignArch
This 2,800-square-foot, Frank Lloyd Wright prairie-style home known as the J. Kibben Ingalls House is on a desirable, leafy street in River Forest, IL, a Chicago suburb, and is listed for $1,325,000. At that price, you can use the original details including sconces, art glass windows, and built-in cabinetry as inspiration to restore the rest of the home to Wright's original standards.
Island Dreams
Or, forget the house and buy a private island that features Two Frank Lloyd Wright homes - a Wright-designed 1,200-square-foot cottage, and a 5,000-square-foot main residence that was "built in 2008 from one of Wright's final plans, and is considered by some to be one of the most spectacular designs of his career," said Private Islands Online. "Boasting 1,500 square feet of skylights and vast expanses of stone, cement, and mahogany, the main residence is truly a triumph of modern architecture."
The 11-acre Petra Island is located on the private Lake Mahopac 50 miles north of New York City (or "15 minutes by helicopter," as the home's listing delightfully points out) and also offers its own helicopter landing pad.

Private Islands Online
A Celeb Lair
Don't just live like a celebrity. Live in a celebrity home. Have a secret crush on Jennifer Lopez? You can buy the Long Island home she shared with former husband Marc Anthony for under $10 million after a $2.5 million(!) price reduction.

Dolly Lenz
Check out other celebrity homes for sale here.