Is 2017 the year your kitchen is going to transform from something you tolerate to something you celebrate? If you're looking to renovate next year, you'll want to keep these hot kitchen trends in mind.
Graphic Tile 
Cement tile on the floor and backsplash has been gaining steam, and some say the bold colors and shapes are a direct response to all that white subway tile we've seen for years.
"Worried about color? Then choose a pattern in a muted or neutral color of beige or gray, but keep the boldness of the pattern," said Haskell Interiors. "These geometric shapes are here to stay as an accent to your solid white and gray kitchen. The patterns may be from the past, but the look is meant for now."

Pinterest via House Beautiful
Docking/Charging Stations
It just makes sense today to incorporate technology into your home when given the chance. If you're renovating your kitchen, think about little conveniences you can include, like drawers with built-in USB and electrical connections and pop-up charging units.
Kitchen Color
While white kitchens continue to dominate the landscape, with gray not far behind, color is about to make a comeback in some other spots in the kitchen, experts predict, like the cabinets.
"Consider it the new version of an all-white kitchen," said Domino. "White birch cabinets are the next big thing. We're calling it now. Coupled with a subdued marble counter and a shiplap backsplash, the look embodies effortless perfection."

Domino
Pet Spaces
As homes continue to become more customized to meet the needs of the owner - and in lockstep with our collective love of animals - built-in pet spaces continue to grow in popularity.
"This is not so much of an emerging trend as it is a must have for any kitchen in 2017," said Haskell Interiors. "We all love our pets. They are like family. And if the kitchen is the heart of the home and our pets are our family, you must incorporate their needs into your kitchen plans. A recent survey by members of the National Kitchen and Bath Association (NKBA) found that more than 35% of designers were incorporating pet areas into their client's kitchens."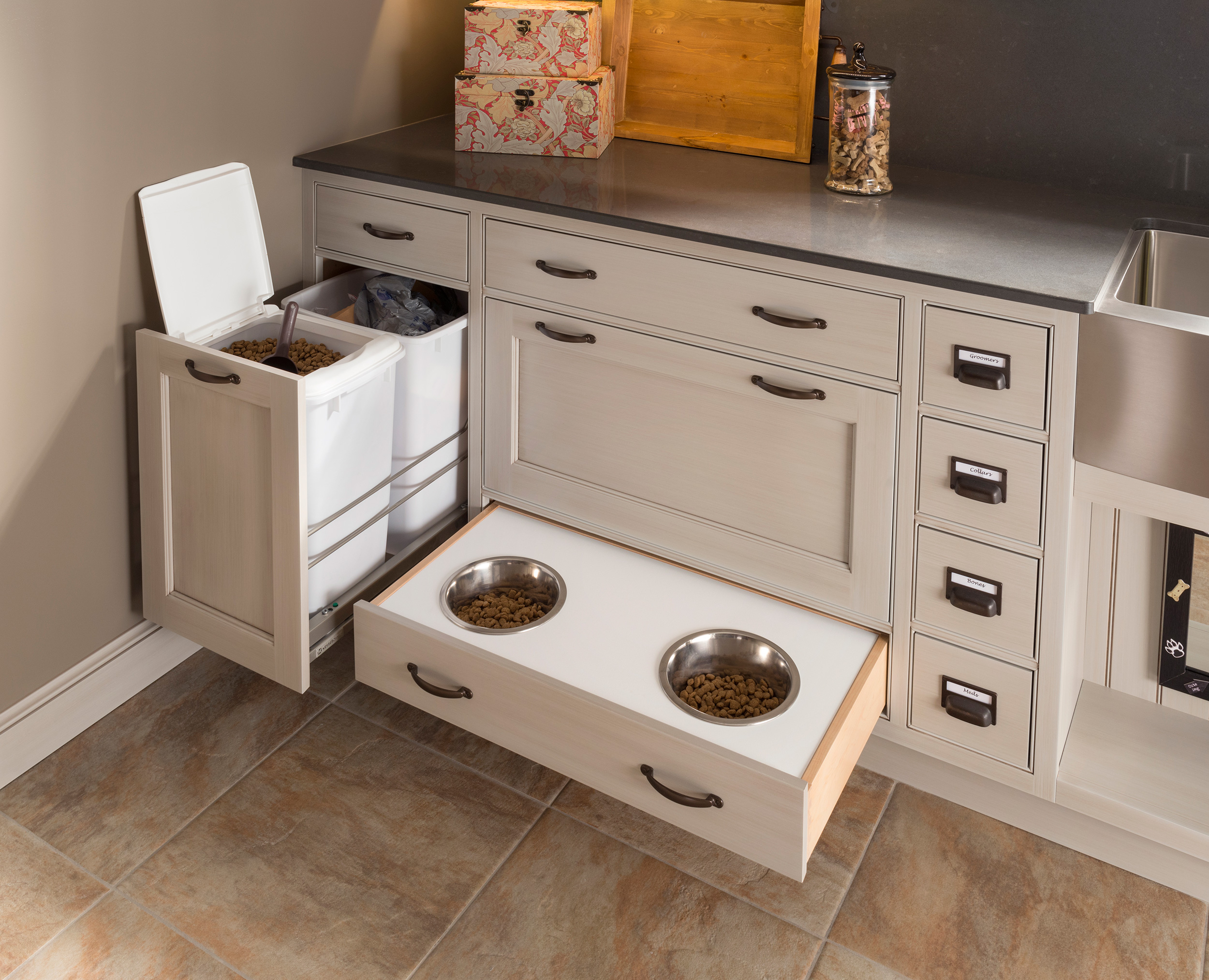 Haskell Interiors
Mixed Materials
If you fall in love with a couple different countertop materials and can't decide between them - well, don't fret. Using multiple materials is another growing trend that' expected to be hot next year.
"Mixing your countertop materials is a big trend coming in on the horizon, especially (with) wood, said Y Bath. "Get ready to see wood countertops contrasting against cool marble and other stone counters."
Houzz agrees, keying in on the unique look that can be created by using a contrasting materials or colors on the island and perimeter countertops.

Y Bath
"In the design world, there is continuous discussion on whether one should mix and match anything from fabrics, to patterns and even raw materials used. Mixing materials in your kitchen can be stunning if executed correctly," they said. "Envision this: white cabinets in the majority of your kitchen paired with an oversized island featuring darker colored cabinets. To downplay the harsh contrasting tones, we would likely choose a beige-brown granite or solid surface for your countertops. Incorporating mixed materials in your kitchen gives you the best of both worlds and joins the contrasting tones in perfect harmony." 
Black Steel Fixtures
Tired of plain-old stainless steel fixtures? Black steel is trending for 2017, offering the sleek, industrial look in a new hue, like this Vela D Kitchen Faucet Stainless Steel from MGS Faucets.

Y Bath
"Rose gold and copper are moving out in favor of a more industrial aesthetic," said Y Bath. "Expect black steel and other burnished metals to take the place of the polished metallics."