You can go ahead and gut your kitchen to make it all fancy and new. But if you want upgrade the form and function without all the effort and expense, it's easier than you think. These eight tips can make a real difference in how much you enjoy your space.
1. Get a new silverware tray
Seriously, how long has it been since you changed that thing? With so many options today, you don't have to settle for that cheap, plastic tray that's too small for all your silverware. We're partial to expandable trays that can fit just about any drawer. While you're at it, pick up one of these cool knife mats. It's an easy way to keep your knives organized without having a huge block taking up your valuable counter space.
2. Organize your cabinets
If you have those big, open cabinets in your kitchen, you probably have an unkempt pile of pots and pans and lids and Tupperware and serving pieces. Adding some hardware, like this 2-Tier Pull-Out Wire Basket Base Cabinet, $66 from Home Depot, will organize your cabinet while increasing your available storage space.

Home Depot
3. Buy a gel mat
Boring purchase? Maybe. But a gel mat can help your back and legs from getting fatigued. If you spend a good amount of time in the kitchen, an addition like this is probably way overdue.
4. Add knobs and pulls
It's like jewelry for your kitchen, but it's surprising how many homeowners fail to incorporate this bit of sparkle, despite how easy and inexpensive it can be to make this update. These GlideRite 5-inch Solid Stainless Steel Finish 2.5-inch CC Cabinet Bar Pulls come in pack of 10 for just $19.99 on Overstock. If it's your first time visiting the site, you should see a pop-up for a 10 percent coupon as soon as you log on.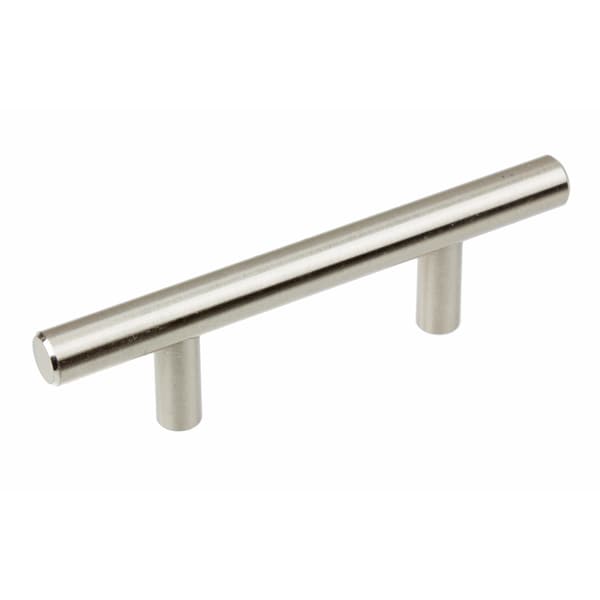 Overstock
5. Add glass panel inserts
It'll take a little skill to DIY, but you can transform any of your upper kitchen cabinets with glass panels for a modern look that also brings in light. If you're going to give it a go, follow these tips from Family Handyman: "Most hardware stores carry clear glass ($3 per sq. ft.) and will cut it for free or a small fee. Ask for 3/16-in.-thick 'double strength' glass. Order glass panels 1/8 in. smaller than the recess in the frame."

This Old House
6. Add a tile "runner"
You don't have to tile your whole kitchen to get some impact. In this space, a strip of colorful subway tile above the stove creates a focal point.
7. Add some lighting
"Installing lighting on cabinets isn't just a practical improvement. It can make the whole room glow, especially if you take a multi-directional approach, said HGTV. Adding "uplighting from energy-efficient LED tape on the top cabinets, and task lighting from LED under-cabinet fixtures on the bottom cabinet" can give your kitchen a new glow, help "set a mood," and also provide a practical alternative to having your overhead lights on.
8. Get a toaster oven
But not your mom's toaster oven. Today's versions, like this one from Hamilton Beach, can do so much more. It fits on your countertop but can hold two 12" pizzas, two 9" x 13" casseroles, or two cake pans, has a revolving rotisserie, and a convention oven. In other words, it does everything - and maybe more - that your oven can do, in less space and using less energy, and costs just $86.

Amazon