There is no "one-size-fits-all" eyesore. Everything from a wildly overgrown lawn to a crumbling building across the street to an art installation made from scrap metal and garbage and soaring a couple stories on the neighbor's front lawn can create a spectacle and potentially affect home values. So what do you do about the eyesore next door when you're trying to sell?
1. First, be realistic.
You may have to account for said eyesore when it comes to your sales price.
"See that cement plant across the street, that boarded-up house or weedy lot next door? You may call them ugly or a frustration you've grown to live with, but appraisers have another term for such eyesores, said the Chicago Tribune. "They're referred to as external obsolescence, and they're likely to knock down your home value by more than 5 to 10 percent."
The article asserts that appraisers may affix a "bad neighbor" adjustment on a house with a neighborhood issue. But can you get around it? Maybe.
2. Try to remedy the issue.
"Home sellers can try talking to a bad neighbor to reach some compromise, or neighbors can approach the bad neighbor as a group," they said. "Another alternative is to hire an attorney to approach the problem from a legal standpoint."
Of course, it may be easier to deal with a neighbor who likes his lawn at a solid two feet high than something that can become a safety issue.

ABC15
"When a house on your block commits the sin of bad curb appeal, sometimes it's just an eyesore," said Interest.com. "Other times, it can be hazardous, impacting your quality of life. A yard piled with junk or littered with trash might attract rats, for example. If you're trying to refinance your mortgage or sell your home, your neighbor's ugly property can cost you time and money."
If you can't reason with the owner enough to make him address the situation, perhaps he'll allow you to take care of the lawn by mowing it yourself, paying for his lawn services while the home is for sale, or bringing in a trash removal service.

Survivor
3. Distract, distract, distract!
Can you really make your home for sale so ideal that it won't matter what's down the street? It's worth a shot.
"Sometimes, the best way to downplay the proximity to a bad neighbor is simply an investment in a privacy fence or strategically placed landscaping," said the Chicago Tribune. An arbor with climbing vines, a brightly painted front door, and a water fountain to drown out any noise caused by the neighborhood issue can all help.
But what if the neighborhood "eyesore" isn't a slovenly neighbor, but, rather, an artist with a bold vision. Could you sell a home in a neighborhood that's become a roadside attraction? Would your clients want to live in one?
What if it was a giant wall of gum, like this one in Seattle near Pike Place Market (In case you thought Seattle had cornered the gum wall market, you'll be glad to know there's also one in San Luis Obispo, CA.).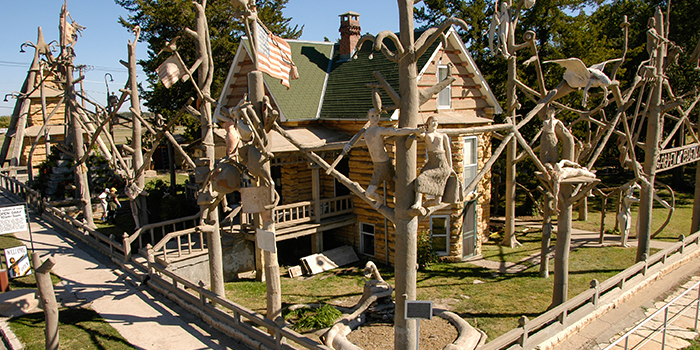 Kohler Foundation
Or the Garden of Eden, an enormous, eccentric, "ivy-covered concrete and limestone utopia" built by Samuel Dinsmoor, who, at age 64 and in the throws of dementia, started building the Garden as a residence in 1905…even as his vision of biblical and modern man was being molded out of 113 tons of concrete," said Roadside America. It's located in a "small prairie town in central Kansas, on a quiet residential street." Now passed, the artist was embalmed and displayed on site. "Even after eight decades you can look through his almost hermetically sealed, glass-sided coffin and see the moldering creator of this heavenly splendor."
For two decades, the Beer Can house was a local Fort Worth, TX attraction. "The "cans are laced from the chain-link fence to the house to an outdoor 'bar' and to other shrubs," said WFAA. The house recently sold, but it's not likely the buyer will embrace the continuation of the beer can art. In an area of rampant redevelopment, it stands alone on its street, which means razing is likely.

Imgur
"His home is literally the only one on the block that isn't leveled," which means that demolition will likely come to the beloved 'beer can house.'"
4. Make it a selling point
It may be that the elephant in the room - or the giant sculpture on the lawn - is an attraction for more than just tourists. That's what happened on Florence Avenue in Sebastopol, CA, "one of those lovely and modest, in the word's best sense, neighborhoods where anyone in his right mind would yearn to reside," said the Sacramento Bee.
Artists Patrick Amiot and Brigitte Laurent moved onto the street nearly 20 years ago, and "installed a 14-foot scrap-metal fisherman, painted with vibrant primary colors by Laurent, right in the middle of his front lawn." But instead of incurring the wrath of neighbors for the bold art that had been added to the street, something surprising happened. p>

Laughing Squid
"The reaction, he recalls, was immediate and vociferous. Not the NIMBY rant of the suburbs, it was more YIMFY -- Yes In My Front Yard. Neighbors loved the concept and, since Amiot was working like a maniac on numerous pieces at the time, trying to establish himself in the Northern California art scene, he gladly installed some of his pieces in neighboring yards." About 20 of them are now proudly displayed along the street.