Stumped about how to make your home stand out at the holidays for all the right reasons?
You don't have to clean out Home Depot's inflatable character aisle to make it festive. A few tips can take it from plain to just plain amazing.
1. Highlight your architecture
Have some great architecture to work with?
"Edging the roof, windows and doors makes your home's own charming features stand out big time," said House Beautiful.

House Beautiful
2. Take advantage of your landscaping
Net lights make decorating so easy your little kids can do it, and when laid out over hedges, they bring a festive look with minimal effort and expense. If you have trees in your front yard, wrapping the trunks in net lights brings the beauty without the pain of having to weave lights around individual branches. Hanging icicle lights or snowflakes from random branches is a great finishing touch.

American Sale
3. Spread the love
Gates, fences, front porches, and walkways are great opportunities to extend your décor and call attention to the property's features.

House Beautiful
4. Don't forget about your front door
A simple wreath is an easy way to set a welcoming holiday tone, and the choices are endless, whether you go with store-bought or decide to make your own. But, it's just the beginning of the inspired ideas for your front door.
"Give your front door the city glam you love by filling lanterns with shiny ornaments, and adorning with a black and white polka dot ribbon (how very Kate Spade of you), as in this outdoor vignette from Dimples & Tangles," said Elle Décor.

Elle Decor
5. Christmas trees aren't just for indoors
How about bringing a Christmas tree up to your front door...and then leaving it there. Just be sure to use weather-proof ornaments.

Elle Decor
If you don't have room for a full-size tree, this mini-version - replete with wrapped gifts (wrap empty boxes if you're worried about theft) creates a charming vignette, especially when paired with the ribbon-wrapped garland surrounding the door.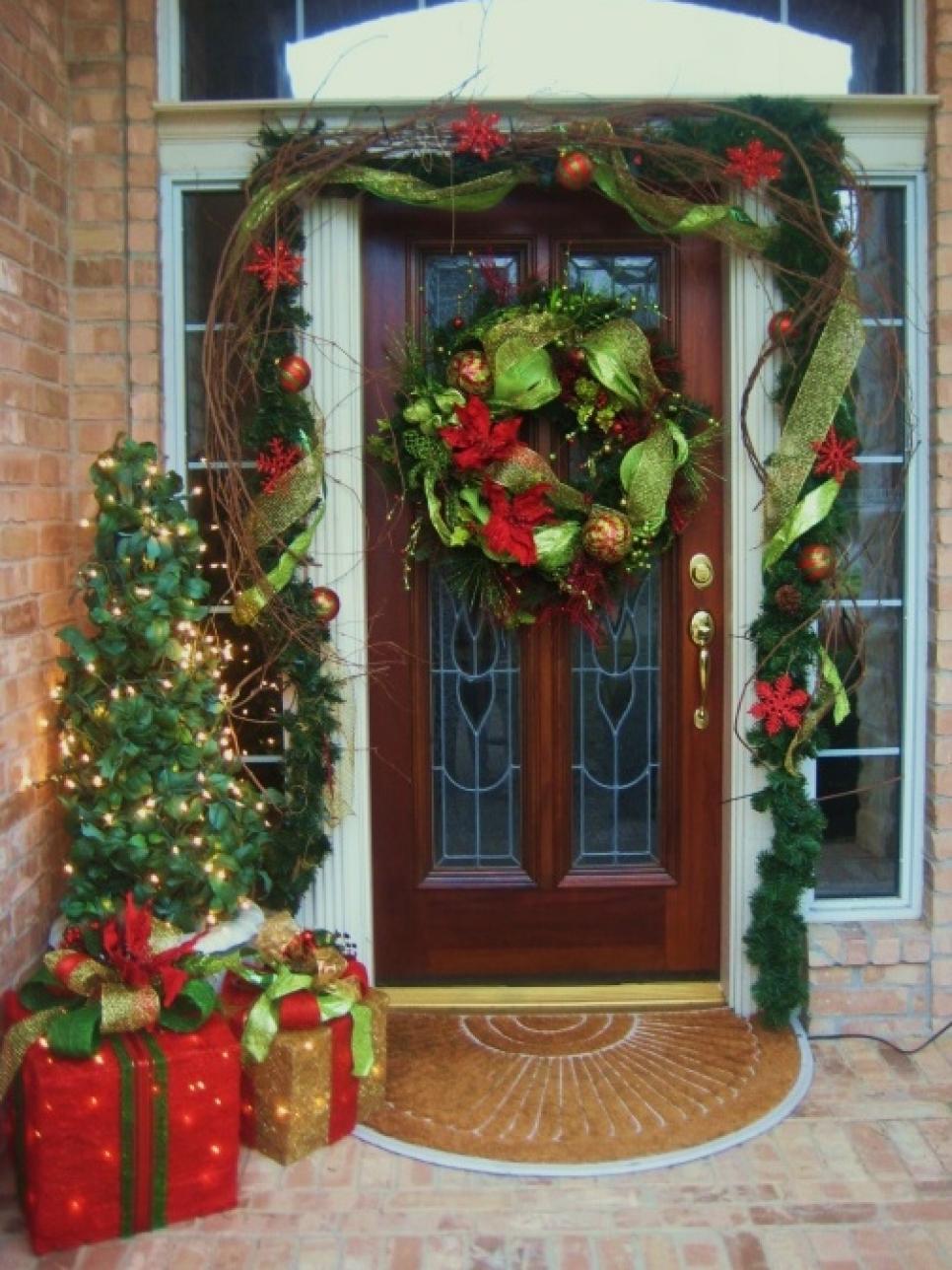 HGTV
6. Have a ball
How fun are these lighted chicken wire balls? They're a surefire way to make your home stand out at the holidays. "Placing various size balls of light across the lawn is an innovative Christmas yard decoration idea everyone loves," said Christmas Lights Etc. "By wrapping Christmas lights around chicken wire balls, you can create a whimsical scene in your yard that leaves everyone's jaws dropping. All you need for this DIY Christmas decoration is chicken wire, strings of LED mini lights, and wire cutters. HGTV has an easy DIY tutorial so you can make them yourself.

DIY Home World