Among all the talk about rising rates, rising home prices, and limited inventory, another, potentially larger and more serious threat to the real estate market is looming: a crippling labor shortage. A lack of construction workers skilled in trades like concrete, framing, roofing, and masonry is hampering progress in states like Texas, threatening to stall construction, delay new-home production, and raise costs in some of the hottest real markets in the nation. A likely culprit: President Trump's crackdown on illegal immigration.
A report on NBC News detailed how the shortage of laborers is impacting real estate in North Texas, stating that the market is "50,000 jobs behind in the Dallas area." That means that new homes that typically took four months to build are "now taking six to seven months," Ted Wilson of consulting firm Residential Strategies told them.
Industry experts point to two factors for the labor shortage: The "exodus of workers after the last housing crisis" continues to play a role, according to the report. But, a new crisis is on the horizon because "workers south of the border are staying put due to the economy there and security here," they said.
The contribution of undocumented immigrants in labor-heavy jobs like construction is not exactly a secret, nor is it a new phenomenon. "The construction industry's utilization of undocumented workers has always been carried out with somewhat of an unspoken agreement," explained Construction Dive. "Often several times removed from a general contractor via layers of subcontractors, the employment of foreigners without proper work credentials has taken on a 'don't ask-don't tell' quality and has managed to survive, regardless of what immigration enforcement policy has thrown at it.'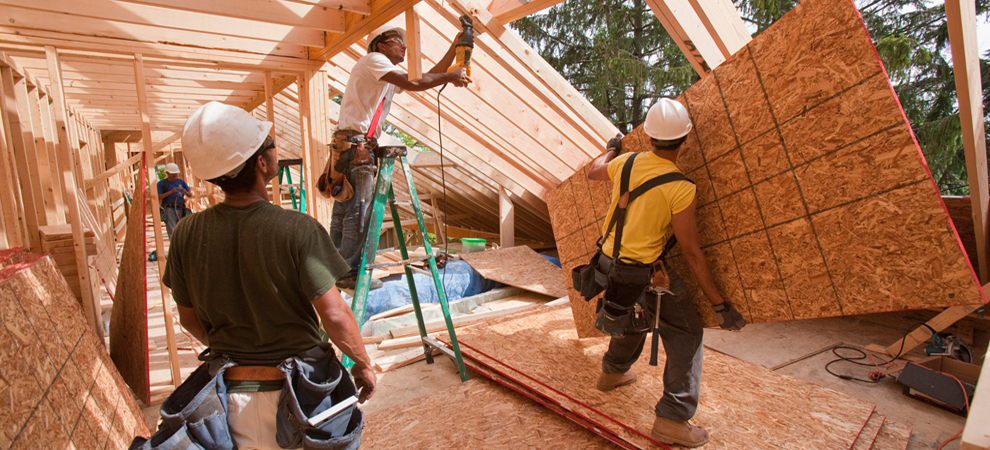 worldpropertyjournal.com
But that began changing the day Trump "signed an executive order empowering U.S. Immigration and Customs Enforcement (ICE) to hire 10,000 additional officers" to round up illegal immigrants and enforce his deportation policy. "Sooner or later, individuals who have committed no other crime than to live and work in the U.S. without proper documentation are bound to be caught up in the stepped-up enforcement action," they said. "That will, in all likelihood, include those working in the construction industry."
Or, maybe it already has.

newhomecentral.com
By the numbers
According to a recent report from the National Bureau of Economic Research, "The construction workforce was comprised of 13% undocumented workers between 2011 and 2013 — significantly higher than the 4.9% national average."
Industry folks like Jesse Fowler, president of Tellus Design + Build in Costa Mesa, CA, estimate that, in an industry that has still not fully returned to pre-recession levels in all markets, "If anyone loses just one guy to a crackdown by immigration, that's a 10% to 25% increase [in labor prices]."
Fowler reminds that, post-recession in Southern California, "There was massive skilled labor drain, then costs were 30% higher than pre-recession." Statewide, a crackdown on illegal immigration is expected to have a similar impact.
"Although illegal immigrants are spread throughout the U.S., California has a major concentration. In fact, the Public Policy Institute of California predicted about 2.7 million of the nation's approximately 11 million undocumented workers live in the state," said the International Business Times. "And those unauthorized workers make up 10 percent of California's labor force, researchers from the University of Southern California's Center for the Study of Immigrant Integration estimated. The majority of those workers are in agriculture and construction. Undocumented workers make up 21 percent of California's agriculture industry and nearly half — 45 percent — of the state's construction industry."
The overall financial impact on the industry nationwide could be catastrophic. Morning Call's estimation of the total cost of deporting illegal immigrants nationwide: $5 trillion. "The U.S. Gross Domestic Product could decrease by 2.6 percent or $434 billion a year if all undocumented workers were removed from the economy, according to a report by City University of New York researchers," they said. Those numbers also comprise industries like manufacturing and hospitality that tend to use high numbers of unauthorized immigrants.
Not just a Texas or California problem
Illinois, New York, and New Jersey are among the states that could "feel the greatest impact" to widespread deportations and extreme security measures to ensure illegal immigrants are not entering or remaining in the country," said Morning Call. And then there's Florida, and, especially, cities like Miami, whose real estate market prowess largely hinges on foreign money.
"Imagine if all of a sudden the spigot of wealthy foreigners and their cash was somehow choked off from South Florida? There is no doubt that the region's real estate market would crumble," said Forbes. Craig Studnicky, principal of luxury real estate broker ISG World, told them that, "Foreign buyers are without a doubt the driver of South Florida real estate." The firm estimates that "at least two thirds of residential real estate in Miami and vicinity is foreign owned, most of it from South America." It remains to be seen what happens to that market if foreign investors, turned off by our political climate or unable to get into/stay in the country because of immigration policy, opt to put their money elsewhere.