What are you looking for in a community?
Naperville is home to many wonderful communities which offer ideal lifestyles. Some communities are created to suit young and growing families, others are known for their proximity to downtown, and there are also some that provide excellent amenities for their residents.
If you are looking for a custom-made Naperville home on a spacious lot, and you enjoy tennis, swimming, and other sports activities, and have a love for nature, you would fit perfectly in River Run.
River Run has it all
Located in the southern part of Naperville, River Run is found on the corner of 104th St and Book Road. It is a single family community with around 500 stunning custom made homes in a park like setting.
This community is home to River Run Club, which offers memberships for swimming, tennis, fitness and many other activities. Its amenities include the clubhouse and recreation center, an indoor and outdoor pool, tennis courts with an on-site tennis pro, and the clubhouse is located in a large park.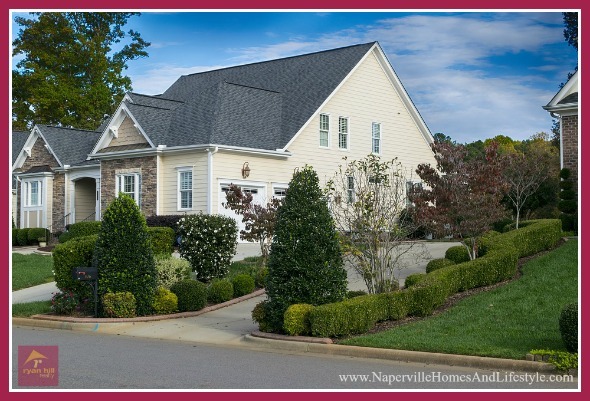 River Run tries to cater to sports and physical fitness enthusiasts as well as those who prefer to relax in the hot tub, so you'll always have something to enjoy.
One of the best things about this subdivision is the landscaping. This neighborhood features a conservation area and is set on the western banks of DuPage River. Many backyards enjoy the additional wildlife and beauty of nature provided by its unique location.
Also, because of its location, this neighborhood has lot sizes larger than what other communities in Naperville offer.
Another advantage of living in River Run is the high quality of education provided by the schools near this community. It belongs to the highly acclaimed District 204. Graham Elementary School, Crone Middle School, and Neuqua Valley High School are among the best public schools in Illinois, and Neuqua is a silver medal awardee in the National High School ranking.
Beautiful, stately, stunning, exquisite - you'll run out of adjectives for the homes in River Run.
Homes in this community seem to be taken out of Architectural Digest or Better Homes and Garden, and you'll love them. You'll find these homes rich in details and excellent craftsmanship.
Most homes are built in the traditional style, or variations of it. Many homes also favor the brick and stone look, with some having this combination on all sides.
You'll see professionally landscaped front yards and well-maintained backyards in many River Run homes.
These homes offer 3,600 to 7,063 square feet of living space. Most homes have an open floor layout with spacious living areas, fit for the needs of the modern family.
The homes are move-in ready and feature an average of four to six bedrooms. Some have three to five bathrooms and there are homes with one to two half bathrooms.
Many homes feature expansive master bedrooms, with walk-in closets and fireplaces. Master bathrooms are luxurious and made from high-quality materials and built-in spa like setting.
Large kitchens with top-of-the-line features are common. With stainless steel appliances, granite countertops, custom cabinetry, island, breakfast bar and breakfast nook, you have all the space that you need. Some homes also have walk-in pantry.
Other features and amenities these homes have are family rooms, laundry room and entertainment rooms. Most homes also have finished basements which you can convert into extra bedrooms, studios, or recreation areas. These homes are truly perfect for comfortable living and entertaining.
Whatever your preference is in home style and amenities, you will definitely find a home in River Run Naperville that will fit your taste. There are currently 18 listings, ranging from $550,000 - $973,000.
If you would like to see more River Run homes or homes in any other Naperville communities, visit my website at www.NapervilleHomesandLifestyle.com.
Thinking of buying a home in River Run? Call me, Teresa Ryan, at (630) 718-0424. As one of Naperville's top REALTORS®, allow me and my team help you find the best community and ideal home for your needs.