Offering upscale homes at a good price
Naperville is continually growing to be a favorite place for many home seekers. What started as a small settlement community by the DuPage River has now grown to be one of the most active and well-loved cities outside Chicago.
There are many wonderful neighborhoods in the city, and each of them offers something unique and different.
If you are looking to live in southern Naperville and would like a beautiful community which offers upscale homes at a good price, and in proximity to parks and playgrounds where your kids can enjoy and have fun, Breckenridge Estates is the community for you.
The community
Located at the northeast corner of Plainfield-Naperville Rd and 95th St, Breckenridge Estates is a charming community with 275 homes.
One of the beauties of this community is its amenities. This neighborhood offers plenty of amenities for its residents, like its gorgeous community clubhouse, tennis courts, and swimming pool. Residents get full privileges of all these amenities and the locker room.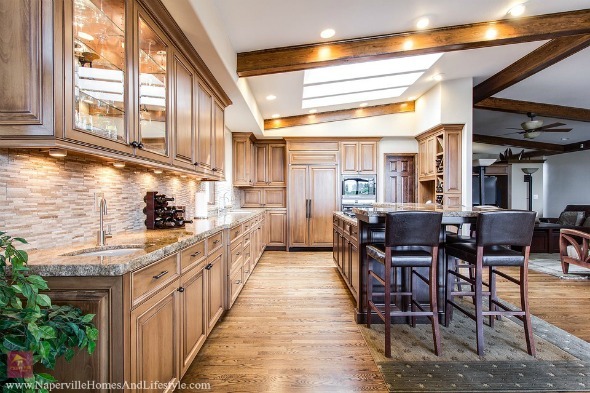 A crowd drawing feature of this community is its beautiful neighborhood landscaping. You'll enjoy walking around on the tree-lined streets of this community. This neighborhood is taken care of by the Homeowners Association, of which all homeowners in the community are a part of.
Another major benefit of moving to this community is its good location. It is surrounded by lovely parks and playgrounds. Brook Crossing Park is just across Plainfield-Naperville Rd. Timber Creek Part is just a little to the south, and Springbrook Prairie Forest Preserve is on the north.
It is also about only 15 minutes away from Route 59 and Naperville Burlington Northern Metra Train Stations. Downtown Naperville is less than 5 miles away.
This community is part of the acclaimed District 204, with Springbrook Elementary Schools and Gordon Gregory Middle School both getting top rankings. Neuqua Valley High School is among the best high schools in the state.
Enjoy living in spacious homes with large lots
Most homes in this neighborhood are detached single family homes sitting on a quarter acre of land to half acre lots.
You will find homes in various prices and designs in this neighborhood. Many of them are in the Traditional and Georgian styles, although you will also find some homes with a different architectural style. Most of these homes were built between 1990 and 2017.
Breckenridge Estates homes for sale range from the affordable $459,000 to the luxurious $1,100,000. Living spaces range from 3,004 square feet to 5,000 square feet, with each square foot averaging $169.
These homes usually feature 4 to 7 bedrooms and 2 to 5 bathrooms with powder rooms.
Amenities and features to look forward to
Breckenridge Ridge Estates homes for sale are elegant, well-designed and offer quality craftsmanship.
These homes are move-in ready and check off the must-have lists of any home seekers.
Many homes feature a combination of carpet, hardwood floor and tile. The rooms are bright and well-appointed.
Expect the kitchens to be large, updated, and with modern appliances. Some homes feature a combined center island and breakfast bar while others offer a breakfast bar. Homes in the upper range also feature custom cabinets and granite countertops.
Many family rooms have fireplaces and floor to ceiling windows that overlook lush backyards.
You'll love how bright and airy the living rooms of these homes are! They are not just elegant and graced with beautiful details like ceiling moldings, they are also cozy and inviting.
Home offices and finished basements are among common amenities for the homes for sale of Breckenridge Estates. There are a few which have game rooms.
And if you love the concept of outdoor retreat, most homes have decks overlooking the backyards.
You'll definitely love the homes of this community.
What type of home are you looking for? Visit www.RyanHillRealty.com/listings/query.php for more homes in this neighborhood and the surrounding subdivisions.
When you're ready to look for your dream home, call me, Teresa Ryan at (630)718-0424. Let me help you find the home of your dreams in a budget that will put a smile in your pocket.