What Millennials Look for When Buying Homes in South Tampa
Before making the decision to purchase anyreal estate in South Tampa, younger home buyers consider many factors. They may include location, size of the lot, and interior features. If you want you want to catch the attention of millennials, you need to be aware of what they are looking for in a property. Here are 6 key features younger home buyers want in a home: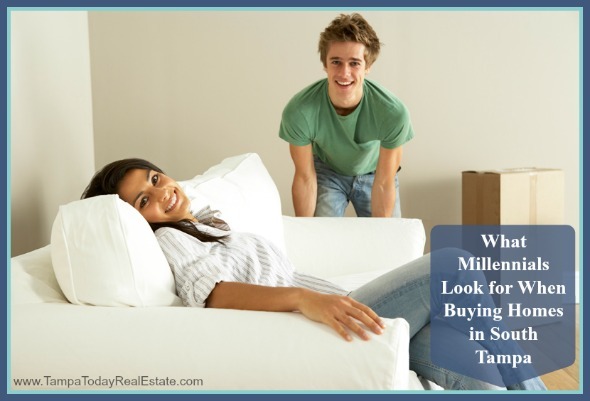 1. Big kitchen and open floor plan
Back then, a formal dining room was on top of most home buyers' wish list. However, at present, the demand has lessened because the kitchen has evolved into the hangout room along with the family room. Younger buyers prefer an open space that allows one to easily move from the kitchen to the TV room. They are also more attracted to open floor plans as compared to a layout that compartmentalizes homes. This has everything to do with how young homeowners entertain. They want people to flow through the home during gatherings.
2. Good location
More younger buyers look for homes that are in close proximity to public transportation. They also prefer a location with good walking score. For those with children, having good schools nearby is a must. In fact, according to a survey, 52% of millennials said that the quality of a school district could be a deal-breaker in their search for the perfect home.
3. Technology
Technology is only going to be more important in our lives. That is why transforming your home into a "smart home" is likely to be a good investment if you want to attract younger buyers looking for South Tampa area real estate for sale. Buyers today care much about a home's technological capabilities. They are interested in knowing about the home's technology. Sometimes, a home's appeal can be increased or decreased because of the strength of a mobile carrier's signal or its Internet service provider option. These services matter a lot to millennial home buyers. In fact, millennials will forgo other home comforts in return for more technology capabilities in a home.
4. Outdoor space
Today's younger home buyers are not only interested in the home features of the interior. They are also particular with what the exterior has to offer. Many sellers often make the mistake of neglecting the outdoor space of their home. This could be a costly pitfall. To catch the attention of younger home buyers, don't forget to highlight features such as decks, patios, and fenced yards. Some millennials also dream of having an outdoor kitchen sink, cooktop, refrigerator and grill.
5. Online photos
Majority of younger buyers start their search for properties online. If you want to get their attention, you need to carefully consider how your property shows online. You need to have professional photography that highlights your home's outstanding features. Otherwise, these younger buyers will move on before ever stepping foot in your door.
6. Outdoor lighting
Millennials are also attracted to homes with outdoor lightings. Well-executed outdoor lightings can enhance the details of a home and play up landscape features. Aside from its aesthetic value, exterior lighting is also important for security. It can protect the home against intruders and falls.
Visit http://www.TampaTodayRealEstate.com today for more helpful tips on home selling and home buying.
If you are looking for dedicated and hardworking Tampa FL REALTOR®, then call me, Mary G. Diaz, today at 813 245-9677. I can provide you with fast and reliable assistance in finding or selling homes in South Tampa. With my extensive knowledge and experience in selling luxury properties in the area, I can assist you in making the best choice.