Spring is the start of the hot real estate season for a few obvious reasons, nice weather and the desire to move during the summer when kids are out of school at the top of the list. But embarking on a home search during the holidays can be advantageous to buyers. Thinking about taking the plunge? Here are a few reasons you should be looking for a new home now.
The potential for a great deal
There's an assumption that anyone selling over the holidays, and thereby taking time away from family get-togethers and Christmas shopping and is selling because they have to, not because they want to. That assumption tends to be true. And it can payoff for buyers.
"Sellers tend to avoid the end of the year due to the short days, wintry weather and conventional wisdom that says buyers are otherwise occupied, says Tim Deihl, associate broker at Gibson Sotheby's International Realty in Boston," said Bankrate. "But those who do choose to sell at year-end are often under pressure and highly motivated to cut a deal. And that's why the year-end might be a smart time to buy: Determined house-hunters can take advantage of sellers' urgency."
Lower prices
Experts say that homes listed over the holidays may have a lower sales price. If you're looking for a deal, braving weather conditions and skipping out during a football game to see a listing might make sense.
Less competition
A smaller buyer pool during this time of year means less competition for homes that are on the market. That can give you great negotiating power beyond the listed sales price. And, it can take some pressure off what is already a high-stress situation.
"Less competition from other buyers during the holiday season might mean you'll be able to negotiate a favorable price for a home you want to purchase," said Bankrate.
Added CBS News: "Holiday home sellers often have to adjust their price downward or make other concessions if they want to sell. Keep this in mind as you search for homes. Bargains may be available, and listed prices may be more open to negotiation."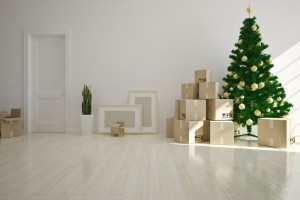 White Glove Delivery
Lower interest rate
Rates going up at the end of the year can make mortgages more expensive and also spell doom for those who are already at the top of what they can qualify for. Getting preapproved now to lock in a lower rate can save you even more on your new home.
Faster closings
The time of the year may also play in your favor if you want to close on your home quickly.
"Generally, all parties involved have incentive to complete transactions toward the end of the year," said CBS News. "Lenders want to close their books, real estate agents want to receive their commissions before the year closes, sellers want to move on to their new home and settle in for the holidays—and just like the sellers, you want to settle in as well. Since all parties are motivated and there are fewer transactions taking place during this time, it should be easier to put everything in place for a smooth and rapid closing."
If you're not able to close before the end of the year, rest assured that the real estate market doesn't spring to life as soon as January hits. You should be able to have a clear path to homeownership for a few months before the spring thaw hits and the hot buying season begins.
More money for Christmas presents
If you're selling an existing home and walking away with money, you'll have more to spend on others—especially if you factor in the delayed first house payment on your new place.

Angie's List
Better deals on real estate-related items
Slow seasons for movers may get you a better deal. Be sure also to compare and contrast cable/satellite companies and utilities to see where the best deals are. Many companies have special offers for new customers and might also have specials running during the winter.
A no-sweat move
Nothing is worse than packing, moving, unpacking, painting, breaking down 700 boxes, and making 12 dozen trips to the trash in unbearable heat. And when you're working that hard, anything over 80 degrees can be unbearable!