In the market for a Naperville luxury home?
For the past twenty years, Naperville has been gaining recognition as one of the best and safest cities in the country to live in. Residents love its "big city with a small town feel", wonderful amenities, and excellent location.
It is no surprise that some Naperville communities have become the most-sought after by the upper echelon. Now, custom-made homes in high-end locations are continually being built to cater to the demands of the privileged class.
If you are relocating to Naperville and in the market for a luxury home, you will find that most Naperville luxury homes have what you require. Be it oversized living spaces, gourmet kitchens, top-of-the-line kitchen appliances, custom finishes, luxurious amenities, you name it, Naperville high-end homes have it. Set in select affluent communities, you can enjoy the life of opulence, retreat and privacy in these luxury homes.
Communities with high-end homes
Naperville has many beautiful communities, but there are only a handful that offer a good selection of Naperville luxury homes for sale. The following neighborhoods offer you a plethora of choices.
Are you looking for a serene neighborhood with wooded view, plenty of parks and in proximity to downtown Naperville? You cannot go wrong with East Highlands. This is a sought-after community with plenty of historic and luxury homes. East Highlands homes have different architectural style, mostly because homes in this community are custom-made. Some architectural styles you can find in this community are French Provincial, French Style, Traditional, Farmhouse, Transitional, Contemporary, and Colonial.
West Highlands is another community that offers you more choices. Located in Gartner, west of Washington, this community of single family homes offer a wide selection of homes from the more affordable ones to the upscale ones. The majority of homes in this community are traditional in style, although you can occasionally see some contemporary and french style homes.
Ashwood Park is another community that offers luxury homes. This prestigious community is known for its upscale homes and resort-style amenities. You will find that homes in Ashwood Park are located on 1/3 acre lots so that there is ample space between neighbors. This community is only a 10 minutes away from downtown Naperville. Most homes in Ashwood Park are done in the traditional and updated classic style.

Kinloch is a community of large estate homes located in South Naperville. This neighborhood is near Knock Knolls Park. Homes in this community range from 3,500-6,500 square feet.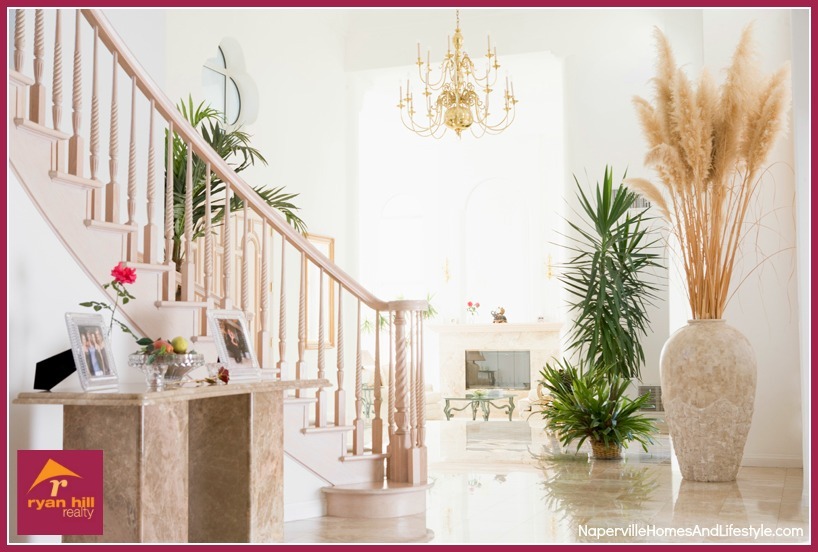 The trends of luxury homes
You will find that Naperville luxury homes for sale, different as they may be exterior wise, have many things in common when it comes to amenities.
Most of them have a living space of 3,500 - 10,960 square feet, thereby easily achieving the oversized living spaces many of the high society class demands. The price per square feet of these homes range from $175 - $285.
Most Naperville custom-made homes stand on .25 to .48 acre lot. Aside from expansive interiors, spacious front lawns and backyards are part of the trend for Naperville luxury homes.
Expect an upscale Naperville home to have a gourmet kitchen with high-end appliances. Some have butler's pantry with wine station, others have temperature-controlled wine cellars. State-of-the-art amenities like an indoor pool, hot tub, steam shower, whirlpool or jacuzzi grace the resort-like bathrooms of these homes.
Some homes have recreation rooms, others have entertainment rooms. Some homes have both.
No expenses are spared in keeping the home convenient and secured with the latest technology. Most homes have a fully automated home system that has full control of the lights, audio and temperature inside the home.
Naperville luxury homes for sale ensure opulent living and grand entertaining.
Would you like to learn more about Naperville luxury homes? Visit my website www.NapervilleHomesandLifestyle.com for more information.
Looking for a custom-made home here in Naperville? Contact me, Teresa Ryan, at 630-718-0424. Allow me to help you find your luxury dream home.