Blue Ridge Outdoors once said of plaid shirts that they "never die. They just continue to evolve." The same could be said of the use of plaid in interior design.
While its roots may be in traditional design and preppy style, in its current incarnation, it's bold, with a broad appeal that goes far beyond intersecting lines.
Frankly, we're obsessed.
We already knew plaid was all the rage, and then we got a load of Justin Timberlake and Jessica Biel's couch when he flashed pictures of their new baby on The Tonight Show.

US Magazine
Holy plaid. We. Have. To. Have. That.
It's obviously custom and it surely costs as much as a car (a nice one, at that). But you can still get the look with smart pieces throughout the home.
Plaid walls may immediately make you think about traditional style with dark woods and antiques, or maybe the English countryside with equestrian elements. But look at how a fresh take on the pattern and a color scheme to match sets off a modern bedroom...

Colin & Justin
and gives a baby's room an inspired backdrop.

Project Nursery
Upholstery is an ideal spot to play with plaid, but why do it in the traditional way? These dining chairs are backed with a complementary array of blue-based plaids, creating a distinctive yet pulled-together space.

Hues & Cues
If nothing but a plaid couch is going to do (thanks, Justin!), you have options, like this one featured on Houzz from
Hudson Interior Design.
If that's not in budget, add a few good pillows to your existing couch for a punch of plaid.

COCO COZY
Think plaid can't be used as a foundational piece? Check out how this apple green plaid rug gives the bedroom some life.

Studio M
You can also get a chic patchwork plaid look with carpet tiles.

The Nest
The Burberry plaid is one of the most iconic patterns in fashion, and while you might not be able to upholster your walls or even a sofa in the fabric, you can at least drape a throw over it. What better way to bring in a bit of luxury while showcasing a modern trend!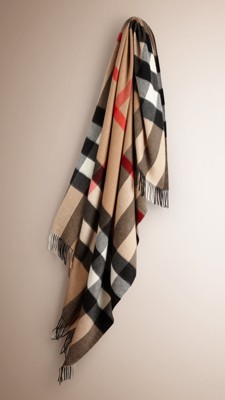 Burberry