Thanksgiving is just around the corner, and, unless you drew the "Everyone's piling into my house" straw, someone else will be extending the hospitality this year. And you know what that means: Your KitchenAid is going to get a workout making all your famous pies, and so is your imagination trying to figure out what to bring the happy hostess as a thanks for the hospitality.
You could bring the same old bottle of wine - and, don't get us wrong, we're fans of bottle of wine! - but maybe it's time to do something a little more memorable this year. And special and creative. We've got some ideas.
One of our all-time favorite gifts for hostesses, friends, family, and anyone you're not quite sure what to buy for, is a salt lamp. Not only are they nice to look at, but they are also said to have health benefits.
"Chunks of pure Himalayan salt are placed over a lightbulb to create the geometric pieces, which give off a mesmerizing orange glow," said House Beautiful. "These lamps are said to generate negative ions, which neutralize toxins, cleansing the air. It's the same natural reaction that's responsible for the fresh air at the top of a waterfall or after a lightning storm. And considering you likely have electric devices like computers and microwaves in your home that are linked to problems like stress and sleep trouble, it's time for some quality air control. People have reported benefits ranging from improving allergies to boosting overall mood, according to Wellness Mama."
Salt lamps range in price from super affordable to a couple hundred dollars. This one from Wayfair is $27.99.

Wayfair
Planning to have snacks or sweets - or both! - during your holiday get-togethers? How about something fun and festive on which to enjoy them? This four-piece desert plate set is $32, and is just as cute as it is useful.

8 Oak Lane
You can't go wrong with something monogrammed. We love this $28 Moscow Mule Mug.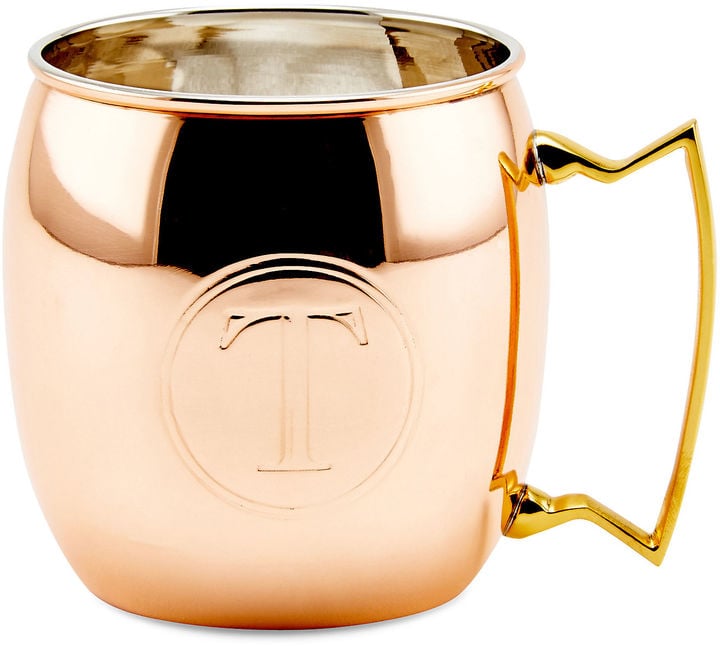 Popsugar
And, the $35 bath towel set.

Popsugar
Does your hostess have a playful sense of style? This Monkey-Shaped Serving Dish is the perfect choice for setting out sweets or hors d'oeuvres, and, it's on sale for $49.90 at Zara Home.

Zara Home
This square bread basket/fruit bowl by Alessi, available at Amusespot for $42, will get a ton of use over the holidays...and after. And, it's so pretty it can be used as a décor piece instead of sitting in a cabinet all year.

Amusespot
Spread a little Southern hospitality with a real, live magnolia tree from Real Simple. "A Southern classic, the magnificent magnolia is known for its gorgeous early spring blooms and deep-green leaves with rich, velvety undersides," said 1-800-FLOWERS, which has the trees from $60. The tree comes with directions for planting in the ground or in a large container.

1-800-FLOWERS
It's a Pistachio Pedestal, with a smart design that allows you to put the shells down below, but we're also seeing this as a great serving vessel for edamame! It's $48 from Uncommon Goods.
Whether your hostess' house is lacking a working fireplace or you just want to bring the feeling into another, she'll surely appreciate the Portable Fireplace Candle. "Imagine dining by a crackling hearth, but with a much tinier flame," said House Beautiful. "This scent is a dead ringer for a wood-burning fire." And it's just $16.
We also love this Chalkboard Table Runner Set from Uncommon Goods - a great way to keep the little ones in their seat at the kids' table during Thanksgiving dinner. Prices range from $12–34.

House Beautiful