Workout is necessary for our physical health; many people have started going to gyms to maintain their fitness. Alternatively, the trend of workout room at home is also getting popular in young and middle-aged people.

If one can afford buying the workout instruments and can spare one room for gym at home then it is best as it will save the gym fees and time to travel to the gym both.

For those who have already decided to make a separate home workout room or are planning to make one, we have brought 5 excellent home gym room décor ideas to design the room in the perfect manner. Let us check out these ideas in detail.

1. Set Proper Lights:
Lights will make your workout more enjoyable; consult a good interior designer for this and have the right lighting fitted in the room.
In morning, you won't need lights but you will definitely need them while working out in evening and night; you will have an amazing time working out if you have selected the right combination of lighting for the room. There are various colourful lights available which you can select.
Get some inspiration from the lightings used in gyms, you can also search for the same on internet to get an idea. Whichever lighting you choose, make sure it compliments your room in the perfect manner.
2. Open floor space is good to have:
It is good to have an open floor space in your workout room. It will do two jobs for you: first it will make your workout room look spacious and second, you can do yoga and meditation there which is also beneficial for your physical and mental health both. Also, for doing warmup and tool-free exercises, you will need open space.
If you fill your room with several workout machines and don't leave much open space then it will look completely packed so don't do that, instead leave some open space so that it looks well organized. You can leave one corner free or you can set the middle space of the room free.
Also, have one good rug over the floor. You can also use a mat and do exercise and yoga on it.
3. Have a Good Fitness Theme for the Room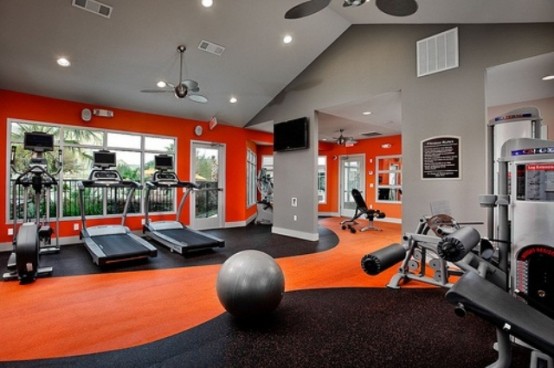 A good fitness theme will push you to put more efforts while working out and in this way you can achieve your fitness goals quickly. You can stick posters, motivating one-liners and pictures on your room wall to get a good fitness theme.
Posters and other stuff should be related to fitness; you can have your fitness role model photo stick on the wall to stay motivated.
Stick them on the wall such that they are straight in front of your eyes while you workout and this will improve your efforts for sure.
4. Music is Must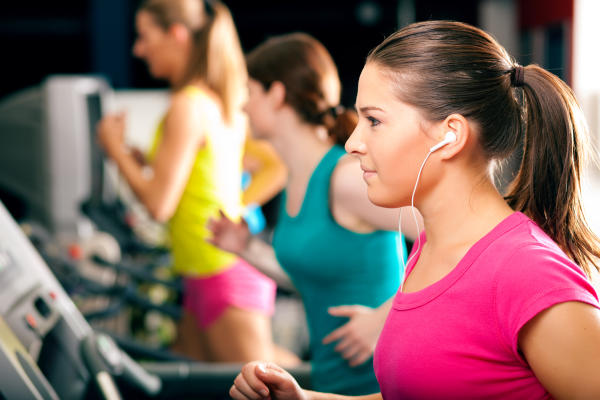 It is found out in research that people push themselves to do more work out when music is on in gyms and that's why most of the gyms these days have music constantly played out. So, you should definitely plan to have a music system in your workout room too. This will not only help you to get free from boredom but it will improve your mood and eventually the quality of your workout.
Having a music system in your room won't work until you have gym specific music genres. Not all songs will work well while workout, you have to play the ones which can boost your mood and can motivate you to push harder.
To get a professional touch, you can plan to get the room sound-proofed and in this way, you can play loud music and it won't go outside too. Also, outside noise won't come inside and, in this way, you will be able to completely focus on your exercise. It will be quite costly but it will be worth its cost.
5. Have some plants
Plants will provide fresh air and purify your room; your workout will get more enjoyable when the environment is pure and plants will do that for you.
Select the space where you intend to put the plants, it can be the corners of the room or anywhere you wish to put them. Pick some good plants from a nursery and bring them home. It won't cost you too much and in return it will make your workout more energetic and purer.
Also, it will add beauty to the room and add more positivity. This will attract you to do more and more exercise eventually benefitting your fitness.
So, here were the workout room ideas that you should follow while creating the best workout room for your house. Get all the right equipments for workout and decorate the room perfectly to do the best exercise routine regulalry.
Keep following innovativedecorideas to get more such good ideas to decorate your home in the best manner.