Finding the right color for your walls can be one of the more difficult decisions you'll make in your home. What seems like such a simple thing to do on the surface can collapse you into confusion and despair when surrounded by thousands of strips of every color you could ever imagine in varying degrees of saturation.
Color choice also carries with it a lot of weight because the paint can act as the foundation for the space and can set the tone and the mood for a room.
"Why do we find one place appealing and are uneasy in another? Why are we attracted to one product over another? Color—whether architectural or in products—accounts for 60 percent of our response to an object or a place," said HGTV.
Paint is also one of the easiest - color choice notwithstanding - and least expensive ways to change or update a room. If you're not sure where to start when it comes to picking that magic color, or if you're stuck between a few thousand choices, a few tips can help.
Find some inspiration
Inspiration for your wall color doesn't have to spring from the paint store while standing in front of the interior display. Meaningful items you already have in your home, pieces of art you admire, and the world all around you can help.
"You can come up with ideas by creating a portfolio of what appeals to you: a favorite painting, the color of your baby's eyes, an unforgettable vacation in Mexico or that great hike in the Grand Canyon," said Benjamin Moore. "First, take into consideration your inspirational image's common denominators in terms of color. Do you like a variety of colors or particular shades and tints of a specific color? Do you like them bold or muted? Digging deep in the well of inspiration plays an important role in selecting and whittling down your choices."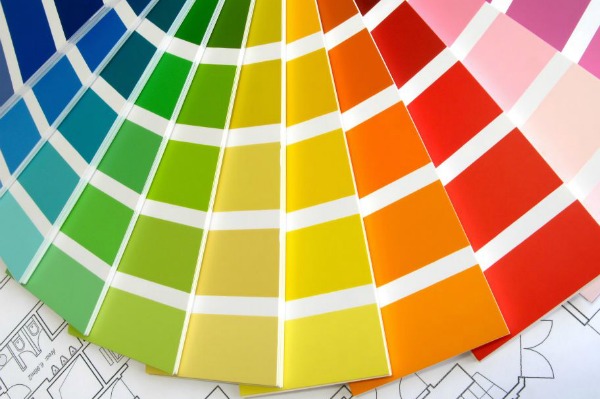 SheKnows
Decide what you don't like
It can be intimidating standing in the paint store surrounded by so many choices. But you can easily whittle them down just by eliminating the colors you don't like. Not a fan of blue or yellow? You just got rid of hundreds of options. If you know you want to stick with a light color, there go hundreds more. Concentrating on those colors and saturation levels you do like instead of getting waylaid by those that aren't even in the running can help you narrow down more easily.

Our Lake Life
Test them out
No one walks into a paint store, points at a color, buys a gallon, and goes home and paints the room. Finding the right color is a process of trial and error, and that process may mean a few trips to the store, and a few dozen samples up on your walls to compare, contrast, and examine over a few days.
Your first step might be bringing home a stack of paint chips, but those teeny things won't give you a true idea of what the color is going to look like on the walls. Experts recommend narrowing down to a few leading candidates and buying small samples of the paint to put up on your wall in larger swatches.
"Most companies offer small-size containers, which might cost a few dollars. If you're considering several paint colors, this can add up, but it's a worthy investment," said Better Homes and Gardens. "Nothing will help you choose a color better than seeing the hue applied to the wall. Take the samples home and brush them on the walls of your room. Paint broad sections of the wall at eye level. The larger the section the better to evaluate the color, so don't be shy. You'll be able to paint over these test plots, even if the hues are dark shades and you need a primer. Once the test sections are dry, hang artwork over them, push furniture in front of them, and stand back in the room to see how they look."
Live with the colors for a few days
Wall color can look completely different depending on the time of day and amount of light coming through the windows, and on different days depending on if it's sunny or overcast. The gold color you've fallen in love with may end up looking like mustard in certain lights. Or perhaps the gray that looked so great in the store looks green against your furniture at night.

Danny Russo
Go with the trends
If you just can't bring yourself to make a color decision, go with what other people are doing. Is it the most creative solution? No. But veering toward a popular choice will give you lots of options to choose from and lots of looks to study that will help inform your décor. Take gray, for instance. It's been the leading neutral for several years, and you could easily find hundreds of hues within the gray family. But if you've eliminated all other colors from the mix, a professional can help you to further narrow it down by dark and light, green and blue tint, etc. until you have the perfect gray choice for your home.