The sumptuous spa bath - the kind that makes you forget you have a sink full of dishes, two baskets full of laundry to fold, and two sleeping kids with runny noses on the other side of that door - has been a top trend in new homes and renovations for awhile, and it's not going anywhere.
If anything, the desire to luxuriate in a decked-out bathroom is only growing.
But if your budget doesn't include an $8,000 (on sale from $11,000!) Hansgrohe Axor Starck Shower Heaven Showerhead or a Joseph Licciardi-designed, $34,000 Le Cob Glass Bathtub, there are still ways to get your luxe space without going broke.
Here are 10 things that will help get you there.
1. A towel warmer
For under $200, you can add a bit of hotel-style elegance - and warmth - to your bathroom with a towel warmer you attach to the wall. What's more luxurious than just-warmed towels that are ready for you when you get out of the shower?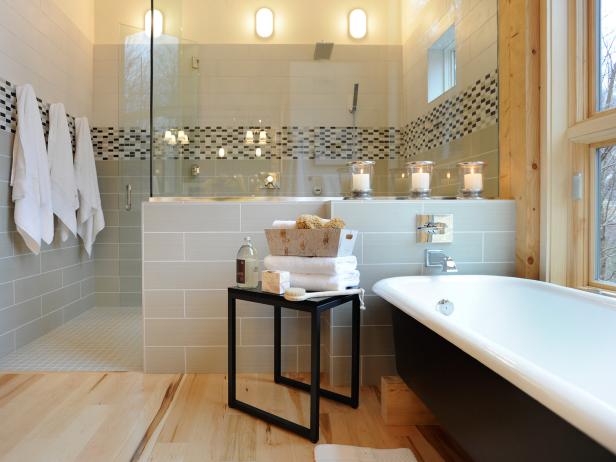 HGTV
2. Bubbles in the bath
You don't have to spring for a $2,000 Jacuzzi tub to have the Jacuzzi experience. Drop the Conair Dual Jet Bath Spa into your existing bath and bubble away!
3. A spa shower
You could spend thousands of dollars on a tricked-out spa shower. Or, you can spend $169 for this three-jet panel spa shower system. Your choice.

Pinterest
4. Painted walls
It's one of the easiest ways to transform any space, and in the smaller space of the bathroom, painting can have big impact for no cost. Leave the bold and bright for other rooms and swath your bathroom in something serene and relaxed, like light blues and grays. Red will bring too much energy to the space and yellow may change the light in the room, making skin look sallow.
5. Painted cabinets
Old, worn, dingy, or broken cabinets do not give off a spa feel. You need it light and airy, which means it's time to hit the paint store for a can of white. A coat of paint on those cabinets can make the rest of the room look bigger and help create the soothing feel you're going for.
6. New bathroom cabinets
If painting your cabinets isn't an option or isn't worth it because your vanity top is worn, chipped, ugly, or all of the above, replace it! You can get a new one inexpensively. This vanity from Lowe's has a stone top and modern lines and costs only $449. If you have decent DIY skills, you can also remove your existing vanity and install the new one pretty easily.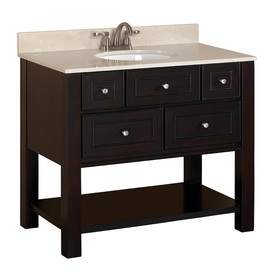 Home Depot
7. A sit-down vanity
If you don't already have a sit-down vanity in your bathroom, trust us…it will change your life. If you can easily remove an existing cabinet under a low cabinet, you can fashion your own. You can also build one in for a luxurious look, or add a freestanding vanity to an open wall.

décor pad
8. The right lighting
"As the bathroom increasingly becomes a place to relax and recharge…the lighting requires extra thought," said This Old House. "And when it's done right, the payoff is great. A good lighting plan is a series of layers—placing ample light where it is needed for showers, shaving, or putting on makeup, for instance, while other light sources enhance the overall mood of the room."
When it comes to the design, choose something sleek, shiny, or romantic to amp up the spa feel.
9. A silver tray
Nothing kills a relaxing dip like looking at cluttered countertops. A silver tray, whether it's brand new or antique, brings in an elegant look and also helps to eliminate clutter by combining items in one space.

Foter
10. Heated floors
Radiant heating in and of itself is not expensive - materials will cost a few hundred dollars plus installation. But ripping up your existing floors and laying new ones will obviously cost more. If you're already planning to put new tile floors in your bathroom, it's the perfect time to add coils. Toasty warmth underfoot won't just make you happy when you're getting ready for some alone time in the bath, but every time you don't have to search for shoes just to use the loo.