Gray floors starting popping up as a trend a few years ago, and they've grown in popularity and desirability alongside gray walls and gray kitchens and gray everything else. But you don't have to have gray in every part of your home to embrace this trend. Cool and sophisticated, gray hardwood provides a solid foundation upon which an array of décor styles can sit.
Lumber Liquidators called gray "the new neutral," and they hit on what has connected so strongly with consumers and designers: banishing the brown and bringing in the gray introduces a new perspective and a modern feel.
"Already a fashionable look for walls, furnishings, and home accessories, gray has also emerged as the must-have stain for floors," they said. "And it's no surprise. This versatile hue provides a stylish and modern look that works well in casual and coastal settings. Gray flooring will give your home a fresh new look that is both timely and timeless."
Gray hues are endless and make picking the right shade an adventure when painting your walls, and the options for gray hardwood floors are vast. Choose from wide plank or narrow, sleek and shiny or weathered, light or dark finish, or even painted. And then there's the huge array of wood-look tiles that gives the feel of wood with other advantages including lower maintenance and durability.
"Different shades and hues of gray blend well with a variety of colors, and understanding the undertones in your floor color is necessary before you surround it with complementary colors," said Home Guides. "Gray is subtle, sets the tone for a room, and quietly adds depth to its surroundings."
Check out these options to see if gray hardwood floors click with you.
"Weathered wood floors grayed from years of wear go so well with the ubiquitous reclaimed wood and industrial furniture in today's market," said Bob Vila. You can also get that look by finishing or refinishing floors using a product called Monocoat.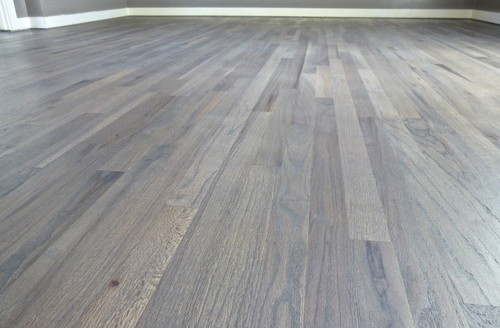 This version is Vintage French Oak Alaska, an engineered and prefinished product that's perfect for a modern, chic living room.
Some of today's gray wood floors are really more of a gray-brown hybrid, which makes those who still may be having a hard time leaving traditional flooring hues behind feel a little more comfortable.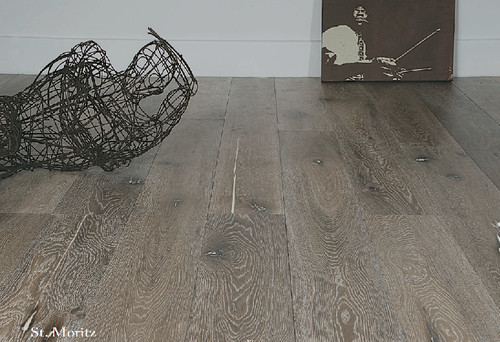 Coats Homes
This barnwood look in light gray is cool and contemporary with a touch of rusticity.

Pinterest
Dark, wide planks bring a sleek look perfect for any modern space.

Wide Plank Flooring
This floor may resemble petrified wood, but it's actually glazed porcelain.

Daily Press
Using gray as a base and building in beachy colors gives this wood-look floor a seaside feel perfect for its setting.