A couch isn't just a place to sit. For many of us, it's the biggest piece of furniture in a room, and also the most expensive. Get it right and you can set the tone for the rest of the space. But if it's the wrong size or color, if you choose the wrong fabric for your lifestyle, or if it's just plain uncomfortable, you may have regrets.
"Sofas are a big commitment - both literally and figuratively," said Houzz. "On the figurative side, they're expensive, and they need to last for a long time. And literally, well, they're big. They take up a lot of space in a room and often anchor a decorating scheme. As a result, choosing the right sofa for your home and your lifestyle is a serious matter."
These tips will help you make a great choice.
1. The right style
Are you decorating the room from scratch or fitting a new couch into existing décor? Do you have an idea for how you want the space to look and feel from a style perspective? Warm and cozy? Sleek and modern? Somewhere in the middle?
"Since your couch is such a huge part of your living room decor, it's important to narrow down the style (or styles) that will look best in your home," said POPSUGAR. "Living rooms with an eclectic decor style are easiest to work with because almost any style of couch will work. If your space is modern, stick to clean lines and a simple feel. If you prefer the vintage look, a Winchester sofa is a fun choice. Midcentury modern sofas work well in any number of spaces, and come in a wide range of fabrics to fit your style. You'll also want to consider whether you like the tufted look or not. Tufted sofas can look more traditional than non-tufted, but it all depends on the style of sofa you choose."

Best of Picture
2. Size
Size is one of the most important considerations when choosing a couch. Go too small and you limit the use and make the space feel off. Go too big and you can overpower the room—although you should have plenty of space for friends and family to sit!
Be sure you know what size couch your space can hold before making a purchase. You may think you know the room dimensions or can eyeball what will work, but you can run into a huge hassle if you order something too large.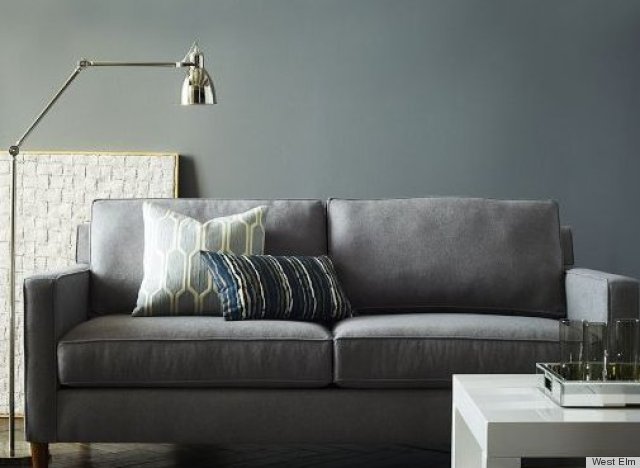 Huffington Post
To further zero in on the right size, consider the use of the couch. Is it going to be used minimally in a room that's barely visited or every day? Do you plan to sit and watch TV? Or maybe you have alternate plans?
"Most of my clients ask for sofas to be 'long enough for a nap' - so I make them at least 90" long or even longer if the room allows," designer Ginger Barber told House Beautiful. "Even if you're not going the custom route, make sure you can lie down comfortably."
3. Visual height
Think also about where the couch is going. If it's going to be pulled away from the wall, you'll want to consider the height of the back.
"Quite often your sofa can block the view into another space," said Apartment Therapy. "Even though you can still walk around it, having furniture blocking essential views can make a space feel smaller without your intending it to."
4. Shape
Sectionals are a popular choice for those with families who like to sit together or for those who often have large gatherings and need ample seating. But not every space can handle one. If you're dreaming of filling your space with a big sectional but still want to keep it open and airy, think about a sectional that has a chaise on one end. That way you still get the function without all the heft.
Magazine
5. Depth
A great couch is one you can take a comfortable nap on, right? Or at least sit comfortably for hours on end binge watching Netflix or working on your laptop. The key to achieving that kind of comfort is choosing the right depth.
"Sofas generally come in depths from 34″ - 43." The latter is like a stretch limo," said Laurel Home. You need a BIG room for one of those babies. They also have a very deep seat."
6. Color
"It's tempting to go neutral when buying a sofa, so the piece works in a variety of different spaces," said Houzz. "That makes sense. But if you love color, don't be afraid of it—a sofa can be a statement piece and color makes it exciting."
And, in fact, going bold with your couch is a growing trend, with many people eschewing beige, brown, and gray for bright hues like deep blue, hot pink, and emerald green.

Identity Kitchen
If you're really bold, go with a pattern. "While solid colors are easier to decorate with, patterned sofas don't show wear as quickly," said HGTV.
7. Fabric
Choosing the right material is one of the most important considerations when buying a couch. Certain fabrics may look great but won't hold up well. And you don't want to have to be draping throws and carefully positioning pillows to cover the red wine stains your friends left behind.
"Be realistic about material," said POPSUGAR. "If you're dreaming about a beautiful velvet couch, ask yourself: is this going to work for my lifestyle? Is your couch going in your family living room or in a less-used formal living room? Couches that are used multiple times on a daily basis will need to be able to stand up to a lot of wear. Cotton blends are a great sturdy option, and more resistant to soiling and wrinkling than pure cotton. Linen won't withstand heavy wear and needs to be professionally cleaned, but it won't fade. Wool and leather are super durable but can be pricier. Stay away from natural and synthetic blend fibers and silk, which wear quickly."

Robin Bruce
8. Cushions
There are two things to think about here: construction and configuration. "The cushions are what really make a sofa comfortable," said HGTV. "The least expensive option is high-resiliency foam, which compresses during use and comes back to its natural shape. For real luxury, goose-down filling is the most expensive option, but it doesn't offer much support and needs to be fluffed up often. A good compromise between comfort and budget is an inner core of foam topped with cotton batting surrounded by a cover filled with goose down. The foam center provides support for the soft feathers."
The number of cushions you have on the couch can determine how many people sit there. Even if a couch is large, limiting it to two cushions might mean only two people will take a seat.
9. Pillows
Some couches have pillows that are attached, while others with loose pillows allow you to rearrange as you see fit but also require a tad more maintenance to fix saggy or unkempt pillows. Attached pillows tend to give off a more formal vibe, while loose pillows keep it more casual.
10. The arms
The arms of a sofa can define the style or add style to something that is otherwise nondescript. "More than almost any other feature, a sofa's arms declare its style," said the Denver Post. "Stuffed rounded (called sock arms) work in laid-back casual interiors, such as cottages or country homes. Structured, rectangular arms work well in transitional or modern spaces. Curved arms lean traditional. Clean-lined wooden arms look mid-century."