Kathleen GA Single Family Home Report - October 2017
The real estate market in Kathleen GA started to show its first signs of slowing this past month. Home sales (24) dipped to their lowest total since February as buyers and investors found homes more to their liking in other areas. Unfortunately, the situation may not improve in the short-term as there are currently only 3 months worth of homes available for consumers to pick from. With this in mind, it is an excellent time for potential sellers to get their houses on the market!
Real estate professionals in Kathleen GA continue to show every home buyers and investors want to see, despite the low number of available properties. If it is still available, it will be shown!
So, what happened in the October in the Kathleen real estate market? This market analysis discusses the current status and what the short-term outlook for this market looks like.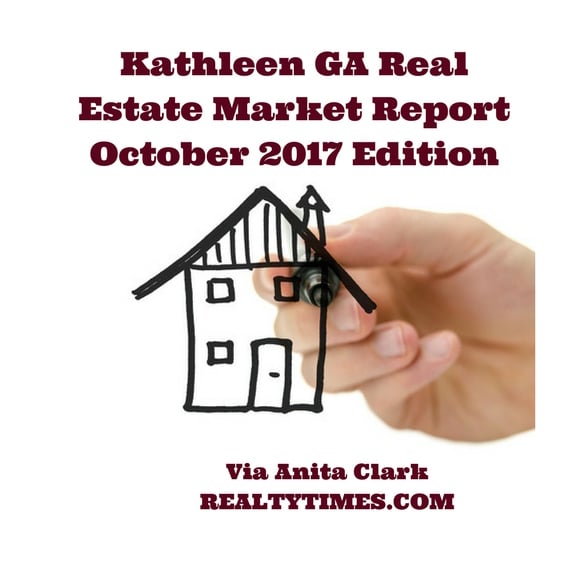 Active Kathleen GA Homes For Sale
As of this article, there are a total of 80 houses for sale in Kathleen GA. The highest priced listing in this market is currently available at $629,000 and the lowest is only $148,000. Square footage of available properties ranges from 1,336 feet up to 5,452.
Consumers who want a fixer-upper property may have to wait a bit longer to find what they seek. Currently, there is only 1 distressed home available in the Kathleen real estate market. Fortunately for sellers, there has not been an increase in foreclosure/short sale homes in the past quarter so the effect on appraisals and future sales prices is minimal right now.
The highest priced home for sale in Kathleen is a home located at 212 Fieldfare Drive. Available for $629,000, this 5.4K+ square foot home has 5 bedrooms, 6 bathrooms, and a host of amenities worth checking out.
Sale Pending Kathleen Single Family Homes
Currently, there are 17 Kathleen homes that are pending sale. This represents a decrease of 5 properties from the previous month. Of these 17 houses, none are distressed. Consumers are out looking so make it easy for them by getting your home listed, seen, and sold!
With conditions in their favor at the moment, sellers would be wise to make sure their home is ready for showings, updated as necessary, and priced according to the current market conditions. Rest assured, homes that are not in good shape will sit on this market.
Kathleen GA Single Family Homes Sold For October 2017
There was a total of 24 home sales in Kathleen GA during the month of October 2017. This represents the fourth lowest number of monthly sales in the past year (the annual average this past year is 28 closings). The average sale price for these homes was $228K+ and they took an average of 60 days to sell! The 12-month average for both of these categories is $219K+ and 65 days.
The average days on the market was decent this past month and is a good reminder that homeowners must make sure to market price their home if they want consumers to take serious interest in the property. The sales price to list price ratio in October was 99.05%. The 12-month average is 98.50%.
As a comparison, during this same time-frame in 2016, there was 18 sales, an average sales price of $213K, and it took those homes 53 days to sell on average. The sales price to list price ratio was 99.02%.
The most expensive sale in Kathleen real estate during October 2017 sold for $306,000. The lowest priced sale was $125,900. In addition, zero of the sales this past month were distressed houses.
What Can Kathleen GA Residents Expect Regarding Real Estate In The Coming Months?
You can expect a lot of competition when you are ready to make an offer on a Kathleen GA home right now. This could mean a bidding war if you are not ready to write an offer as soon as you decide the property is the home you want. Just remember, any delay could cost you the home as plenty of other buyers are also out looking!
The amount of inventory and low pending sales will be worth monitoring for the next few months to determine if this is a trend or just an anomaly. Time will tell if a host of fresh inventory hits the market and if buyers continue to find homes to their liking in the Kathleen real estate market.
More Houston County Real Estate Market Reports For October 2017
This Kathleen GA real estate market report for October 2017 was provided by Anita Clark. Anita is a licensed residential real estate agent in Kathleen GA for Coldwell Banker SSK, Realtors.
You can find Anita on numerous social media networks or via her Kathleen Real Estate Blog. She is an active online marketer who loves helping residential real estate consumers in Houston County GA.
---
**The information provided in this real estate market analysis was generated via the Central Georgia Multiple Listing Service (CGMLS) at the time/date this market report was published. All information is deemed accurate, but not guaranteed.**